Bitcoin currently trades for $13,800, establishing another floor as it looks to move even higher in the days ahead.
The coin is below the daily highs of $14,100, set around 16 hours ago.
Analysts think that Bitcoin could rip higher once it turns the $14,000 region into support.
One trader went as far as to say that Bitcoin could see an "inverse capitulation."
Bitcoin Could Explode Higher if It Breaks $14,000, Analyst Says
Bitcoin has undergone a strong rally over the past day, continuing higher past the $13,500 levels it held yesterday. At the highs of the past 24 hours, the leading cryptocurrency traded as high as $14,100.
The rally abruptly stopped, though, as sell orders were deployed above $14,000. This resulted in a rapid wick from the $14,100 highs to $13,500, marking a large liquidation event for both shorts and longs at the time.
Bitcoin currently trades for $13,800, establishing another floor as it looks to move even higher in the days ahead.
Analysts are currently eyeing $14,000 and $14,100 as the key levels to watch. The latter, of course, is where Bitcoin topped on Saturday.
A prominent cryptocurrency analyst says that if the cryptocurrency can "flip" $14,100 into support, it will result in "inverse capitulation." In other words, Bitcoin could surge massively higher, likely by dozens of percent, if it manages to turn that level into support.
The analyst who made this prediction is one that has been historically accurate. During the March capitulation event in which Bitcoin fell as low as $3,500 on leading exchanges, he called for a V-shaped reversal to $10,000 by May or June. He was proven correct just months later when Bitcoin did what he expected. He also called much of the ongoing rally.
It isn't exactly clear where he expects the Bitcoin rally to end in the near term, but the analyst recently shared the chart below. Attached to the chart was the comment that "Bitcoin is undervalued. What seems to be depicted is some sort of mining-based indicator that surges rapidly after halvings and predicts when Bitcoin is at macro turning points.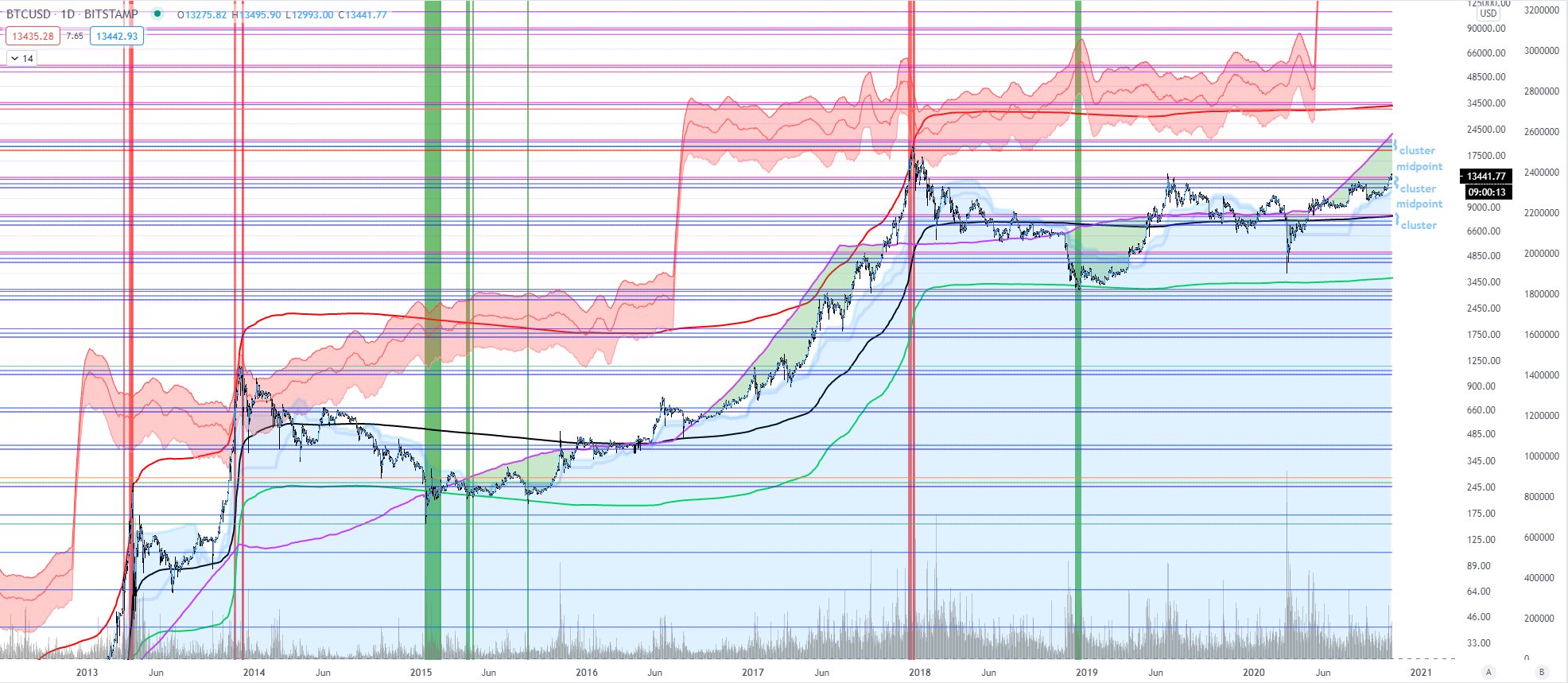 Chart of BTC's price action since the middle of 2012 with analysis by crypto trader Bitcoin Jack (@BTC_JackSparrow on Twitter).
Source: BTCUSD from TradingView.com
A Squeeze is Building
A short squeeze is likely building, adding to the chances that Bitcoin explodes higher as the abovementioned analyst expects.
According to market data shared by ByBt, the funding rates of almost all major crypto exchanges currently are negative. The funding rate is the recurring fee that long positions pay short positions to ensure that the price of the future remains around the price of the spot market. A negative funding rate means that there are more aggressive shorts than longs, and it often results in short squeezes as shorts are incentivized to close their positions.
Featured Image from Shutterstock
Price tags: xbtusd, btcusd, btcusdt
Charts from TradingView.com
Expect an "Inverse Capitulation" if Bitcoin Breaks $14,100: Analyst