Fight Out is the latest project to revive interest in metaverse fitness. It is building a blockchain fitness app and a high-end gym chain that will be anchored by advanced move-to-earn mechanisms. You can level up your health, earn rewards, and fight it out in the Web3 metaverse.
The platform's unique gamification and metaverse tools have drawn attention from crypto and fitness communities, expediting the $FGHT presale. Fight Out has hit the $3M milestone in the first stage of the presale, with just less than 2M to go now. Investors piling in to take advantage of the early 50% bonus hint at an early sell-out of the presale.
Is $FGHT worth the hype?
A deep dive into the project confirms it is. Here is a comprehensive review of Fight Out, accompanied by a step-by-step guide on how you can stock up on $FGHT at the lowest prices ahead of its CEX listings on April 5, 2023.
An Overview of the Fight Out Metaverse
Fight Out is a move-to-earn platform that rewards you for completing workouts, whether in the gym or at home in your living room. Rewards are distributed in REPS, the in-app currency of Fight Out.
The Fight Out Companion App prepares you to become fighting-fit in the real world and the metaverse by giving workouts personalized to your goals and ability.
Your progress and achievements are tracked, analyzed, and integrated into your Fight Out soul-bound digital avatar.
You can convert the REPS rewards accrued in your account to buy gym passes, merch, private sessions, and NFT cosmetics for your avatar.
$FGHT is the native cryptocurrency of the Fight Out metaverse. You can use it to compete in leagues, tournaments, or special game modes. Metaverse purchases are exclusively made in $FGHT.
$FGHT presale is now in the first stage, selling at 0.0166 USDT per token. You can also buy $FGHT using ETH and credit cards. Early investors get a 50% bonus on the purchase.
Get fit and have fun with #FightOut! 🙌

Not only do you earn rewards for reaching your goals, but working out with a group has been shown to be more effective and motivating.

Are you ready to start your fitness journey? 👊⚡️

Learn more at https://t.co/z34Nkx3ffi! pic.twitter.com/aobvTBycqH

— Fight Out (@FightOut_) January 19, 2023
Fight Out is Building the Next-Gen Fitness Destination
Most of our activities have moved online over the last decade. With better flexibility, digitization has saved us time and money. Hybrid work cultures are fast becoming the norm, where companies let employees work from the office as well as home. People of all ages are learning new things all the time, thanks to the thousands of tutorials online on a broad range of topics from art to cooking and rocket science. Media, entertainment, retail, and even health industries have marked their territories on the web.
There is no dearth of online fitness applications, either. The mass approach of traditional gyms has led to their dominance. Gyms have disastrously failed to motivate, guide, and engage clients. Unless, of course, your dopamine levels are higher than average, or you can afford to hire a personal trainer who won't stop bugging you.
That explains the surge of interest in fitness applications. In fact, you have at least one installed on your phone. They promise to give curated workouts and keep track of your diet and workout goals. Still, you most likely haven't opened the application in months (or years). They have negligibly low retention rates.
Why is that?
Motivation plays a key role in achieving fitness goals. Traditional fitness applications and gyms are unable to provide that. We need more than just a gym membership and dozens of notifications to get out of the couch and sweat it out. While gyms have yet to keep pace with the modern lifestyle, fitness apps are bound by the inherent limitations of Web 2. In addition, fitness apps raise concerns about data privacy and security.
Fight Out takes fitness to the Web 3 using NFT, metaverse, and crypto-reward integrations. The ecosystem is built for the new generation, striking a balance between personalization and efficiency.
Gamification is an Efficient User Acquisition & Retention Tool
Fight Out's primary tool to motivate the user is gamification. It does this through multiple features in the real world and the metaverse. To begin with, the Fight Out Companion App rewards you with REPS for accomplishing your daily/weekly/monthly fitness goals. It makes the task easier by offering well-rounded fitness programs customized to your goals and abilities.
In addition to your scheduled workout plans, you can enter competitive leagues, tournaments, and interesting fight modes to win glory, titles, and prize pools. Communities and brands organize special competitions in the metaverse from time to time, setting their own entry fees and prizes as well. And if you think you're on the right track, you can test yourselves against AI-powered pro fighters or other legends of combat sports in the metaverse.
Fight Out is not the first move-to-earn application. There are many in the market, including the crypto space. Platforms like STEPN went on to grab widespread attention in early 2022, owing to the compelling value propositions. They have failed to sustain the interest, however. How does Fight Out stack up against its predecessors?
A Diverse, Vibrant Fitness Ecosystem
Fight Out builds a large ecosystem around the move-to-earn mechanism, which offers better flexibility and engagement. The project's vision is to turn workouts into a fun activity, rather than a chore. You can earn as you work out in the metaverse with your friends, family, or other community members from around the world. Workouts are not limited to walking, jogging, and running here. The diverse GameFi and socialization elements set apart the project.
After creating an account on the platform using your email address, you can purchase a subscription that suits your budget and ambitions. On registration, you will be asked to enter your goals, fitness background, available equipment, location, desired workout types, time available, and any excluded exercises or muscle groups.
Fight Out offers a wide range of workouts, ranging from strength and conditioning to HiiT, mobility, yoga, meditation, and boxing. In addition to workouts, it tracks your nutrition, sleep, and other useful metrics depending on the level of personalization and social accountability you opt for.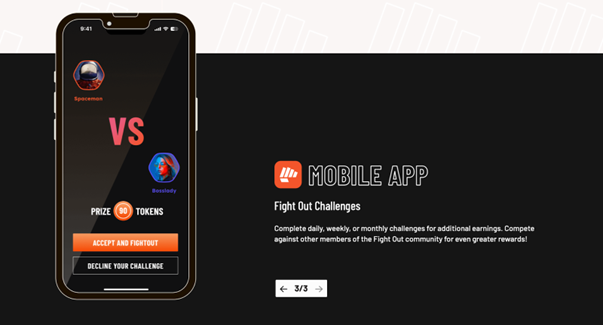 The application gives you a curated workout plan that you need to stick to, in order to collect REPS rewards. You will find many high-quality instructional videos on the platform, led by a head coach and PT, and supplementary deep-dive videos. The topics can range from newbie mistakes to advanced tips and step-by-step guides. Fight Out also has plans to launch coaching programs that help users achieve specific workout goals or unlock a difficult in-app challenge or badge. On-demand workout classes and live sessions are on the cards too, which can be attended in-app or at local Fight Out gyms.
Another factor that gives a competitive edge to FightOut is its low initial investment and technical barriers. It actively tries to steer away from the popular narrative that reduces NFTs to mere cash grabs and collectibles. Fight Out believes that NFTs have bigger purposes.
Fight Out Avatars are Bound to the Soul
In the last two years, we have seen how expensive starter NFTs have proven fatal to crypto metaverses. They are unable to retain users in the long run despite the attached utilities, as the crypto and NFT prices skyrocket. Rich investors hoard the NFTs and drive their prices, in turn, rendering them unfeasible for everyday users. As a result, the application loses its user base and the NFTs take a nosedive.
This is a conundrum new NFT projects have to tackle to prove their long-term relevance and sustainability.
Fight Out puts forth a unique solution – Soul-bound NFT Avatars. They represent your unique digital identity in the metaverse. As the name gives it away, they are bound to your souls and can't be transferred or resold. You can mint your own Fight Out NFT avatar when creating a Fight Out account.
The avatar keeps track of your movements and converts the data collected from workouts and achievements into stat points, recording your training, progress, and achievements. It will represent you in the Fight Out metaverse, where you'll be able to socialize with and compete against other members of the Fight Out community for prizes.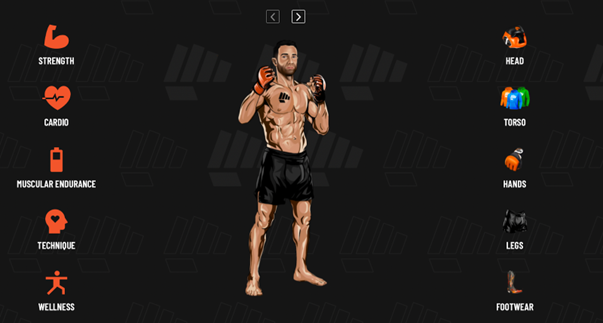 Soul-bound Avatars are not the only digital assets in the ecosystem. It features more crypto, off-chain, and NFT assets. For example, you can customize your Fight Out avatar by adding cosmetics such as attire, hairstyles, accessories, tattoos, and make-up to your digital avatars using REPS.
REPS is the off-chain token of Fight Out, which you earn while completing your training regimes and workout goals. $FGHT, on the other hand, is the metaverse cryptocurrency of Fight Out. Instead of pumping unfair prices for the NFTs that will eventually take a toll on user acquisition and retention, Fight Out nurtures the value of $FGHT.
A Closer Look at REPS and $FGHT
Here is a brief summary of the wide range of utilities served by REPS and $FGHT tokens.
REPS – the Fight Out in-app currency
REPS fuels the move-to-earn reward mechanism on Fight Out. They motivate you to engage in healthy activities, as they can be redeemed for special benefits at any time.
You can exchange your REPS for items in the Fight Out store. This includes an array of products aimed to support the workout lifestyle like training equipment, supplements, and fitness apparel.
You can exchange REPS to get discounts on your monthly Fight Out app membership, remote consultations with fight coaches and personal trainers, etc.
It also gets you in-person benefits such as access to the Fight Out gym, products at the on-site health bar, and access to a co-working space.
You can purchase cosmetic NFTs and power-ups for your avatar using REPS from the Fight Out peer-to-peer in-app marketplace or in-app store. They are usually distributed for completing challenges, community participation, and on-site activities.
While you can earn REPS by completing your workouts, you can also buy them using $FGHT or fiat currency. The latter method lowers the entry barrier for users who are new to cryptocurrencies and Web3. However, purchases in $FGHT are encouraged with a 25% bonus.
$FGHT – the Fight Out metaverse token
$FGHT is the exclusive currency of the Fight Out metaverse. You can use it to compete in metaverse leagues, tournaments, or special game modes with different entry fees and prize pools.
You can also use $FGHT for peer-to-peer wagers (with friends or through Fight Out's smart-matching engine) on high-profile contests between streamers, celebrities, legends, or other showdowns.
Another interesting utility of $FGHT is staking. Fight Out introduces a stake-for-membership model, whereby the more you stake and the longer you stake, the better the membership rewards you receive. Fight Out has different membership tiers with varying services and rewards.
A few examples of membership rewards are gym membership, health center discounts, free merchandise, co-working space access, third-party services, free 1-on-1 training sessions, limited edition fighter NFTs, and access to exclusive events.
Once live, you can purchase $FGHT using fiat credit cards via Transak or exchanges. The platform's goal is to make $FGHT the default currency for purchasing REPS, thus fueling the demand for the token.
Currently, $FGHT is available for purchase at the Fight Out official presale for 0.0166 USDT per token. The token price will increase as the presale moves to the next stages.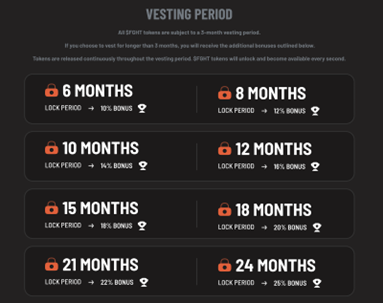 Why $FGHT is an Excellent Investment in 2023
The crypto market is slowly getting back on its feet from the harsh winter of 2022. Having learned the lesson the hard way, investors are channeling their funds to utility-rich projects that explore market-relevant blockchain and NFT use cases.
A good evidence of this shift is the influx of funds to projects like Fight Out. Top crypto publications and industry experts recommend $FGHT as one of the best cryptocurrencies to buy in 2023. Generous returns are awaiting investors who manage to grab the tokens in early 2023 at the presale if the project unfolds as laid out in the white paper.
According to a report published by Bankless Times, the metaverse reached an all-time high of 400 million monthly active users in 2022. By the year 2026, 25% of people will spend an hour or more in the metaverse each day. In fact, most people are willing to spend up to $1,000 on advanced VR gear. And 53% of the companies that invested in the metaverse also invested in cryptocurrencies.
These statistics go on to show that metaverse and blockchain assets will be an integral part of our daily lives in the future. It won't be long before working out in VR becomes a norm. As a pioneering fitness metaverse built on a robust move-to-earn mechanism, Fight Out opens exciting investment opportunities this year.
Listed below are some key highlights of the project:
Fight Out doesn't focus on a single metric for activity. Instead, the ecosystem rewards you for a much wider range of movements, from body-weight exercises and workout class participation to machine and weights exercises. This is made possible by the integration of cutting-edge smart technology that tracks movement and key effort indicators, with all data points going into the reward algorithm.
Fight Out workouts and exercises can be categorized based on attributes like Strength, Muscular Endurance, Cardio, Wellness, and Mental Fortitude. They come with weekly soft caps to ensure all-around fitness.
Fight Out gives time-stamped badges, which are records of achievements inside the app and the metaverse. The badges also give you benefits like increased soft caps on particular skill categories, discounts on items in the Fight Out store, increased drop rates on cosmetic NFTs, and REPS-earning amplifiers.
Fight Out allows you to share your newly acquired cosmetics, badges, challenge completions, and physical achievements for peer recognition, which boosts engagement and morale. How? Fitness motives go beyond health. Let's face it. Showing off your toned arms at the beach feels as good as completing an enduring trek.
Another factor that gives an edge to Fight Out is its emphasis on social factors. It hosts local and custom Fight Out leaderboards for stats and challenges that build a sense of friendly competition. The wide range of social features integrated into the platform motivates you to check out your friends' profiles and improve your goals accordingly.
Up to 50% Bonus Awaits Presale Investors
Fight Out is currently hosting the first stage of $FGHT presale at 0.0166 USDT per token on its official website. The presale supports purchases in ETH, USDT, or fiat credit card via Transak.
There are 10B $FGHT tokens in total, out of which 9% (900M) is sold in the presale to raise funds to launch the app and open the Fight Out gym.
Up to 4.5% of the total supply, which amounts to 450M, will be distributed to early investors of $FGHT.
10% of tokens (1B) will be reserved for exchange liquidity.
The remaining tokens (including unsold tokens from the presale, if any) will be vested over five years to cover the costs of platform development and marketing. Vesting will support the long-term growth of the platform.
Presale buyers can opt to get up to 50% additional $FGHT tokens as rewards, depending on the number of tokens purchased and the length of the vesting period. Fight Out presale will be held in multiple stages with a gradual price hike. So, the earlier you get them, the better the deal.
Huge milestone #FightOutCrew! 👊

We have just raised over $3M in our stage 1 presale! 🔥

⏰ Only 5 days left until the stage 2 price starts increasing! ⏰

Don't miss out – Get up to a 50% bonus with $FGHT! https://t.co/uoCKFB3X3n pic.twitter.com/b44ZDKaHXt

— Fight Out (@FightOut_) January 18, 2023
To participate in the Fight Out presale, make sure you have a crypto wallet installed on your browser or mobile. (We recommend using Metamask and Trust Wallet.) Connect the wallet to the presale page.
Now, you have three ways to buy $FGHT tokens:
BUY ETH WITH A CREDIT CARD
If you're new to cryptocurrencies and don't have any in your wallet, this is the best option to go for. It allows you to purchase $FGHT using your fiat credit card via Transak. For this, click the "Buy ETH with Card" button and follow the on-screen instruction. (Make sure you have enough ETH to cover the cost of $FGHT and gas.) Once the ETH is credited to your wallet, swap it for $FGHT as detailed below.
BUY $FGHT WITH ETH
If you already have ETH in your wallet, click the "Buy $FGHT with ETH" button to swap ETH for $FGHT. Now, enter the amount of ETH you'd like to swap for $FGHT. The vesting slider will show you the bonus you will receive (up to 50%) if you choose to extend the locking period of your $FGHT tokens.
BUY $FGHT
Have USDT in your wallet? Click the "Buy $FGHT with USDT" button to swap USDT for $FGHT. Enter the amount of USDT you'd like to invest and see how many $FGHT tokens you will receive in exchange. As in the case above, the vesting slider will show you the bonus you will receive (up to 50%) on locking your $FGHT holdings. Your wallet provider will ask you to authorize the page to access the USDT in your wallet. Once that is done, confirm the final purchase transaction.
That's it. The tokens will be delivered to your wallet once the claim period is active. The presale is scheduled to end on March 31, 2023. It can close much earlier, however, judging by the fast sell-out of the tokens. $FGHT CEX listings will begin on April 5, 2023, at a listing price of 0.0333 USDT. The token is now selling for 0.0166 USDT in the first stage of the presale.
Fight Out has a Bright Road Ahead
Fight Out has big plans following the presale, including the development of the Fight Out platform, acquiring multiple physical gym locations, and continued onboarding of Fight Out ambassadors for bespoke training programs.
Here are some exciting long-term goals of Fight Out:
The world's first Web3-integrated gym chain that boosts move-to-earn earnings and nurtures deeper community bonds. They are likely to open to the public in Q4 after the presale ends.
Health bars that serve nutritious meals, smoothies, coffee, and snacks. Attached to the gym, there will also be an area for socialization, coworking, and community events.
Training equipment, supplements, and fitness apparel in exchange for REPS. You will also be able to exchange them for in-person benefits like access to Fight Out gyms, products at the on-site health bar, and access to co-working space.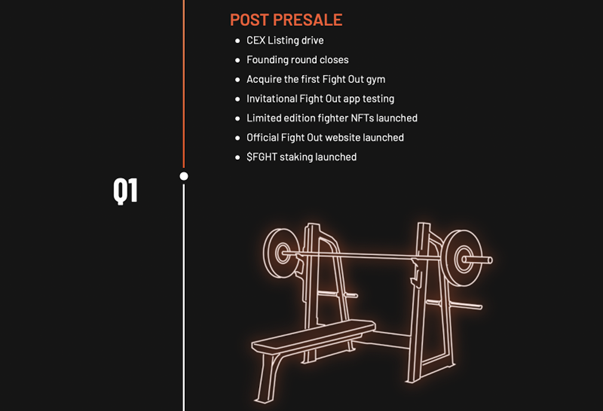 Verdict – Fight Out Presale Justifies the Hype
Fight Out is one of the most promising new cryptocurrencies this year. It ticks all the boxes an investor looks for in a crypto asset, from market relevance to competence and sustainability. If the project unfolds as envisioned, Fight Out has the potential to reward early investors lucratively in 2023 and beyond.