FinTech company The NAGA Group AG aims to bring the advantages of financial technology to the masses through the first blockchain-based ecosystem for decentralized trading, investing, and education in financial markets, virtual goods, and cryptocurrencies.
[Note: This is a sponsored article.]
---
The NAGA Group AG is a German technology company whose mission is to "[identify and build] disruptive business models" and disrupt they have. After conducting one of Germany's fastest recorded IPOs in the past 15 years, NAGA was listed on the Frankfurt Stock Exchange in July, whereupon they saw a share price increase of 400% in less than three months.
Considered one of the top traded retail shares in Germany, NAGA's current market cap exceeds 300 million EUR ($348 million USD). NAGA is the first publicly traded company to follow up a successful IPO with a token sale and, unlike the majority of other token sales, has an existing product already generating millions of dollars in annual revenues.
NAGA Ecosystem
The NAGA ecosystem is an ambitious project that brings together NAGA's core offerings – SwipeStox, Switex, and the NAGA wallet – to create a single platform that makes buying and selling stocks, cryptocurrencies, and virtual goods safer, more transparent, and more accessible to everyone.
SwipeStox
SwipeStox is social trading at its best. It combines the features of social networks like Facebook and Twitter (chat, channels, video, follow and watch, etc…) with a robust trading platform. Designed to take the confusion out of trading, SwipeStox lets users copy and share stock trades with a single click.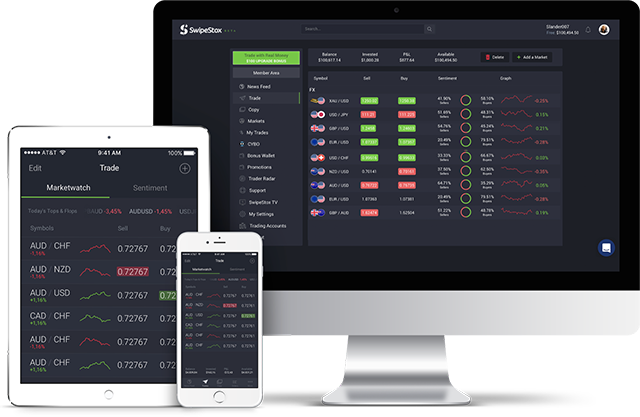 Some of SwipeStox' features include:
Copy Trades

Auto Copy

CYBO robo-advisor

Protector

News Feed

Social features
In addition, users who choose to share their trades with the larger community earn a generous bonus, paid directly to their account, any time another user copies one of their trades. In an interview with CNBC, CEO Benjamin Bilski stated that there are users who are making $10 – $15,000 per month just from having their trades copied by other traders on the platform.
Launched in 2016, SwipeStox currently has tens of thousands of active users and a total trade volume to date of over $49 billion. The SwipeStox app is available for both Android and iOS devices and there is a web-based interface as well.
Switex
Currently in alpha, Switex will be the first independent, safe, and legal virtual goods exchange platform.  Users of the platform will be able to buy in-game virtual items both from other gamers and directly from the game publishers themselves. Switex is not just for gamers, however. Practically any virtual item – concert tickets, movie tickets, e-gift cards – can be bought and sold in the marketplace.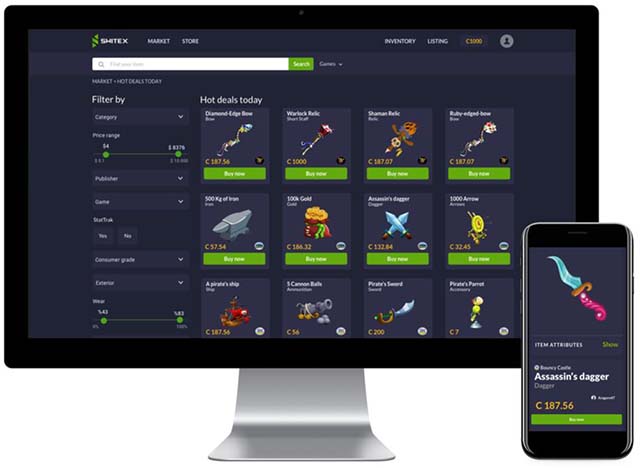 Any item entering the Switex system will be secured against fraud and scamming as the legitimacy of the items, their origins, and the sellers' right to sell will all be verified. Furthermore, Switex' fully integrated clearance and settlement system will automatically transfer goods to the buyer upon purchase, ensuring a seamless and safe transaction for both parties.
NAGA Wallet
The NAGA wallet plays a central role in the NAGA ecosystem. First and foremost, it is a secure multi-currency wallet that allows users to deposit and exchange cryptocurrencies as well as fiat currencies. Second, it serves as a central hub, pulling together SwipeStox, Switex, and any future projects into one easily accessible dashboard interface. Users will be able to invest in stocks, trade virtual goods, manage crypto portfolios, facilitate transfers of funds, and more.
Some of the key advantages of the NAGA wallet include:
Connects to leading cryptocurrency exchanges

Direct integration with SwipeStox and Switex user accounts

Lowest foreign exchange and transaction fees

Decentralized and risk-free storage

Dedicated NGC bonus wallet

inside

the NAGA wallet where users will earn a percentage-based bonus per transaction volume on both Switex and SwipeStox
Currently, the NAGA wallet can be funded with BTC, ETH, LTC, and DASH. Users preferring FIAT currencies can fund their wallet using a credit card or bank transfer.
NAGA Token Sale and Pre-Sale
NAGA will be launching its token sale in two stages – the Pre-Token Sale and the main Token Sale. The exchange rate for NAGA Coin is 1 NGC = $1 USD. Investors can purchase tokens using BTC, ETH, LTC, and DASH. For those wishing to use FIAT currency, EUR and USD are also accepted.
Token Name:

NAGA Coin

Ticker Symbol:

NGC

Token Price:

1 NGC = $1.00

Min. Cap in Tokens:

1 million NGC

Tokens Available for Sale:

220 million NGC (pre-sale and token sale combined)

Minimum Purchase:

10 NGC

Maximum Purchase:

10 million NGC

Accepted Currencies:

BTC, ETH, LTC, DASH, EUR, USD
Token Pre-Sale
Start Date:

November 20, 2017 (00:00 CET)

End Date:

November 27, 2017 (23:59 CET)

Max Cap in Tokens:

20 million NGC

Sale Bonus:

30%
Token Sale
Start Date:

December 1, 2017 (00:00 CET)

End Date:

December 15, 2017 (23:59 CET)

Max Cap in Tokens:

200 million NGC
For more information about The NAGA Group AG, please visit their company website. You can learn more about the NAGA ecosystem and token sale at nagaico.com and by following them on Facebook, Twitter, LinkedIn, BitcoinTalk, and Telegram.
What facet of the NAGA ecosystem do you think will be of most interest to users? To investors? Let us know in the comments below.
---
Images courtesy of The Naga Group AG