The well-known tech star Elon Musk made headlines by commenting on cryptos. However, many of the articles seem to miss the point of what Elon was really saying. 
---
For those who would like to know, here's the link to the interview, the comments about crypto come at the very end (timestamp 25:25).
What became clear to me was that Elon wasn't very interested in talking about it all. Though he did his best to pivot back to Tesla, the interviewer Tasha Keeney did her best to keep him on it. At which point he simply stated some of the obvious pros and cons of digital assets. Responding on twitter just a few moments ago he wrote…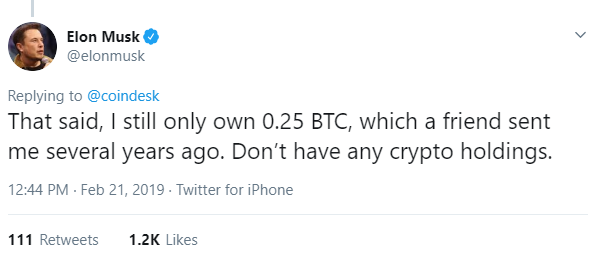 So, the guys got one foot in and one foot out. Far from a critic but not an advocate either.
Certainly, if Musk wanted to come out as a crypto fan he could have taken the Lightening Torch as his friend Jack has done (discussed in a previous market update titled: Sudden Change in Outlook). In fact, the CEO of Twitter and Square has wandered further down the crypto rabbit hole today by trying out the new lightening powered tip bot tippin.me.
The XRP community was quick to point out that sending tips on Twitter has been available for some time through the @xrptipbot. As someone who's sent and received tips through both apps, I can say that they're both easy to use and neither seems to have any particular edge over the other.
Tipping content creators is arguably one of the most mainstream use cases for internet money, the custom has been alive and thriving in China for more than a decade already. The only difference is that in the East, it's more of a closed ecosystem that was set up by Tencent, and I'm thrilled to see that as it catches on in the West, people are integrating with some of the top cryptos.
eToro, Senior Market Analyst
Today's Highlights
US-China trade deadline: 8 days | Days to Brexit: 36
US Dollar Effect on the Markets
Crypto Consolidation
Please note: All data, figures & graphs are valid as of February 21st. All trading carries risk. Only risk capital you can afford to lose.
Traditional Markets
The FOMC release last night did in fact turn heads yesterday as the Fed indicated they're going to leave the balance sheet alone for now, but the pace of rising interest rates was still very much in question.
By this passage in the FOMC's meeting minutes, highlighted by Business Insider, we can see that the Fed is very conscientious of the impact they're having on financial markets, which is arguably the main reason for their sudden shift in policy.
Stock markets are struggling to find a direction this morning. Both the Asian and the European session are returning mixed results as the US futures struggle to hold their gains.
Following January's great recovery, there seem to be lingering questions among analysts about global growth and whether rising wages might start eating into corporate profits.
USD Effect
The United States Dollar has pulled back a bit from the highs, yet still remains resilient around its mid-range (dotted white line). The rising channel (yellow lines) is strong but some think that this pullback is only short term as it builds up enough strength to break through the psychological barrier at 97.25 (blue line).
Given the Fed's new policy, it would make sense for the Dollar to weaken. However, this hasn't happened at all. In fact, the opposite. This could be due to the fact that all of the other central banks are also taking simultaneous measures to weaken their own respective currencies.
This could also be why we've seen the Dollar's drop this morning met with a drop in Gold. The two usually move opposite each other, so to see them traveling the same direction today is a rather rare sight.
This move did occur while Europe was putting out fairly strong PMI data. So a more positive sentiment there puts the reaction in a bit better context of course.
Crypto Consolidation
After the strong rally that we saw in the crypto markets this week, it wouldn't at all be surprising to see some sort of pullback or consolidation. Though it's clear such a pullback would be disappointing to some.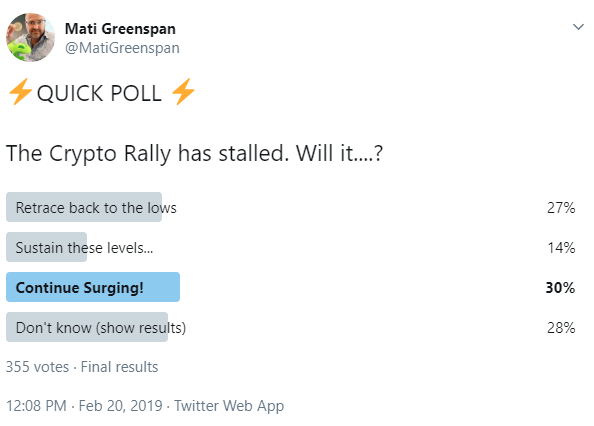 Putting the rally into further context, I'd like to zoom in on our descending wedge that we've been tracking for the past few weeks. For now, the market seems to be flirting heavily with the $4,000 level (doted white line).
Volumes have tapered off slightly to about $28 billion over the last 24 hours. Still much higher than the $15 billion it was at just two weeks ago. This is a good sign that crypto traders are watching closely at the moment as the battle royale for $4k plays out.
Best regards,
Mati Greenspan
Senior Market Analyst
---
eToro (UK) Ltd is authorized and regulated by the Financial Conduct Authority. eToro (Europe) Ltd is authorized and regulated by the Cyprus Securities and Exchange Commission.
This is a marketing communication and should not be taken as investment advice, personal recommendation, or an offer of, or solicitation to buy or sell, any financial instruments. This material has been prepared without having regard to any particular investment objectives or financial situation and has not been prepared in accordance with the legal and regulatory requirements to promote independent research. Any references to past performance of a financial instrument, index or a packaged investment product are not, and should not be taken as, a reliable indicator of future results. eToro makes no representation and assumes no liability as to the accuracy or completeness of the content of this publication, which has been prepared to utilize publicly-available information.
eToro is a multi-asset platform which offers both investing in stocks and cryptoassets, as well as trading CFDs.
CFDs are complex instruments and come with a high risk of losing money rapidly due to leverage. 76% of retail investor accounts lose money when trading CFDs with this provider. You should consider whether you understand how CFDs work and whether you can afford to take the high risk of losing your money.
Cryptoassets are volatile instruments which can fluctuate widely in a very short timeframe and therefore are not appropriate for all investors. Other than via CFDs, trading cryptoassets is unregulated and therefore is not supervised by any EU regulatory framework. Your capital is at risk.