Despite the overarching risks of an economic recession, Bitcoin has performed well over the past few weeks, rallying higher and higher over week after week, shunning off bearish narratives. In fact, since the $3,700 bottom, the cryptocurrency has gained over 80%, reaching as high as $7,500 but now trading at $7,050 as of the time of this article's writing.
What's crazy is that just a few weeks ago, there were analysts seriously thinking the cryptocurrency was on its way to fresh macro lows, meaning a low below Bitcoin's bottom of $3,150 in December 2018.
Now, analysts are expecting the cryptocurrency to rally even higher, with a prominent trader suggesting BTC could begin a multi-week surge towards $9,000 in the coming days.
Bitcoin Could Soon Retake $9,000: Simple Fractal Pattern
Crypto trader Galaxy recently observed that Bitcoin's price action over the past few weeks is showing striking similarities to that seen in late-December and early-January, the previous bottom of the crypto market. The analyst wrote (slightly formatted to read better):
"Observed the following similarities: 1) Both [saw a] 4% shakeout before it broke out, 2) Both created bullish engufing candles, and 3) Both breakouts occured on Friday followed by a quiet weekend while it retested."
Galaxy suggested that should the exact same pattern play out as it did last time, Bitcoin will hit the mid-$9,000s by the start of May, which would mark a 35% rally from current levels.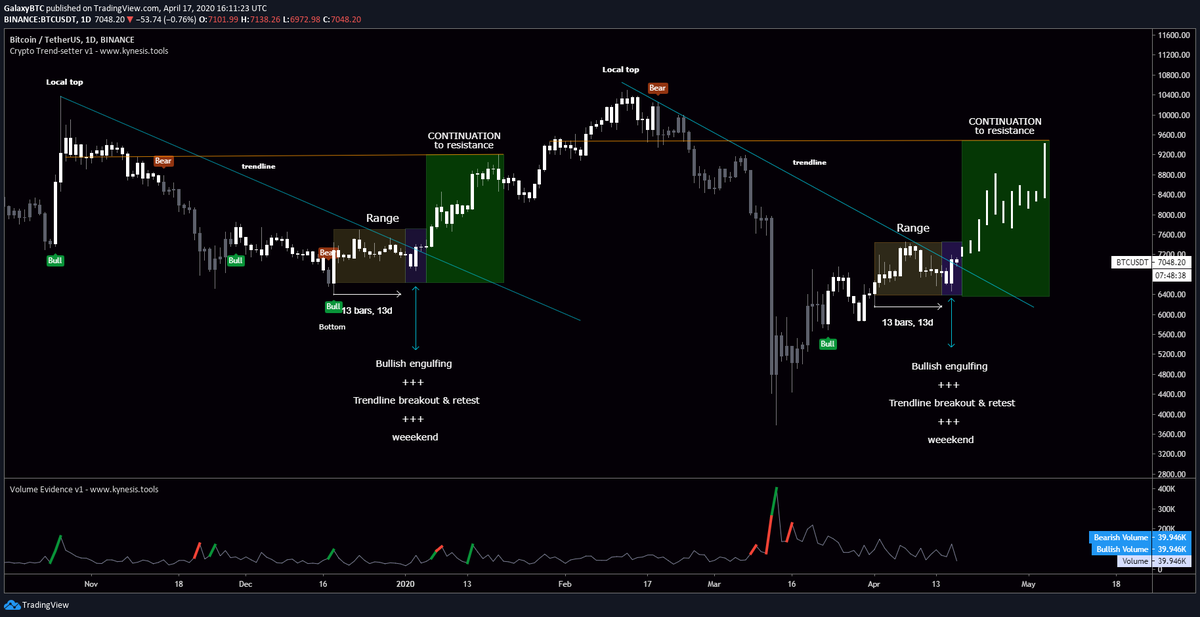 Fundamentally, this makes sense; prior to the previous block reward halving in 2016 and in 2012, Bitcoin rallied rather hard. Below is a chart from trader Nunya Bizniz that explains the point well.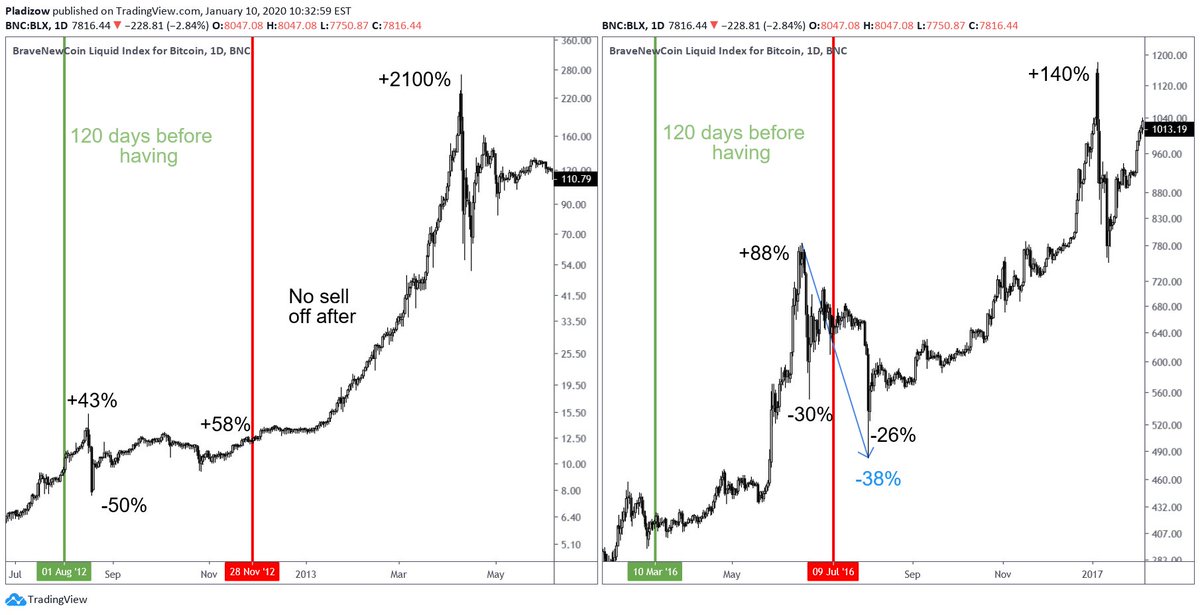 The idea with the pre-halving rallies goes that as block reward halvings, which are widely seen as bullish events, near, investors ramp up their Bitcoin buying efforts to "front-run" the rest of the market in an attempt to profit.
Not So Fast, Cry Traders
Some have been hesitant to suggest that a rally is in store though.
For instance, Avi Felman — a trader and analyst at crypto-asset fund BlockTower — recently observed that there are two clear signs that a reversal in the cryptocurrency market is on the horizon:
The Tom Demark Sequential, a time-based indicator that prints "9" candles to mark reversals, is printing a sell "9′ candle on the three-day chart. Previous three-day 9 candles marked the mid-March bottom and the December 2019 bottom, but front-ran the $10,500 top seen earlier this year.
Ethereum is currently failing to break past the three-day 50 moving average and the 200 moving average.
It takes a brave man to stand here.

Thanks @truenomic for the clean TD pic.twitter.com/IVLRnpwS59

— Avi IS RIGHT (@AviFelman) April 16, 2020
Furthermore, crypto analysts have suggested that Bitcoin is in the midst of printing a textbook bearish chart pattern: a rising wedge. This exact same pattern marked the $10,500 top earlier this year, and was followed by the massive capitulation event that saw BTC fall to $3,700 in mid-March.
Photo by Kylo on Unsplash