Bitcoin has managed to stave off a further decline after bouncing off $11,600 on Wednesday.
As of this article's writing, the leading cryptocurrency trades for $11,850.
BTC is recovering as the U.S. dollar drops, which is a correlation that many analysts expected.
Bitcoin could fall towards $11,000 before deciding where it intends on moving next, a number of analysts have asserted.
There remain some certain that a drop towards $11,000 will precede another leg higher.
They think that the uptrend BTC is in remains intact.
Bitcoin Could Fall Towards $11,000
Bitcoin is primed to drop another 7% to $11,000, according to a historically accurate analyst who predicted that BTC would bottom 2019's bear market at $6,400.
The analyst in question noted that this would satisfy a potential fractal that has formed. As the chart below shows, BTC's recent price action since rallying to $11,000 looks similar to the consolidation from May to July.
The fractal playing out will mean Bitcoin falls to $11,000 at the start of September, then may kickstart another move higher.
"Find this fractal of interest at the moment. With price now sitting on the buy zone/ log curve, wouldn't be surprised if it settles down [relatively speaking] – current price action extended as compared to previous moves," the trader commented in reference to the chart below.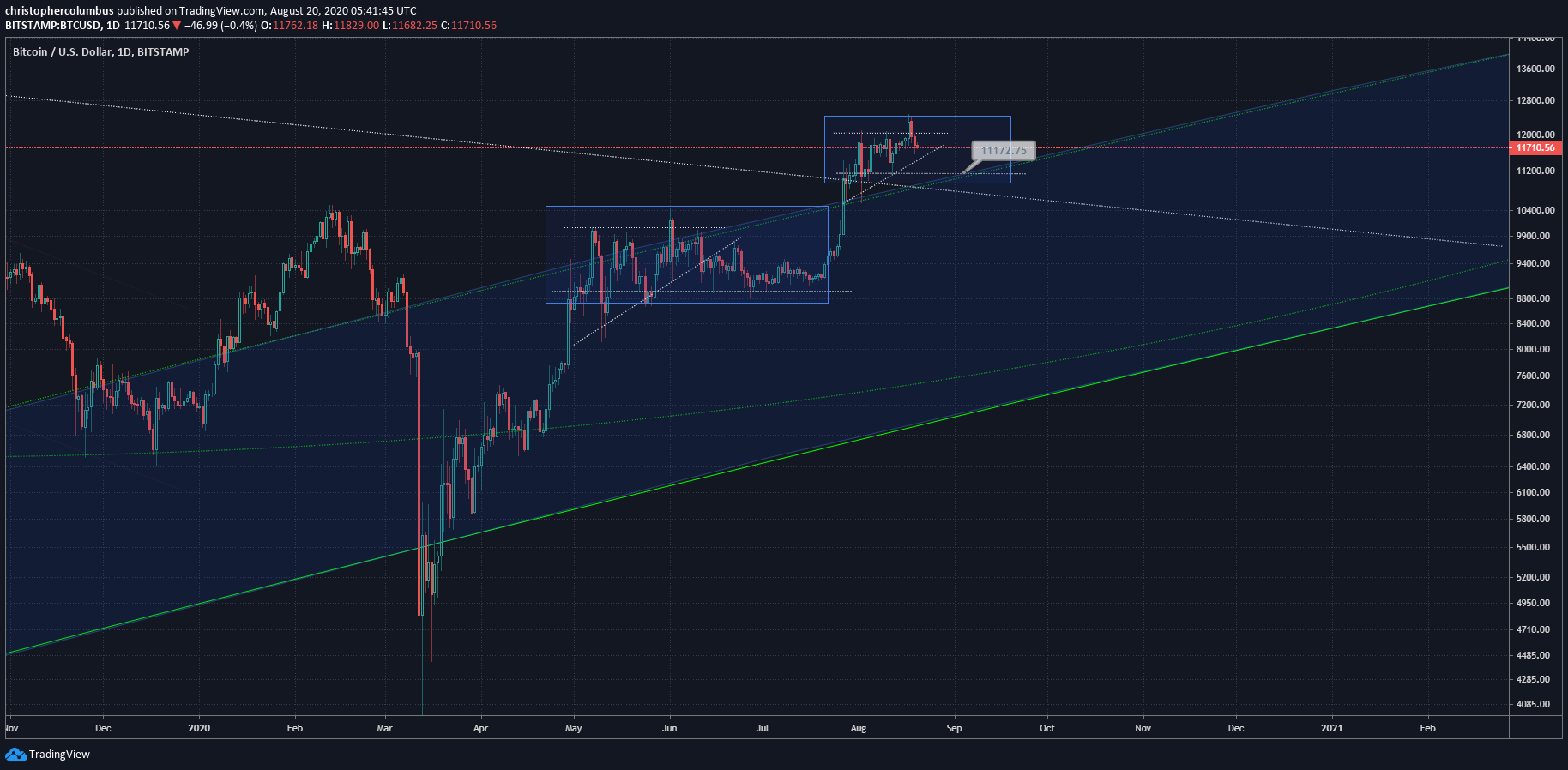 Chart of BTC's price action over the past few months with a fractal analysis by crypto trader Dave the Wave (@Davthewave on Twitter). 
Chart from TradingView.com
The fractal isn't the only analysis suggesting Bitcoin will revert to $11,000 before undergoing its next move.
One crypto analyst noted that Bitcoin's inability to hold above the $12,000 is likely setting the stage for a drop towards $11,000.
He shared the chart below to display this sentiment, adding:
"$BTC Took out the high, then dumped pretty aggressively. Looks good to test $11070 one more time to me. If it however reclaims the red line ($12100) on a closing basis I think it's good for another $1000 candle up. Bears got a pretty neat invalidation here."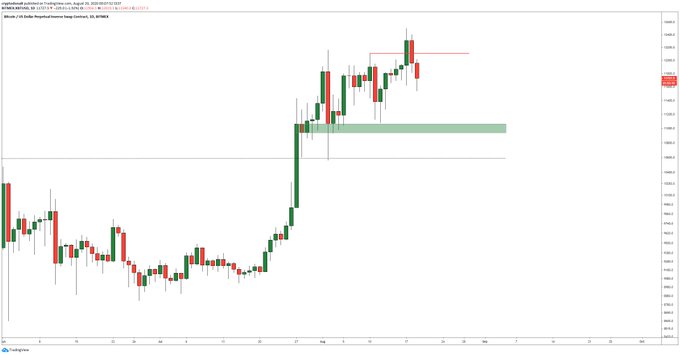 Chart of BTC's price action over the past few weeks with a level/range analysis by crypto trader DonAlt (@CryptoDonAlt on Twitter). Chart from TradingView.com
There is another analyst who predicted this "invalidation" to a T. His analysis also corroborates the sentiment that BTC will soon return to the range lows at $11,000.
Is the Uptrend Intact?
If BTC falls to $11,000, will the uptrend remain intact? On a medium-term time frame, the answer to that question would be yes.
As long as Bitcoin manages to maintain $10,500 on a macro time frame, there are many analysts willing to address BTC with a bullish bias.
Featured Image from Shutterstock
Price tags: xbtusd, btcusd, btcusdt
Charts from TradingView.com
This Fractal Suggests Bitcoin Will Fall Towards $11,00 Before a Next Leg Higher