One of the best things about the metaverse today is the wide choice of immersive games on offer. Indeed, gaming is one of the most popular use cases for virtual worlds, alongside socializing, shopping and entertainment. The great thing about metaverse environments is that they provide a much more immersive experience that traditional video games are unable to match.
It's worth noting that metaverse games are not a single genre. In fact, the virtual world can play host to many different kinds, including shoot-em-ups, exploration, mining, educational, casino and racing games.
Many metaverse games are enhanced by the decentralized capabilities of blockchains, which serve as the foundation of many virtual worlds. With blockchain, metaverse games can take advantage of non-fungible tokens or NFTs that introduce the possibility of asset ownership – where players actually own their in-game characters, skins and assets, and can even earn financial rewards for their achievements in the game.
If you're a gamer who's new to the metaverse and NFTs, you'll be happy to discover that there are numerous exciting games that you can play right now:
LandRocker:
Fans of Minecraft will feel right at home in LandRocker, which is a metaverse-based multiplayer game focused on exploration and mining. Players can explore hundreds of unknown planets in the LandRocker universe, using NFT-based Rovers to drive around and locate resources which must be mined. The game takes advantage of the randomness-generating ability of blockchain to scatter resources and rewards across dozens of alien worlds and players must use their abilities to locate them before their rivals in order to earn valuable rewards.
The game, available in both 2D and 3D, features multiple modes, including player-vs-player and player-vs-environment challenges. Users can start off with a free Rover, but if they acquire an NFT Rover they'll gain extra functionality and powers, allowing them to better fight their rivals in a non-stop chase to earn real-world rewards. However, players will need to ensure they have enough fuel before embarking on new missions.
Once they have collected enough resources, players can even own the planets within LandRocker's universe, giving them a way to generate revenue by selling fuel and mining rights to others. In addition, LandRocker acts as a canvas for budding developers, who can use its 3D game builder to design and build their own planets.
Banksters:
A unique, incentivized learning platform, Banksters bills itself as an NFT-based EduTech simulator that gamifies the crypto trading experience to make it more accessible to those without any knowledge of financial markets.
Players are tasked with adapting to the market condition of various tokens, and can do so using various capabilities that are likened to actions and events in the real world. By making smart, strategic decisions, players will learn how to trade successfully, improving their financial literacy as they slowly become more savvy traders. They learn skills that not only help them to succeed in the game, but can potentially also make them money in real life.
Banksters offers three types of gameplay – first is mining, where players use default mining equipment to dig for in-game tokens. Second is investment runs, which simulate trading experiences using real-world data. In this mode, the amount of entries a player can make is proportional to the real life prize pool. Here, NFTs provide special abilities such as an "Elon's Tweet", which emulates a real-world situation where the Tesla and SpaceX founder may attempt to pump or dump a specific crypto asset. Players can learn to take advantage of this to increase their trading profits.
Ultimately, Banksters is about teaching people how to trade crypto in real life. It replicates the insane volatility of cryptocurrencies, while showing wannabee investors how to use real-world tools to recover their investments, all without actually exposing themselves to risk.
Upland:
Upland is a virtual property trading game that's based on the physical world. Numerous replicas of famous cities exist in Upland, and the game centers on buying, collecting, selling and trading virtual NFT properties based on real-world addresses. There are similarities to Monopoly, with players able to build on their virtual properties, open a business and even collect rent on them in UPX tokens.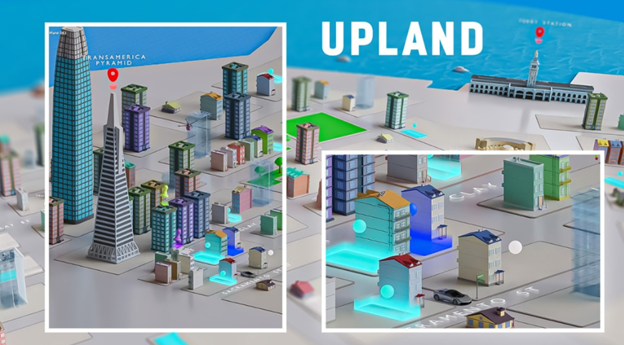 Inside Upland's universe, virtual properties are hosted on the EOS blockchain and mapped to a real-world location on its world map. The UPX token is not a traditional cryptocurrency as it can only be traded within Upland itself, but the NFTs are genuine and can be bought and sold for stablecoins such as USDC.
There are numerous possibilities for entrepreneurs in Upland, who can open businesses ranging from digital goods stores to art galleries and more. They can even provide services. It also offers something called "Legits", which are branded NFTs that players can use to decorate their metaverse properties. Then there are games, such as Upland's Racing game, where players can acquire NFT racing cars and compete against others for prizes.
Upland famously became FIFA's metaverse partner during the 2022 Qatar World Cup, building a replica of Qatar's World Cup Village and the Lusail Stadium that hosted the final.
Town Star:
If you love Farmville, then Town Star is the perfect NFT metaverse game for you. It's a farming simulator game that requires players to come up with clever strategies to improve the efficiency and profitability of their virtual farms.
Farmers need to gather various types of resources, such as fertilizers and machinery to grow a range of crops more efficiently, and then sell them for money. Although it initially appears to be quite simple, Town Star quickly becomes much more complex as players create what are essentially production lines made up of houses, crop fields and animal ranches. Slowly but surely, farmers will progress from a simple plot of land to a large-scale industrial farm that is much more profitable, but also extremely challenging to manage properly.
Players can buy NFTs to help them complete certain tasks and jobs faster and gain extra storage space for their crops. At least one NFT is required to benefit from Town Star's play-to-earn features.
If you're interested in playing one of these games, the NFTs can be acquired directly from the developers using multiple cryptocurrencies, as well as secondary markets such as OpenSea and Looksrare.
Disclaimer: This is a paid release. The statements, views and opinions expressed in this column are solely those of the content provider and do not necessarily represent those of Bitcoinist. Bitcoinist does not guarantee the accuracy or timeliness of information available in such content. Do your research and invest at your own risk.