Cryptocurrency assets are notorious for being extremely speculative and volatile, but their "debt difficulties" have recently gained attention.
FTX Token (FTT) and Terra (LUNA) are some of the crypto coins that suffered the most. Due to the FTX platform's $6 billion hacking attack, FTT  prices declined rapidly. Meanwhile, LUNA's CEO faces charges from the South Korean government.
That's why you should invest in coins with real utility – not some pumped up highly dilutive coin! One coin we recommend is The Hideaways.
FTX Token Collapses
A liquidity crisis is at the root of the demise of FTX, the second-largest cryptocurrency exchange in the world. This occurs when a business either needs more cash or needs to promptly transform its assets into cash to meet demand.
FTT and other cryptocurrencies had a sharp decline in value due to panicked investors immediately selling them. The token is trading at $1.47, declining over 24% in the past 24 hours.
Anxious FTX users withdrew $6 billion from the market. After seemingly lending the remaining customer funds to other networks, FTX stopped allowing withdrawals, keeping users with holdings worth billions more on the exchange—possibly permanently.
Investors no longer consider FTT as a coin worthy of their investment.
South Korean Authorities Are Hot On Terra's Tail
Shin Hyun-Seong, the co-founder of the former stablecoin creditor Terra (LUNA), was caught red-handed by South Korean authorities. They reportedly recovered over $100 million in funds from Hyun-Seong.
Before the firm's collapse, he was charged with selling pre-issued LUNA tokens to unsuspecting customers and was said to profit immensely.
As a result, LUNA's price declined further by 7.40% and is trading for $0.000156. If you're a LUNA holder, withdraw your funds and direct them to other crypto projects instead. You won't have a future with LUNA.
The Hideaways Gives FTT And LUNA Investors Hope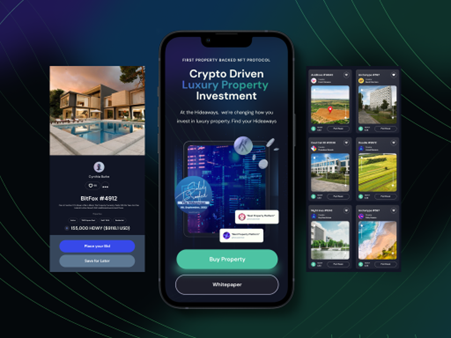 FTX Token (FTT) and Terra (LUNA) investors in significant numbers are transferring their holdings to The Hideaways (HDWY). Leading crypto experts urges investors to buy HDWY tokens immediately.
With The Hideaways (HDWY), investors can mint an NFT to purchase carefully chosen real estate. Investors on the site can make 20,000% of their initial deposit in addition to a security audit passed by SolidProof.
The project's presale event was a big success, with many buyers adopting about half of all coins on the site!
But The Hideaways (HDWY) is not yet finished; to level its network, it will soon launch a second presale event.
This is your chance to buy a coin that might be one of the best investments ever!
You can invest in a promising crypto project a super low price and increase your ROI 10x!
Website: https://www.thehideaways.io/
Presale: https://ticket.thehideaways.io/register
Telegram: https://t.me/thehideawayscrypto
Twitter: https://twitter.com/hdwycrypto
Disclaimer: This is a paid release. The statements, views and opinions expressed in this column are solely those of the content provider and do not necessarily represent those of Bitcoinist. Bitcoinist does not guarantee the accuracy or timeliness of information available in such content. Do your research and invest at your own risk.