It's been a strong day for scarce assets like Bitcoin, gold, and silver. These three markets are up strongly on a day where the S&P 500 struggled to register any gains after Monday's surge.
As of this article's writing, Bitcoin is up 2.5% in the past 24 hours while the silver market has gained 5% and gold around 1%.
A prominent hedge fund manager that has long had an interest in BTC expects this rally to continue. He wrote on July 20th that the three aforementioned assets, coupled with others in its class, could soon make "explosive moves higher."
Bitcoin Could Soon Explode Higher, Says Kyle Bass
According to the chief investment officer of Hayman Capital Management, Kyle Bass, Bitcoin will soon rally alongside the two top precious metals:
"Silver, Gold, Bitcoin, etc all look to be ready to make explosive moves higher given the sheer amount of money printing going on around the world. Here is a chart or front-month silver going back 10 years."
Bass is a prominent investor who called the Great Recession in 2008. He has also been critical of China and the central bank money-printing efforts that have gone on over the past decade.
In late 2019, he said that what will also fuel a rally in the price of Bitcoin is people in Asia, especially in China, trying to siphon funds out of the sometimes closed economy there. He said to Yahoo Finance at the time: 
"If you're in Asia and China and you're in a closed currency system, or if you're in Hong Kong and you can't seem to get a big conversion of Hong Kong dollars to U.S. dollars what are you going to buy? Well, you're going to buy anything that's nailed down — you're going to buy gold, you're going to buy bitcoin, you're going to do whatever you can to get your money out of your regime that's falling."
But, of course, times have changed since late 2019. As made apparent by this recent tweet, he thinks a large driver in the price of Bitcoin is money printing by central banks.
It's important to note that gold has already seen an explosive rally relative to BTC. One analyst shared this chart below, as reported by Bitcoinist previously.
It shows that should Bitcoin follow the path trailed by gold, it will soon break past $10,000 and beyond.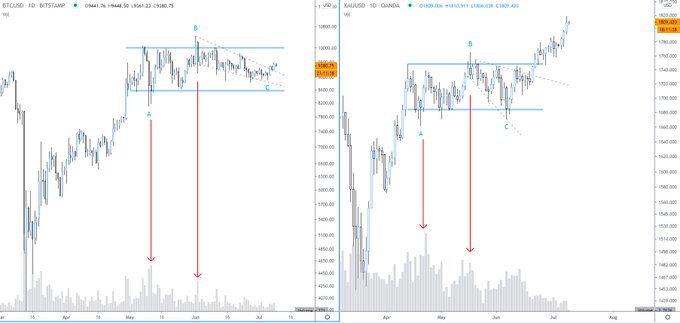 Far From the Only Bull
Bass isn't the only analyst that says Bitcoin is likely to rally due to the vast amounts of money printing going on.
Robert "Rich Dad" Kiyosaki, the author of "Rich Dad Poor Dad," said that he thinks Bitcoin, silver, and gold will outperform in the current macroeconomic environment. He says that these investments can act as "real money" while the fiat money printed by central banks is "fake money."
There's also Dan Morehead, the co-CIO of Pantera Capital, who recently said:
"Now that we're in the trillions, the deficit just simply has to have a positive impact on the price of things not quantitatively-easable — stocks, real estate, cryptocurrency relative to the price of money. Said another way, the BTC/USD cross-currency rate will rise."
Where exactly BTC rallies to, though, isn't clear.
Featured Image from Shutterstock
Price tags: xbtusd, btcusd, btcusdt
Charts from TradingView.com
Top Fund Manager Explains Why Bitcoin Will Undergo "Explosive" Rally