Algorand's 30% ascent on the fortnight chart takes it to the list of cryptocurrencies to keep an eye on this month. IMPT is another trending green crypto that investors are hoarding, in anticipation of a 50X climb by 2023. The IMPT presale is now sprinting to an early sell-out, having already raised $12,419,458 out of its $25,980,000 target in a month.
Green Cryptocurrencies Won't Remain Undervalued for Long
The conversation around the role of blockchain in sustainability and climate action is gaining momentum as world leaders convene at COP27. Industry experts believe that green projects will play an integral role in bringing Web3 to the masses in the coming years. The inherently decentralized makeup of blockchain will streamline global green initiatives without compromising on transparency or security.
The prediction also hints at the massive growth potential of green tokens as an investment. Blockchain's rapid infusion into traditional green markets will trigger demand for underlying tokens, as they find relevant, real-world utilities.
Listed below are three pioneering green crypto projects that make excellent short-term and long-term investments.
1. IMPT (IMPT)
IMPT is a Web3 ecosystem that aims to decentralize carbon offsetting through a dedicated carbon credit marketplace, a shopping platform, and a gamified social media platform. While IMPT is not the first Web3 project to set out on bringing more efficiency to carbon offsetting, it is clearly one of the best.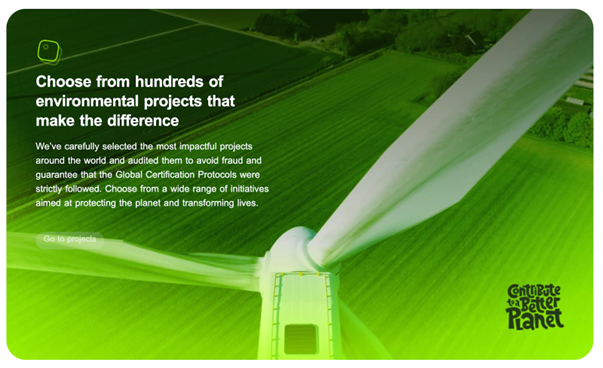 The project brings together high-impact carbon-offsetting projects, socially-responsible businesses, and environment-friendly individuals on the green mission.
Exciting News, #IMPT Crew! ?

? Our $100,000 giveaway is still live! Don't pass by! ?

Try your luck now ⬇️
https://t.co/qzMj0sSs8Q pic.twitter.com/FpizAZHAR6

— IMPT.io (@IMPT_token) November 7, 2022
IMPT is open to both mandatory and voluntary participants. This is how IMPT's focus on usability and engagement helps it achieve its grand ambitions:
The first pillar of IMPT is the IMPT marketplace, where you can buy, sell, and retire tokenized carbon credits. The unique digital collectibles make use of the traceable, transparent foundation of blockchain to prevent double-spending and fraud common in the carbon market.
The second pillar is the IMPT shopping app, which allows you to earn carbon credits during your everyday shopping. It lists global retailers who set aside a percentage of their sales margin to IMPT's carbon credit program. IMPT's recent partnerships with high-profile global retailers like Bloomingdale's and Bodega speak for its credibility.
IMPT nurtures sustainable growth through gamification. For example, the IMPT social platform, the third pillar of the ecosystem, tracks the contribution of individuals and businesses to climate action through a new scoring system.
If the team sticks to the roadmap, IMPT will be one of the most successful cryptocurrencies of 2023. It is predicted to climb 50X by next year. Join IMPT on Twitter and Telegram for the latest updates about the project.
2. Algorand (ALGO)
Algorand is one of the world's first sustainable blockchain projects with a solid vision. The team steered by Turing Award-winning cryptographer Silvio Micali is at the forefront of green blockchain innovation. Over the years, the institutional-grade Web3 infrastructure has helped global organizations, businesses, and governments with their sustainability missions.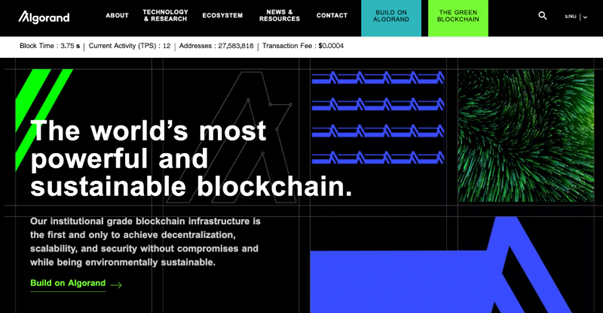 For example, Algorand announced its official partnership with FIFA in May 2022. ALGO is expected to climb further up the charts as the FIFA World Cup kick-starts on 20 November 2022.
Algorand 7D chart, 7 Nov 2022, source: CoinMarketCap
ALGO's long-term forecasts also look bright, thanks to its consistently growing infrastructure and network.
3. STEPN (GMT)
STEPN doesn't come with a green tag. It is a self-styled Web3 lifestyle token built on Solana. The project's goal is to GameFi fitness and inspire users to lead a healthier lifestyle. The application incentivizes activities like walking and cycling with GMT tokens, in turn, reducing the global carbon footprint of vehicles.
"The launch of the ASICS x Solana UI Collection is a major step forward for #Web3 commerce. We're proud to leverage Solana Pay and partner with #STEPN to help us scale our mission to inspire the global Web3 community to create healthy habits with our products." – @ASICSamerica https://t.co/tRsP8NIzvk

— STEPN | Public Beta Phase V (@Stepnofficial) November 5, 2022
Does it make an impact? Clearly, given that STEPN has entered the top-100-crypto list in less than a year of going live.