Without discussing current and potential benefits of the dominant cryptocurrency, Harvard University professor and former IMF chief economist Kenneth Rogoff has decided now is the right time to boldly predict that Bitcoin will bottom out at $100 in 10 years.
---
Start Saving Now
According to Harvard University professor and economist Kenneth Rogoff, Bitcoin is far more likely to be traded at $100 than at $100,000 ten years from now.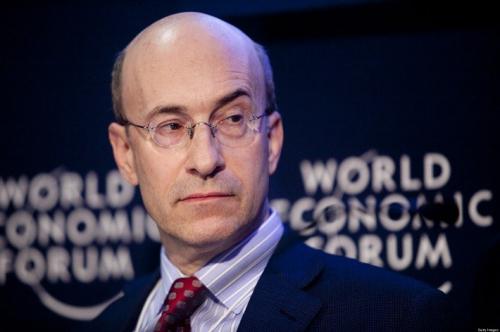 Rogoff told CNBC's "Squawk Box":
I think bitcoin will be worth a tiny fraction of what it is now if we're headed out 10 years from now … I would see $100 as being a lot more likely than $100,000 ten years from now.
While it's nearly impossible to see one decade into the future, we're going to go out on a limb and say — should that prediction come true — we'll be looking at a massive buying opportunity.
Rogoff's prediction contrasts sharply with Bitwise Asset Management's Vice President of Research and Development Matt Hougan's — who predicted Bitcoin and cryptocurrency is a multi-trillion dollar industry.
Only Criminals Use Bitcoin — Right?!
Rogoff, the former chief economist of the International Monetary Fund (IMF), explained his reasoning with some serious misinformation:
Basically, if you take away the possibility of money laundering and tax evasion, [Bitcoin's] actual uses as a transaction vehicle are very small.
Naturally, Rogoff glosses over both the current and future benefits of transacting Bitcoin in favor of any FUD thrower's favorite argument: it's only used by criminals.
Rogoff fails to mention technological advancements, such as Lightning Network, which may make transacting the cryptocurrency instantaneous and easy for both vendors and customers.
Instead, he claims the vast majority of Bitcoin transactions are for illegal purposes — despite studies suggesting said transactions make "significantly less" than 20 percent of all Bitcoin transactions.
A United Crackdown That Probably Won't Happen
Rogoff also claims that government regulation on a global scale will cause Bitcoin's price to plummet, though he admits that it won't happen any time soon. He told CNBC:
It really needs to be global regulation. Even if the U.S. cracks down on it and China cracks down, but Japan doesn't, people will be able to still launder money through Japan.
World governments have already expressed varying stances on cryptocurrency, and it's unlikely every major world power will unanimously agree on a regulatory framework — since, if history is any indication, countries can rarely unanimously agree on anything.
What do you think of Rogoff's bold claim? Do you think Bitcoin will ever get anywhere near $100 again? Let us know in the comments below!
---
Images courtesy of Pixabay, Reuters, and Bitcoinist archives.