So it seems, the two worlds of crypto and global politics have finally collided. Over the last 24 hours, I have seen several crypto analysts trying to blame bitcoin's fall below $3,680 last night on the US Government Shutdown. 
---
Their logic is that due to the shutdown, we may see a delay in the launch of Bakkt. As Bakkt is still pending regulatory approval many think that the shutdown could affect this timeframe. Furthermore, many people now seem certain that the delay will last about two weeks.
Going into the seventh day of the shutdown today, it remains unclear when it will be over. There might be a deal today or the shutdown could potentially drag on for months, we simply don't know.
Despite the speculation, I haven't seen any indication that the specific offices responsible for Bakkt's regulatory approval will not be operating during the shutdown. As far as I understand, the government is still operating at partial capacity and financial regulators may just continue operating as normal.
Furthermore, and more importantly, I don't think that any crypto investor is really going to start selling coins they've been holding for more than a year over a two-week delay. We really need to stop watching ETFs and institutional products as our primary indicator for industry success.
If you want to see some of the real indicators of crypto growth, please check the bottom section of this analysis.
@MatiGreenspan
eToro, Senior Market Analyst
Today's Highlights
Roller coaster stocks
Metals Flying
Analyzing Bitcoin Growth
Please note: All data, figures & graphs are valid as of December 28th. All trading carries risk. Only risk capital you can afford to lose.
Traditional Markets
This week has been an absolute roller coaster for the stock market. The reduced liquidity during the holiday season is really getting to them and the swings are quite wild. This has been by far the most fun I've had trading all year and today being Friday could potentially be extra special.
Yesterday started out pretty glum. After the monster rally from Wednesday it almost looked like we were slipping back into the bear market, as indices were down more than 2%. Suddenly, a single uptick developed into some powerful surges and by some miracle, the Dow Jones ended with a gain of more than 1%.
I have no idea what actually happened inside the purple circle below but whatever it was woke everybody up.
USD Vs Gold
We may end up throwing this data away after the holidays but I think it's important to note the rise in precious metals, which is coming off the back of a weaker USD. Crude Oil on the other hand doesn't seem to be appreciating.
Did Bitcoin Grow in 2018?
Judging by the market prices, cryptoassets haven't done too well this year. However, price can be a rather slippery indicator when trying to measure growth.
We know that the industry is going stronger as reported previously in these updates. If we truly want to get an understanding of how the adoption of cryptocurrencies is looking on the ground, we'll need to look at several factors.
The first would be blockchain stats like transaction rate and volume. That we can get quite simply from sites like bitinfocharts.com.
By both of these measures (above and below), we can see that usage of Bitcoin's blockchain is down sharply from last year but still noticeably higher than previous years.
The thing is, though usage may fluctuate infrastructure once in place tends to stay in place. So the above is kind of like judging the effectiveness of a highway using traffic reports.
So, there are two more data points we can look at. Looking at merchant adoption and the installation of ATMs, we can get a good understanding of how Bitcoin's infrastructure has grown this year.
ATM growth has been fantastic. According to data from coinatmradar.com, the number of bitcoin cash machine on-ramps has doubled this year from around 2000 to around 4000 machines. As we can see, this is exactly on pace with 2016 and 2017. Meaning, that over the last three years this number has doubled every year.
As for the number of merchants, we can gather a good reading from coinmap.org, who shows strong growth this year but not quite as strong as previous years. Take a look at their heat map, it's fun to play around with.
Breaking down the data from Coinmap we can see a total growth in 2018 of 25.18%, which isn't as high as 2017 but still on par with previous years.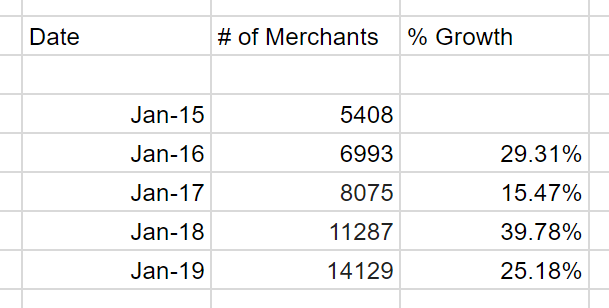 So, if the question is did the network grow? The answer is emphatically yes!
Have a lovely weekend!
---
This content is provided for information and educational purposes only and should not be considered to be investment advice or recommendation.
Past performance is not an indication of future results. All trading involves risk; only risk capital you are prepared to lose.
The outlook presented is a personal opinion of the analyst and does not represent an official position of eToro.
eToro is a multi-asset platform which offers both investing in stocks and cryptocurrencies, as well as trading CFD assets. 
Please note that CFDs are complex instruments and come with a high risk of losing money rapidly due to leverage. 65% of retail investor accounts lose money when trading CFDs with this provider. You should consider whether you understand how CFDs work and whether you can afford to take the high risk of losing your money.
Cryptocurrencies can widely fluctuate in prices and are not appropriate for all investors. Trading cryptocurrencies is not supervised by any EU regulatory framework.