The Algorand network is one of the fastest-growing projects in the crypto industry. Its decentralized finance (DeFi) sector has expanded from less than $25 million in July 2021 to over $120 million today, according to data from DeFi Llama.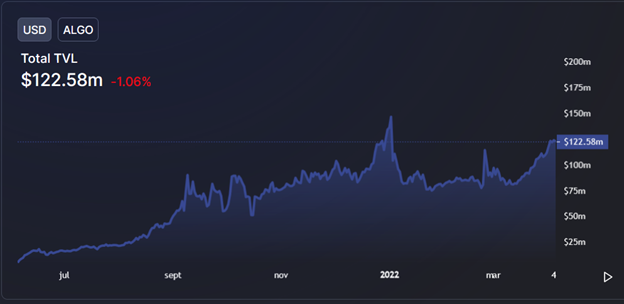 The network seems poised to see further expansion as it leverages an innovative consensus algorithm called P, interest from developers, and energy-efficient and sustainable blockchain. However, Algorand's expansion will require support.
Decentralized oracle network Algoracle will be one of the most important tools to support this growth. This project is currently in its testnet phase but will be a core component of the Algorand network ecosystem.
Consider Ethereum, one of the most popular cryptocurrencies in the industry. This digital asset was able to reach a new era of adoption when its decentralized finances (DeFi) and non-fungible token (NFT) sectors boomed in 2020.
These sectors have triggered a craze that has rippled across the world. However, this was all possible with oracles, such as Algoracle. They provide smart contracts and protocols powering decentralize applications (dApps) with real-world data.
Without this data, something like Uniswap, SushiSwap, MakerDAO, or any DeFi applications would be unfeasible. Algoracle's oracle services are like a bridge connecting the digital world with the real world in a secure, decentralized, cost-efficient, and quick fashion.
Unlike similar services like Chainlink, Algoracle is an evolving and permissionless service aimed at resolving its core problem: centralization. In that way, the Algorand ecosystem can access a variety of feed providers to access stock price, crypto prices, weather, sports events, and more with advanced programming logic.
A Better Oracle Service Running On Algorand
Algoracle is capable of offering a better product than previous generations of oracle services due to Algorand's consensus mechanism. This system can evade the typical security issues with a standard Proof-of-Stake system and replicate its benefits on Algoracle's services.
Algorand uses a validator selection process that reduces attack vectors across the board. Called Verifiable Random Function (VRF) it operates with a mechanism supported by verifiable randomness to select the network's validators.
The VRF mechanism it provides the network, and therefore Algoracle, with better performance, a better scaling capacity, and 100% uptime. Chainlink and other competitors have integrated a VRF mechanism, but Algoracle benefits from Algorand's native mechanism to offer a superior product with better efficiency.
Thus, the dApps launch on Algorand will have a next-generation of oracle services without the limitation of standard smart contracts. This will allow them to implement new use cases and features as they benefit from Algoracle and Algorand VRF mechanisms at scale.
Algoracles To Become The Key Piece To Secure Algorand's Future Expansion
In the next months, Algoracle will focus on deploying its project on the Algorand mainnet along with its native token GORA. In the past year, the project successfully closed its funding round and consolidated major partnerships that guarantee its spot in the future of Algorand.
Algoracle partnered with Amberdata and Glitter Finance, Kaiko, Nomics, dxFeeds, and Brave New Coin. Amongst its clients are Bankrolled, Equito Finance, Upside Finance, Prismatic, Webblen Network, AlgoGuard, and others. These partners understand Algoracles relevance in Algorand's future.