Bitcoin failed to hold above $12,000 last week after temporarily moving above $12,400.
The asset now trades for $11,650, having faced a rejection at the pivotal $12,000 level.
BTC's rejection at that level has made some analysts fear that a strong price drop is incoming.
A growing number of traders remain optimistic about Bitcoin's prospects, though.
Here's more on why they think so.
Why Bitcoin Could Continue to Push Higher: Analysts Explain
Analysts remain somewhat optimistic about Bitcoin despite last week's strong rejection after setting a new year-to-date high.
One trader shared the chart below on August 23rd. It shows that during Bitcoin's correction last week to the low of $11,400, it actually held three pivotal technical levels in a manner suggesting the trend remains bullish.
"Opened up a completely fresh chart for $BTC and to be honest, looks kinda good on the daily. Could be worse tbh. Below 11380 it'll look like trash though."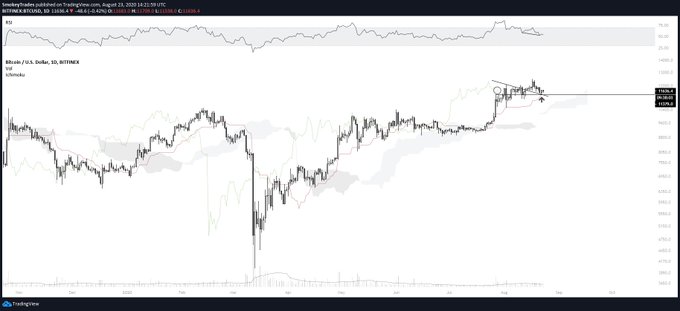 Chart of BTC's price action over the past year with an analysis by crypto trader Smokey (@TraderSmokey on Twitter). Chart from TradingView.com
The same commentator added in a later tweet that the way Bitcoin bounced off the aforementioned support levels is "so clean." This may only add fuel to the belief that Bitcoin has bottomed for the time being and will soon continue moving higher.
The optimism has been echoed by another trade, who also noted that Bitcoin held pivotal support levels during last week's move lower. He thinks that BTC's ability to do so will allow it to soon retest $12,000. Bitcoin's reaction at $12,000 will determine in which direction this market moves for the coming week or two.
"$BTC – I'm liking how things are developing. Previous swing high and key S&R held as Support. A retest of $12k doesn't seem out of the question at all. Lots of untapped highs are there for the taking. Overall, I'm bullish. Reaction at $12k will be crucial," the analyst wrote in reference to the chart below.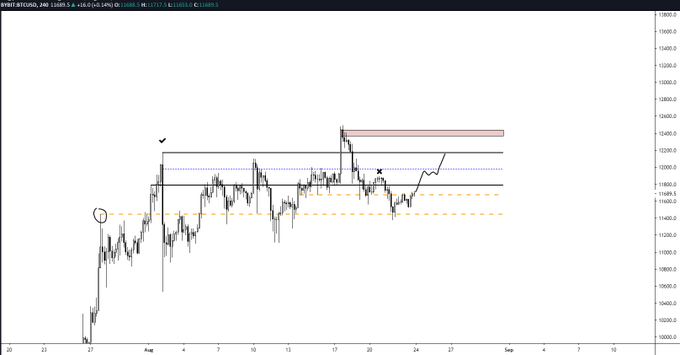 Chart of BTC's price action over the past few weeks with an analysis by crypto trader UB (@CryptoUB on Twitter). Chart from TradingView.com
Somewhat Dependent on Legacy Markets
While BTC looks technically bullish in and of itself, there is a correlation between Bitcoin and legacy markets that should not be ignored.
As many analysts have commented in recent weeks, Bitcoin is being dragged around by the U.S. dollar, which in turn affects the values of equities and precious metals.
Should the dollar rally in value, BTC's ongoing bull trend is likely to lose some of its momentum. In fact, Bitcoin to hold above $12,000 last week has been attributed to a recovery in the value of the U.S. dollar against foreign currencies.
Featured Image from Shutterstock
Price tags: xbtusd, btcusd, btcusdt
Charts from TradingView.com
Here's Why Analysts Remain Bullish on Bitcoin Despite Failure at $12k