Following the launch of the first ever Bitcoin exchange-traded fund (ETF), Microstrategy's stock took a hit. This may show that investors would prefer to get BTC exposure through the ETF rather than the tech company's stock.
Microstrategy's Stock Drops 2% In Response To Bitcoin ETF Launch
As reported by Bloomberg, the tech firm's stock had a 2% decline shortly after the launch of the ProShares Bitcoin Strategy ETF.
Microstrategy is a tech company whose main corporate strategy now is to buy and hold as much BTC as they can. The firm has taken on a lot of debt to acquire the crypto, and the main selling point of their stock is to get exposure to the coin without actually holding it.
Now, an Exchange-Traded Fund (Or ETF in short) is an investment vehicle that tracks the price of an asset. This means that investors don't have to hold the asset, but they can still diversify their investments.
In the case of Bitcoin, the ProShares Strategy Fund ETF allows investors to gain exposure to the coin by just buying into the ETF. So investors who find navigating around the crypto world to be complicated no longer have to deal with exchanges and wallets.
Another big benefit of owning the ETF rather than Bitcoin directly would be the ability to short the coin if holders believe the price will depreciate in the near future.
As already mentioned above, Microstrategy's stock had a similar purpose of providing BTC exposure to investors. But an ETF obscures the use case.
Related Reading | By The Numbers: How Much MicroStrategy Would Have Lost If It Had Invested In Gold Instead Of Bitcoin
So it makes sense that the company's stock showed an around 2% dip soon after the ProShares Strategy Fund dropped. The below chart shows this trend.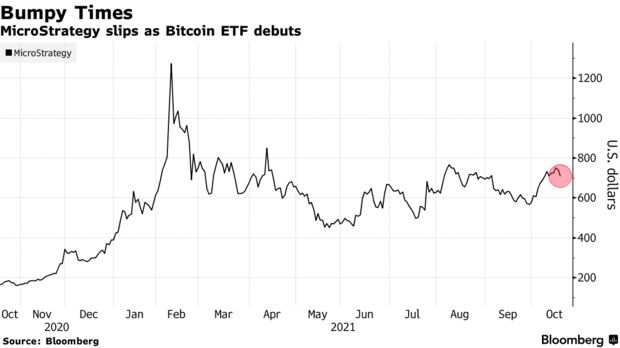 Microstrategy's stock shows a decline following the ETF launch | Source: Bloomberg
It remains to be seen if the stock can bounce back, or if the trend will continue as more investors drop the stock in favor of the ETF. Currently, Microstrategy owns about 114,042 Bitcoin.
BTC Price
At the time of writing, Bitcoin's price floats around $64k, up 16% in the last seven days. Over the past month, the crypto has gained 47% in value.
The below chart shows the trend in the price of BTC over the last five days.
BTC's price continues its trend up | Source: BTCUSD on TradingView
After moving mostly sideways for a few days, Bitcoin finally started moving up again yesterday as the ETF launched.
Related Reading | ETF approval drives Bitcoin towards all-time high at $65K – Crypto Weekly Roundup, October 18, 2021
Now the crypto is very near to making a new all-time high (ATH) as the coin has wiped out all the losses of the May crash.
Featured image from Unsplash.com, charts from TradingView.com, Bloomberg.com