Just about everyone these days is looking to monetize their knowledge through posting content, hosting webinars, and becoming "thought-leaders" within a given niche. Personal brands have become a staple in the business arena as an increasing number of professionals seek to create a name by offering their accumulated wisdom.
---
Yet it's a fundamental truth that not everyone is destined to have a successful personal brand. And not everyone wants a successful personal brand; that's a lot of work to make and maintain, and comes from a deep and passionate calling that is far from universal.
Despite such desires or aversions, if given the chance, most would still admit that finding a way to earn some extra cash just by sharing what they already know sounds like a pretty sweet deal.
Monetizing knowledge is quickly becoming a viable reality. Data continues to become one of the most valuable resources available too, so if you have metrics to back up what you know, it's all the more powerful. This is clearly supported by the multitude of enterprise organizations that value analytics and metrics above all else to drive the company forward.
Additionally, certain analysts claim that personal data generated by people each day can be worth hundreds of dollars.
The reason that most consumers don't profit from the data they produce online, however, is because a select few platforms are the ones making the moolah by providing access to their services (Facebook, Google, Spotify, etc.). With these types of services, people trade away their ownership.
As the digital age continues its maturation, however, consumers are beginning to demand greater control over what information is made public and how they are justly compensated.
A potential solution to this dynamic is blockchain technology and its ability to help consumers monetize their data and insights.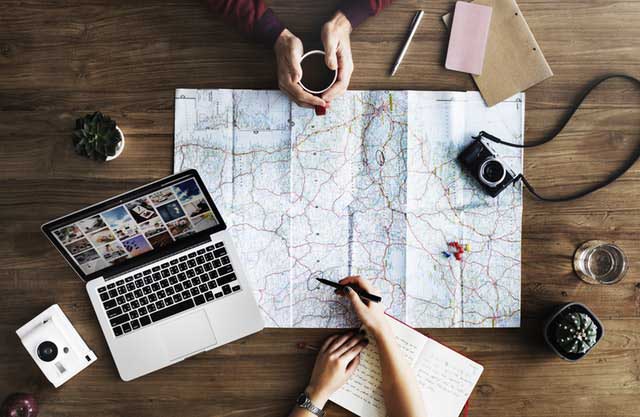 How Locals Can Monetize Their City Knowledge
While blockchain is currently considered a finance technology (since it underpins various cryptocurrencies), it is quickly spreading to a variety of industries, including travel; a niche ripe for disruption.
The travel industry has been stagnant for years, and since there is very little current innovation, the door has been left open for startups to shake things up. And that's exactly what London-based travel company, Cool Cousin, seeks to do.
Cool Cousin is the world's first decentralized peer-to-peer travel agency, directed at younger generations. The platform serves on-demand city insights to travelers based on their style and preferences, provided by like-minded locals. The community of 500,000+ locals (or "Cousins") that act as pseudo, personalized travel agents exist in over 70 cities worldwide.
What makes this such a radical concept for the travel industry is that locals – who are obviously familiar with their city's offerings – can directly provide people with tips and information to improve their vacation while getting compensated in platform-specific cryptocurrency.
This gives locals a way to monetize their hard-earned city knowledge while eliminating biased reviews that aren't always trustworthy. This is a vital service for travelers considering that market interests prioritize sales over accuracy, and this fundamentally taints search results. Under this paradigm, individuals could elect to go to a top rated restaurant on Trip Advisor, only to find themselves sitting in a shed in some guy's backyard; literally.
Other blockchain-based, non-profit travel startups like Winding Tree seek to upend the current paradigm by cutting out middle-men like Expedia, effectively decentralizing the travel industry and reducing costs for adventurers.
These types of organizations are the earliest manifestations of blockchain's ability to fundamentally reshape the travel industry, with many more permutations preparing to emerge in the coming years.
How Blockchain Changes the Game
Blockchain technology helps to eliminate this type of travel industry corruption and puts information back into the hands of ordinary people. With blockchain, people can capitalize off their own data and cultural acumen by selling it directly to buyers as opposed to surrendering it to some centralized monolith.
Within this framework, city locals can become sovereign individuals, capable of generating their own revenue solely off the expertise they have harvested by living their lives.
The concept of building a marketplace for knowledge and data appears to be a prime application for blockchain technology as its implications extend into creating a surreal, futuristic world abundant with financially independent individuals.
Blockchain technology stands to completely revolutionize the travel industry in a variety of ways. By allowing both buyers and sellers to interact over information in a monetized way, new pathways to experience and revenue become available to participants.
At this point, such travel solutions seem to be cutting edge. The reality, however, is that people are just scratching the surface of what blockchain is capable of in terms of information control and monetization.
As the world continues to take notice of how important a knowledge-based economy is becoming, such data and information trading platforms will generate an entirely new source of revenue for scores of people. This notion could utterly revolutionize the way people think about the "gig economy" and what people must do to make a living in the modern world.
What do you think are the most significant ways blockchain technology has impacted the world around us? Let us know in the comments below.
---
Images courtesy of Pexels, iStockPhoto