In over a decade, cryptocurrencies have made an indelible mark on the global economy. The multi-billion dollar crypto market, with hundreds of millions of users, has necessitated the development of new products and services that can propel its growth.
As with any new product or service offering, crypto businesses also require marketing to reach their target audience. The offerings includes exchanges, wallets, games, decentralized applications, news & content platforms, NFT creators, investment companies, legal consultancy services, technology development companies, mining companies, crypto loan providers, crypto crowdfunding platforms, metaverse developers, and more.
International Telecommunications Union, a UN agency, estimates that over 5 billion people worldwide, accounting for nearly 66 percent of the global population, will have internet access in 2022. This makes it a no-brainer that digital or online marketing is imperative for crypto businesses to sustain and flourish.
However, digital marketing for crypto companies is a much challenging than traditional products and services, owing to the rapidly evolving nature of both the crypto market and digital marketing.
The Present State of the Digital Marketing Ecosystem
New trends dominate the landscape every year—in addition to established digital marketing techniques. Businesses that identify these trends early on and incorporate them into their marketing plans gain from having the first-movers' advantage.
In 2022, Facebook, YouTube, WhatsApp, Instagram, WeChat, and TikTok are reigning over social media with over 1 billion monthly average users each. Video content, fused with influencer marketing, will likely remain a winner, at least for the next few years. With remarkable improvements in virtual assistants like Siri, Alexa, and Google Assistant, voice optimizing for voice search has become as crucial for businesses as getting traditional SEO right.
And then, there is an entire world of online advertising with Native Ads, Search Engine Marketing (SEM), Display Advertising, Mobile Advertising, Social Ads, Product Listings Ads, Retargeting, Affiliate Ads, Email or Newsletter Ads, and more.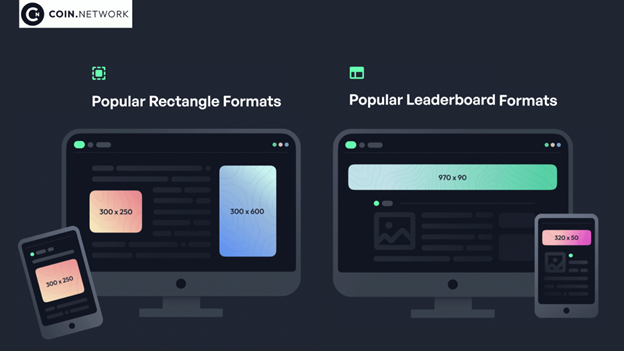 Image Source: Coin.Network
Online advertising is more effective in terms of cost and success rate than traditional advertising, provided it can sharply focus on the target audience. Measuring results and modifying/optimizing ads based on data is also more manageable.
Inefficiencies in Current Cryptocurrency Advertising
Currently, most cryptocurrency advertising is done by people who might be digital marketing experts but likely don't understand the distinct character of the crypto market. They approach crypto marketing similarly to traditional products and services.
However, crypto advertising is different in several ways. Here's how –
The crypto sphere is notorious for its scams, especially those related to new coin offerings. Therefore, serious projects need to put in more effort to convince the audience of their legitimacy and set themselves apart from their predecessors.
Cryptocurrency and blockchain are complex topics, which limits their audience to a niche. Therefore, to promote mass adoption of these new technologies, their concepts and the guidelines for their usage must be presented to the audience in an easily consumable and understandable format. This is a crucial point that cryptocurrency businesses must remember, especially when targeting new audiences.
One of the crypto market's most distinguishing features is its rapidly changing and evolving nature. Therefore, crypto advertising must respond to these changes in real-time to remain relevant and effective.
There is still a lack of emphasis on reputation management in the crypto industry. As a result, honest, undoctored reviews of many products and services are hard to come by, making it difficult for new users to make well-informed decisions in the crypto market.
Redefining Advertising For Cryptocurrency Brands and Publishers
Effective digital marketing for cryptocurrency brands and publishers is not an abstruse philosophical inquiry. It simply requires an understanding of the cryptocurrency market and its audience.
"We've seen crypto brands' advertising approach mature tremendously in the last few years. In the early days (2015-2018), most advertisers took a scattershot approach and hoped they'd get new users on their websites. However, over the last couple of years, campaign sophistication has increased, combining data-driven user acquisition campaigns with great brand awareness efforts that help shorten the conversion funnel for crypto advertisers," says Duane Kinsey, Head of Publisher Development at BuySellAds and Coin.Network.
Twitter, Reddit, Telegram, and Discord are not social media platforms, though they are hotspots for crypto enthusiasts and, thus, must be included in a company's digital marketing strategy.
Additionally, omnichannel marketing is an excellent approach for businesses that want to accelerate their growth in this space by focusing intensely on brand awareness. However, omnichannel marketing should not be limited to deploying multiple channels for ads. It should be about taking a holistic marketing approach.
For example, incorporating different formats and types of content is a good practice. A crypto business could utilize Medium for long-form textual content for editorials, guides & storytelling, Facebook and Instagram's short-form videos, Twitter for updates & making announcements, YouTube for long-form explainer videos & reviews, and Discord/Telegram for connecting one-on-one with their audience. Similarly, crypto brands and publishers can leverage ad formats that are best compatible with crypto environments in terms of viewability and UX.
Image Source: Coin.Network
For marketing plans to deliver results, crypto businesses must stop putting crypto amateurs in charge of the job. By the time crypto amateurs understand what bitcoin and blockchain are and how the crypto market functions, the business will already have exhausted a large chunk of its marketing budget without significant results.
On the other hand, crypto experts who understand the complexities of the market will make data-driven decisions and not spend their time and resources shooting arrows in the dark.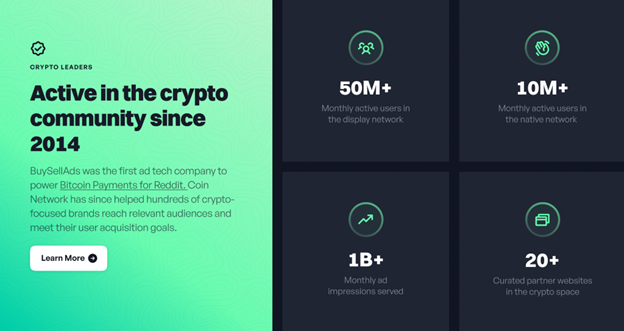 Image Source: Coin.Network
"We were early on the scene with crypto-focused advertisers, but it wasn't until the last year that we've seen marketers adopt more traditional B2B approaches of attribution and measurement. We know technical audiences don't like to be marketed or tricked into a decision, but the market is busy, and options are plentiful. It's now essential to run contextual ads that respect a user's privacy. We see those ads become the most effective in spurring research-based decisions," added Matthew Kammerer, VP Sales at BuySellAds.
Coin.Network by BuySellAds is among the world's leading crypto ad marketplaces working with recognized crypto advertisers and publishers, including CoinSpot, Bitpanda, Okcoin, WhatToMine, BitInfoCharts, and GoldPrice, among others. In the scattered (and sometimes suspicious) crypto market, Coin.Network has been focusing on scaling quality, contextual, and dependable advertising, helping crypto brands and content creators get rewarded for their efforts.
That said, crypto businesses need robust reputation management to establish their position as a legitimate business that cares about their customers. Therefore, apart from effectively advertising their products and services, crypto brands must also focus on providing quality customer support, after-sales services, and gathering honest, organic reviews.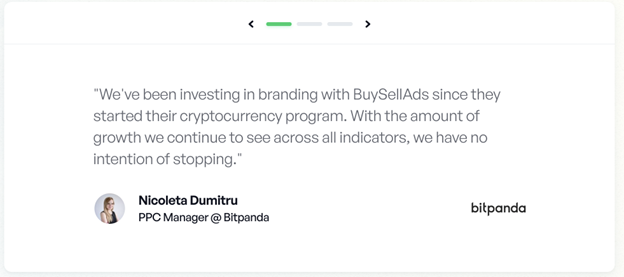 Image Source: Coin.Network
In a nutshell, crypto marketing is all about having one's finger on the pulse of the dynamic market and the audience. Crypto brands and publishers who do their homework before starting the groundwork will fare better than those who don't.
Image by muneebfarman from Pixabay