The series of dips in Shiba Inu price has sent the community into a panic mode. Has the token already hit a bottom, or is the worst still on the horizon?
In this article, we analyze three price scenarios for Shiba Inu and how the token would react to them. We also take a look at Shiba Inu price predictions in the short and long term. Let's dive in!
Shiba Inu Price history
Shiba Inu entered the meme coin space in August 2020 as a potential Dogekiller. Dogecoin was enjoying the limelight, tapping into the pandemic-powered crypto revival back then. SHIB cost just $0.00000000051 per piece during this time. That was low, even considering the large supply of the token. To give you more perspective, you could bag 196,078,431,372 SHIB with just $100.
Shiba Inu started garnering widespread attention in April 2021 and broke past some all-time highs effortlessly. In Oct 2021, the coin hit its now-all-time high of $0.00008845. It is interesting to note that the meme coin is 89.57% down from its all-time high at the time of writing! Despite that, SHIB is ranked #14 on global crypto charts and boasts a large market cap of $5B.
Here are some of the key highlights of Shiba Inu's journey:
Exchange listings are good news for cryptocurrencies. The higher the credibility of the platform, the stronger the pump. The case has been the same for Shiba Inu too. The token gained close to 115% in 24 hours after the Binance listing announcement went live on May 10. Centralized exchanges are known for their picky listings. When a popular centralized exchange like Binance approves of a token, it has already established its credibility.
In this case,  SHIB had already started receiving marketing buzz when Elon Musk tweeted about getting a Shiba Inu dog in March 2021. Reputed Wall Street investor Jordan Belfort also promoted the asset in April 2021.
Shiba Inu went on to become a global phenomenon after the Binance listing. SHIB and Shiba Inu were trending on Twitter as the next-gen crypto. Fortune Magazine wrote an article on Shiba Inu and Ethereum co-founder Vitalik Buterin donated 50 trillion SHIB to the India COVID Relief Fund. All of these events had more to do with the team's marketing tactics than intrinsic potential.
ShibaSwap, a decentralized exchange, launched ready to bring some utility to the token. Interestingly, the exchange accumulated over $1 billion in total assets locked, which proved what community strength and buzz can do in the meme coin space.
Shiba Inu's utility started diversifying. Shopping.io announced a partnership with Shiba Inu where customers could begin to use SHIB as a currency when buying from eBay, Walmart, and Amazon.
Coinbase listing in September 2021 built more momentum around the project and solidified Shiba Inu's place as one of the best meme coins of all time. NowPayments also integrated Shiba Inu coin into their e-commerce platforms. It hit an all-time high in October with the growing interest in the project and the expanding utilities.
SHIB overtook Dogecoin as the top meme coin on 1 Nov 2021.
Shiba Inu Coin Price Performance in 2022
The whole crypto market went downhill beginning in late 2021. Shiba Inu followed suit and has shed most of its value in the drawn-out crypto winter. Some of the key factors that have contributed to its downward trajectory are the LUNA crash, the FTX fall, the global recession, and the threats of regulations. There have also been few developments in the project, which lowered its relevance. Lack of utility has proven to be detrimental to most meme coins, and Shiba Inu is no exception.
At the time of writing, Shiba Inu is selling for $0.000009248, 89.56% down from its all-time high. While many industry experts interpret the series of collapses in Shiba Inu price as price corrections, others believe that the token will bounce back as the crypto market gets back on its feet.
How Long Before Shiba Inu Price Hits Its Bottom: 3 SHIB Price Scenarios
Now that we know where Shiba Inu's coming from, let's look at the three potential price scenarios for the token.
Scenario 1: SHIB slips to $0.000001
If the crypto winter extends to 2023, it won't be long before Shiba Inu falls below $0.000001. It could happen by March 2022. Once down that level, the resistance is likely to be built at $0.0000006. That is, if the market gets back on track and Shiba Inu puts more effort into diversifying its utilities.
In the event the situation gets worse, the token would plummet further and find resistance at $0.0000003 by August after going through multiple ups and downs. Without anything to support, it could fade into oblivion as more meme coins with better value propositions enter the space. Luckily, nothing hints at Shiba Inu's demise just yet.
Scenario 2: SHIB hits $0.00001
If Shiba Inu is to hit $0.00001 in the next two-three years, it should drive value from the  inside. That is, the project should focus on creating an ecosystem that caters to the growing crypto community. It won't survive in the long run if it holds on to the meme coin tag.
Another major boost for the token could come if Elon Musk takes the initiatives to integrate meme coins into Twitter. Even if he goes with Dogecoin, other meme coins would benefit from the pump. More importantly, other companies would follow suit and integrate meme coins into their payment system, paving the way for their mass adoption.
Scenario 3: SHIB breaks past $0.00005
As the Shiba Inu metaverse evolves, the token would have more utilities without relying too much on external integrations. The project has to stick to the roadmap to bring that live. If that's the case and Shiba Inu emerges to become the top meme coin globally, it will break past $0.00005. Given that Dogecoin is not focused on expanding its utilities having grown comfortable with external boosts, especially from Elon Musk, it's not a far-fetched forecast.
Price prediction 2023 – 2030
Here is our short-term and long-term price prediction for Shiba Inu, assuming that the broader market recovers and Shiba Inu diversifies its utilities.
By the end of 2022
The crypto market is slowly recovering after a cascade of price drops. It is unlikely that Shiba Inu will go through major lows or highs in the coming weeks without a catalyst. That said, SHIB can hit $0.0000135 if there are no major factors pulling the token or market down. If there is a Christmas sell-out, the price could slip down to $0.0000072. It will be mostly in the safe range throughout December.
By the end of 2023
Stepping into 2023, Shiba Inu is predicted to recover a good percentage of its value. The bullish sentiments will be fueled by the token's entry into the Metaverse. Shiba Inu developers announced in January 2022 that Shibaverse, a metaverse project with diverse utilities for Shiba Inu coin, is in the making. If that's the case and Shibaverse comes into life next year, the token won't have a hard time getting out of the slump.

Shiba Inu price can go as high as $0.000038 by the end of 2023. But there is little info about the features and functionalities of Shibaverse and if it's just a marketing gimmick. Without any solid pillars supporting the token, it can go further down the charts, losing what is left of the value.

By the end of 2025
Cryptocurrencies will grow in the long term, regardless of the minor setbacks and price corrections along the way, like we saw in 2022. Shiba Inu has the potential to be at the forefront of the crypto revolution in the coming years if it builds value and drives innovation rather than relying solely on hype. While the meme coin helps projects attract short-term investors, they need to focus on integrating more utilities if they want to stay relevant in the long run.

The expansion of the Shibaverse virtual world can cater to the growth of SHIB during 2024 and 2025. The payment integration of Shiba Inu coin into more platforms would also help diversify its utility. According to the Shiba Inu roadmap, the platform is gearing up to launch Shiba Lands, which will mark a major milestone in its metaverse journey. As more SHIB use cases come into play, SHIB has the potential to touch $0.00015 by the end of 2025.

By the end of 2030
As the industry makes breakthroughs and crypto regulations oversee hacks, scams, and mismanagement, more people will begin to use and invest in cryptocurrencies. The mainstream adoption of blockchain technology across the education, healthcare, real estate, media and entertainment, and art industries will integrate crypto into daily lives. In such a scenario, established cryptocurrencies, including Shiba Inu, will enter a mature phase.

Judging by the current roadmap, the value will be fuelled by Shiba Inu's metaverse project and payment integrations. The token could touch $0.00045 stepping into the next decade.
How Long Before Shiba Inu Price Hits the Bottom – Conclusion
It won't be long before Shiba Inu finds a bottom at $0.0000005 if the crypto market undergoes more downturns in the next two to three months. That said, there are no strong indicators suggesting that. Shiba Inu has the potential to cross $0.0000135 by the end of the year if the broader market works in favor. As the project crosses new milestones, it can hit $0.000038 by the end of 2023. Our long-term price prediction for Shiba Inu is $0.00045. The token can easily break past that price as we step into a new decade where crypto is a part of everyday life.
Which Cryptocurrencies to Invest in Instead of Shiba Inu?
Shiba Inu is one of the best cryptocurrencies out there. No doubt about that. The token has proven its worth in the last two+ years and has emerged to become a meme coin topper in a short space of time. But it's important to remember that Shiba Inu has a total market cap that exceeds $5B. As one of the high-cap cryptocurrencies, SHIB ranks 14 on CoinMarketCap. So, its growth potential is pretty limited.
If you're looking for cryptocurrencies that can give you 5X-20X returns in the short term, Tamadoge, IMPT, and Lucky Block make better alternatives. While Tamadoge and Lucky Block are two of the most undervalued tokens in 2022, IMPT is currently hosting a hot presale that is fast selling out.
Let's take a closer look at these three projects and understand how they stack up against Shiba Inu.
Tamadoge – New-gen Meme Coin Rich with Utility
Tamadoge is the most hyped meme coin of not just 2022, but also all time. While most meme coins launch with little purpose, tapping into community support and shilling, Tamadoge takes a different stance. It uses the brand recognition of Dogecoin and Tamagotchi to build something bigger and better. For Tamadoge, the meme coin tag is just a tool to draw traction to its large play-to-earn ecosystem with metaverse, augmented reality, and NFT components.
The project is building a gaming world centered around Tamadoge Pet NFTs. It draws inspiration from Pet NFT blockbusters, yes. But none of them has sleek AR and metaverse features like Taamdoge. There lies the competitive edge of Tamadoge against other P2E and meme coin players. For example, you can mint, feed, breed, and battle your Tamadoge Pet NFTs to earn rewards. The more you play, the higher you climb up the Tamadoge leaderboards. Top players on the leaderboards can convert their 'dogepoints' to TAMA tokens.
The game will move into the metaverse starting early next year as Tamadoge joins forces with other projects to integrate Tamadoge Pet NFTs into external metaverse environments. And by the end of the year, the Tamadoge native AR app will be live, taking the game to a whole new level. It opens up plenty of creative possibilities. For example, you'd be able to walk your pets in a virtual garden while socializing with other Tamadoge users.
Reminder For All Of Our #Memecoin Holders!⚡

The $5,000 Giveaway Is Still Live!⚡

What Are The Conditions You Ask? Just Hold Any #Memecoin And Complete All The Tasks ✅

Enter Today! ⬇️https://t.co/Ry8eaSGpF7#DOGE #SHIB #Floki #BabyDoge #ShibaArmy #FlokiVikings

— TAMADOGE (@Tamadogecoin) December 1, 2022
Both Tamadoge Pet NFTs and TAMA tokens make good investments for 2022, factoring in their large growth potential. The biggest pack of 20,000 Common Tamadoge NFTs is available for purchase on OpenSea. They offer the best way to earn in Tamaverse. TAMA, on the other hand, is the utility token of the ecosystem. You can use it for a variety of purposes, including minting, breeding, and battling your own Tamadoge pet in the metaverse.
Tamadoge hosted one of the most successful presales in crypto history and went on to rule the charts on public launch. Early investors booked close to 20X returns within a few days of the token listing. Tamadoge has lost a large chunk of its value in the crypto winter and FTX crash. But it is expected to recover with the release of the upcoming play-to-earn arcade.
IMPT – The Hottest Presale Token of 2022
IMPT is currently running a hot presale of its native token, already closing in on the third stage. For a change, the presale is seeing massive traction from both the crypto and non-crypto sides of the world. IMPT is a green crypto that powers a large blockchain eco-sustainability project centered around carbon offsetting and climate action.
The IMPT ecosystem has three components – IMPT NFT Marketplace, IMPT Shopping App, and IMPT Social Platform. This is how they work together to bring more efficiency to the carbon market.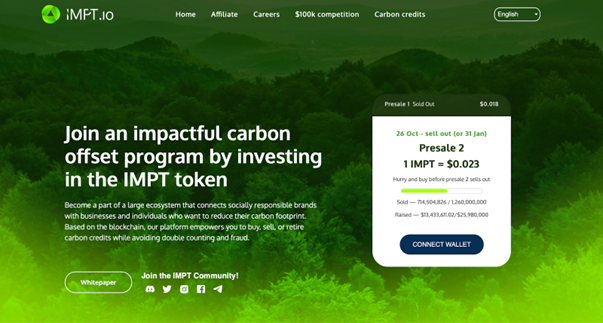 IMPT NFT Marketplace – A place to buy, sell, and retire carbon credits. The IMPT marketplace converts carbon credits into NFTs so that the events of double spending and fraud can be minimized. Both mandatory and voluntary carbon-offsetting participants can access the platform.
IMPT Shopping App – A revolutionary application designed to popularize carbon offsetting by integrating it into everyday shopping. It will list top global retailers so that users don't have to settle for limited options. The platform rewards shoppers in IMPT tokens, which they can convert to carbon credits on the IMPT marketplace.
IMPT Social Platform – Another interesting feature that brings carbon offsetting and climate action to the mainstream. The platform tracks the carbon-offsetting activities of users using a bespoke scoring system.
The creative approach of the IMPT marketplace solidifies IMPT's status as the most promising green token for 2023. That explains why investors are stocking up on IMPT tokens at the presale, gearing it up for an early sell-out.
"The refugee crisis is not connected to the environmental changes."

It's a myth! ❌

🤯 Climate change is creating a refugee crisis – up to 200 million people could be displaced by climate change by 2050

Make an input and change the future with #IMPT ⬇️https://t.co/8KSvC4GHjF pic.twitter.com/4nwezr7dbW

— IMPT.io (@IMPT_token) November 30, 2022
Lucky Block – Crypto Gambling and Sportsbook Token Awaiting a Breakout
Lucky Block is a crypto gambling and sportsbook site that is all the rage now. The football fever has given a new boost to LBLOCK, the native token of the ecosystem. According to industry experts, LBLOCK can gain anywhere from 3X-5X in the coming days.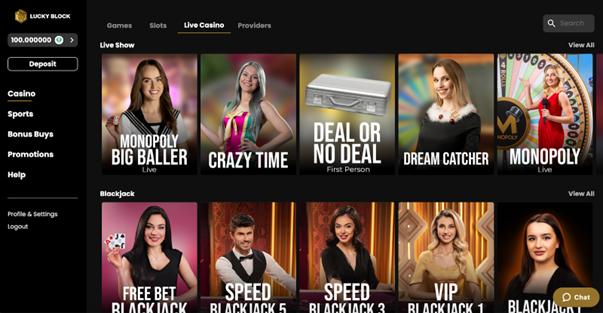 The cutting-edge platform will feature gambling favorites like slots, poker, live casino, and table games. You will also find leading spectator sports for betting, in addition to 15 eSports like League of Legends, Counter-Strike, and Arena of Valor. A wide array of real sports like Soccer, basketball, tennis, ice hockey, volleyball, handball, table tennis, American football, baseball, boxing, Aussie Rules, rugby, Formula 1, and cricket are also listed on the platform.
Lucky Block offers thousands of betting markets to choose from, with nearly 100 separate game providers on the platform now. The list would keep expanding as Lucky Block enters into more partnerships and acquires more users.
Fair & Simple To Use! ✅

Our new and improved platform is designed to be fair and simple to use! 😎

To join, enter your email address and password, fund your account, start playing and win big! 💰

💎 Sign Up Today!

💰 https://t.co/TFNyU8nVVl#luckyblock #cryptocasino pic.twitter.com/n5DOo7uen6

— Lucky Block (@luckyblockcoin) November 30, 2022
Despite being a relatively young token (launched less than a year ago), Lucky Block has earned a strong foothold in the industry. For example, the LBLOCK presale was sold out earlier than planned after receiving unparalleled traction. It raised a total of $5.7M during the presale stage alone. The public launch was also a large success, taking LBLOCK to the high-cap club shortly.
Although the token has shed most of its value amid the series of crypto crashes this year, it is predicted to break out soon. The new version of the application with an array of gambling and sports betting tools is capturing a lot of users.
FAQ
What is Shiba Inu coin?
Shiba Inu is a popular meme coin that ranks #14 on CoinMarketCap at the time of writing. Dubbed the Dogekiller, Shiba Inu draws strength from a large online community.
How to buy Shiba Inu coins?
You can buy Shiba Inu from any credible centralized or decentralized cryptocurrency exchange of your choice, like Binance, Coinbase, and Crypto.com.
How many Shiba Inu coins are there?
Shiba Inu has a circulating supply of 549,063,278,876,302 at the time of writing.
Why is Shiba Inu dropping?
Shiba Inu price is dropping as a result of broader crypto market trends, lack of focus on utility, and global recession.
How high can Shiba Inu go?
Shiba Inu has the potential to go as high as $0.000038 by the end of 2023 and $0.00045 by the end of 2030. That is, if the project rolls out more utilities tied to SHIB and the crypto market gets back on its feet without major setbacks.
When will Shiba Inu reach 1 cent?
Probably never. Shiba Inu has a market cap of $5B already with 549 trillion SHIB tokens in circulation priced at $0.000009289 each. If the price were to hit $1, the total market cap of the project would reach $549 trillion. Given that tech giants like Apple and Google have a market cap of $2.354 T and $1.311 T, $1 is an unrealistic target for Shiba Inu.