Swiss luxury watch brand Hublot has opened pre-orders for its limited edition Big Bang watch commemorating Bitcoin's 10th anniversary.
---
Hublot Will Only Accept Bitcoin
Swiss luxury watch manufacturer Hublot has unveiled a special timepiece in collaboration with OS Limited (OSL) to commemorate Bitcoin's 10th anniversary.
The new hand-assembled limited edition 'Big Bang' model is now available for pre-sale to celebrate the upcoming 10th anniversary of Bitcoin [coin_price]. And in the spirit of crypto, the homepage even displays a project roadmap. 
At a $25,000 price tag, the watch can only be bought for bitcoin and will be limited to 210 pieces as a symbolic nod to the 21 million bitcoin that will ever exist.
"Paying homage to both the Big Bang series and Blockchain technology, the watch features Big Bang's signature industrial design as well as aesthetics inspired from cryptocurrency. To no surprise, '210' was chosen for a reason," the official announcement reads.
This Big Bang watch was created to commemorate the 10th anniversary of this epochal invention including the fact that only 21 million bitcoins will ever exist in this world. 
Hublot adds that the timepiece represents "a fusion between top-notch Swiss watchmaking and cutting-edge FinTech."
KYC for Watches?
Hublot has partnered with Octagon Strategy Limited (OSL) to promote the new model, which will be officially launched on November 6th and will be delivered to customers January 3, 2019.
OSL, a digital asset brokerage firm, will help process customer data during the pre-sale and promises customers "a safe and secure" shopping experience.
However, the pre-sale registration may raise some eyebrows from the many Bitcoin fans who favor privacy.
That's right. If you'd like to order a timepiece that costs tens of thousands of dollars, additional information such as the full name, address, and a phone number will be required. However, get ready to also upload copies of their government ID, passport and proof of address – as if you're registering for a regulated Bitcoin exchange.
Not the First Bitcoin Watch
But Hublot is not the first brand to release a Bitcoin-inspired mechanical watch. Moreover, if spending tens of thousands of dollars on a timepiece is a no-no for you, Cryptomatic, which has been producing Bitcoin-themed watches since 2014, offers a much more affordable option at an $800 price point – or 30 times cheaper than Hublot's new 'Big Bang.'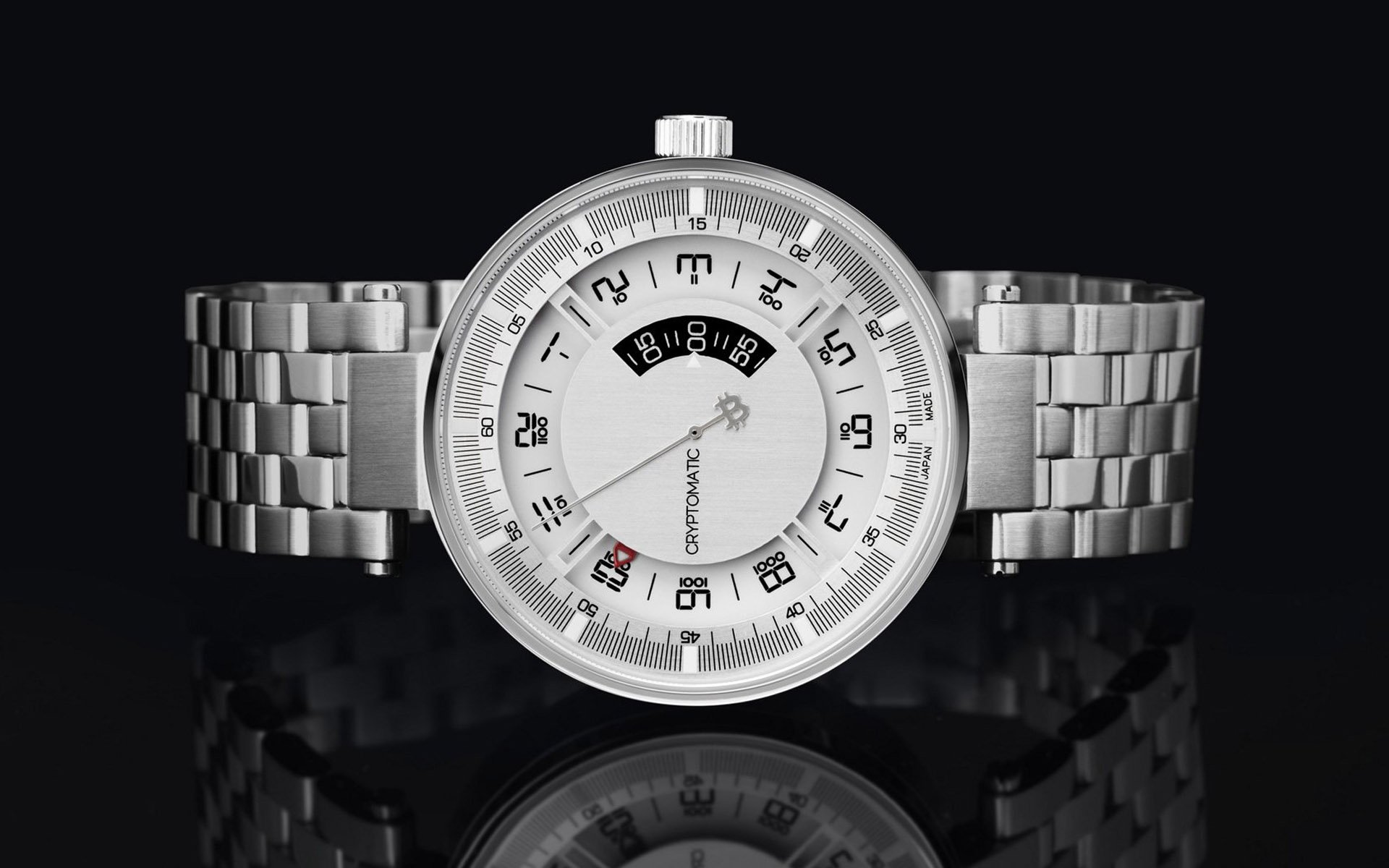 Cryptomatic watches all flash the Bitcoin ฿ logo on the crown and includes 21 jewel bearings. The company intends to remain a small and exclusive brand while continuing making small runs of high-quality, hand-assembled watches, limited to a few hundred pieces.
Meanwhile, some other watch designs have also surfaced on social media as of late showcasing their own timepieces inspired by Bitcoin.
Silver hand-engraved Bitcoin watch by Aleksey Saburov @SaburovArt & @Corumwatch https://t.co/PaXlapmtyr pre-order here https://t.co/WcbnoTNADD pic.twitter.com/wKE6KolUDy

— Bitcoin Art Gallery (@btcArtGallery) October 24, 2018
[Full disclosure: the author of this article owns a couple of Cryptomatic watches.]
Would you wear a Bitcoin-inspired watch? Share your comments below!
---
Images courtesy of Shutterstock, Twitter, Hublot.com