It's been a year since the birth of HunnyFinance and we are proud to have the support of the community to bring us this far. We have been expanding on our products, building on different DeFi DApps, adding on across chain capabilities, etc. We have been working very hard to deliver our promise; to be the most engaging and fun DeFi destination where every user can enjoy high yields and exciting games at the same time.
Over the year, we have introduced: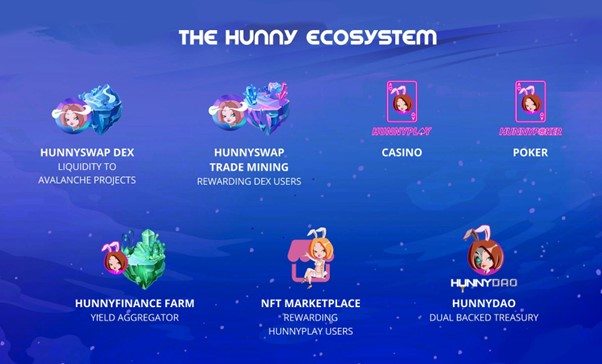 Now we're thrilled to bring you the latest product from HunnyFinance; a fun and engaging Decentralised Exchange (DEX) on Avalanche!
Welcome to HunnySwap
HunnySwap is an automated market-making (AMM) decentralized exchange (DEX) on the Avalanche Ecosystem. With our strong backing of supporters in the BSC and also the potential exposure in Avalanche to draw in new users, we believed that HunnyFinance is ready to be propelled to the next level.
Getting Started with HunnySwap
On HunnySwap, users can trade one token for another via automated liquidity pools driven by the AMM.
Trading Fees:
When you make a token swap (trade) on HunnySwap you will pay a 0.3% trading fee, which is broken down as follows:
0.18% — Returned to Liquidity Pools as a fee reward for liquidity providers.
0.05% — Returned to gXOXO staking pool as rewards.
0.05% — Returned to LOVE staking pool as rewards.
0.02% — Sent to the Treasury.
How to Add Liquidity
To provide liquidity, you'll need to commit an equal amount of any token pair you like. Your lowest value (in USD) of the two tokens will be the limit to the liquidity you can provide.
Here's the list of liquidity pairs available on HunnySwap during launch:
XOXO/AVAX
AVAX/sAVAX
USDC/AVAX
USDT/AVAX
USDT.e/AVAX
wETH.e/AVAX
wBTC.e/AVAX
USDC/USDC.e
USDT/USDT.e
BNB/AVAX
PTP/AVAX
VTX/AVAX
YAK/AVAX
XAVA/AVAX
Earning Trading Fees for Liquidity Providers
Providing liquidity gives you a reward in the form of trading fees when people swap tokens using your liquidity pool.
Whenever someone trades on HunnySwap, the trader pays a 0.3% fee, of which 0.18% will be added back to the Liquidity Pool of the swap pair they traded on.
To make being a liquidity provider even more worth your while, you can also stake your LP tokens to earn an additional yield on Hunny Farms, while still earning your 0.18% trading fee reward.
Adding liquidity allows liquidity providers to earn 0.3% swapping fees from the pairs they've provided. You can supply liquidity and start earning fees immediately. You can also earn even more rewards by staking your LP Tokens at our farms.
XOXO Token Distribution
XOXO will be our native currency and will provide adequate liquidity on HunnySwap by attracting users who are interested in DeFi platform with cross-chain iGaming playground. Of course, our experience in DeFi space has equipped us to curate and provide pools and farms with high yields coupled with optimization strategies to create lucrative and attractive rewards for all of our Hunnies!
What's next?
Our vision for HunnySwap is to be your only destination for trading Avalanche tokens and having fun on HunnyPlay. We build HunnySwap to enable our users to trade Avalanche project tokens with minimal slippage and be rewarded with our trade-mining feature, and earn high yields from our farms and pools. Following the HunnySwap launch, we will be announcing more collab and farms with other outstanding protocols on Avalanche.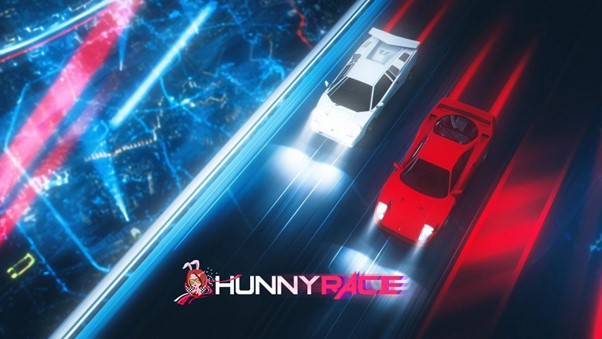 Another highlight on HunnySwap will be our P2E Game, HunnyRace! Stay tuned for more awesome stuff!
About HunnySwap
🍯 Hunny aims to be the most engaging and fun DeFi destination built on chain. On top of that, we are developing a brand new and unprecedented gamified farming playground ♠️♥️♣️♦️ 🎰🎲 where every user can enjoy high yields and exciting games at the same time.
🌐 HunnySwap (DEX): https://hunnyswap.com/
🌐 HunnyFinance: https://hunny.finance/
🌐 HunnyPlay: https://hunnyplay.com/
🌐 HunnyPoker: https://hunnypoker.com/
🌐 HunnyBunnies NFTs: https://nft.hunny.finance/
💋 Discord: https://discord.gg/d4fxKZFxPv
💬 Telegram: https://t.me/hunnyfinance
💬 Telegram ANN: https://t.me/HunnyFinanceNews
🐦 Twitter: https://twitter.com/HunnyFinance
📝 Medium: https://medium.com/HunnyFinance
📄 Whitepaper: https://docs.hunny.finance/
👨‍💻 GitHub: https://github.com/hunnyfinance