Tokens that emerged from Initial Exchange Offerings (IEOs) have demonstrated a poor performance this year, according to BitMEX research.
---
Most IEOs Have Failed Despite Bitcoin Surge
In May of this year, BitMEX published its first piece of research on IEOs, concluding that the market was doing much better than initial coin offerings (ICOs). In fact, IEOs are not much different from ICOs, but the latter have been compromised by the high incidence of scams. As a result, many blockchain projects seeking to issue tokens turned to the new crowdfunding method to avoid being associated with scams.
The ICO market was in a free fall at the beginning of 2019. BitMEX estimated that the market tumbled 97% in the first quarter of the year. While initial exchange offerings were resisting at the time, BitMEX predicted that they wouldn't make it in the long-term, and it seems the crypto futures exchange operator was right.
In its latest report, the exchange says that all 11 IEO tokens that it had tracked since May 2019 have declined in price. This doesn't bode well for the nascent market, especially when Bitcoin has surged since then.
Almost all tokens are down more than 80%, with the exception of Matic, a Binance IEO that was ongoing when BitMEX's first report came out in May. Matic price has jumped as high as 255% since then.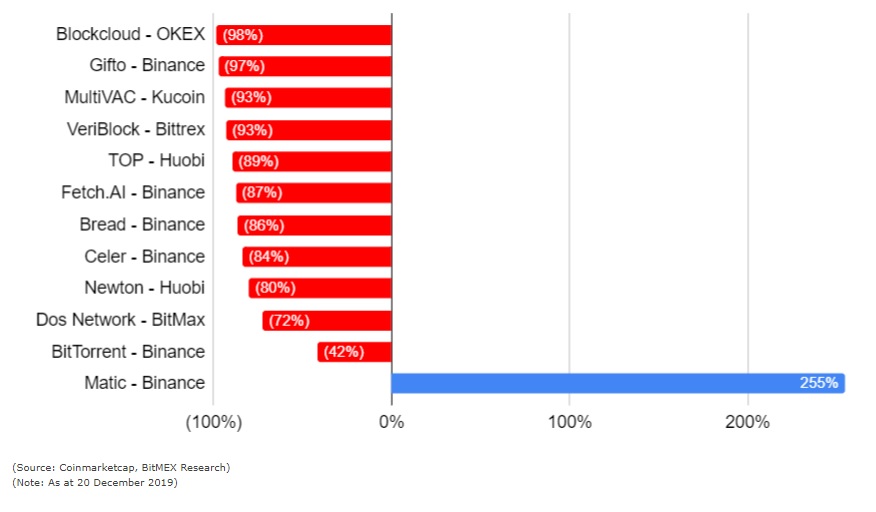 Elsewhere, other Binance IEO tokens, including Gifto, Fetch.AI, Bread, and Celer fell over 80%. Blockcloud, an OKEx IEO, tumbled as much as 98%.
Few Tokens Have Generated Positive Returns
Some crypto investors eye IEOs given that their offering price is now significantly lower than the first traded price when they were initially listed on exchanges.
So far, only 4 of the 12 IEO tokens monitored by BitMEX have generated positive investment returns, including Matic, BitTorrent, Dos Network, and Bread. The rest of the tokens have declined even relative to the offering price.
Do you think initial offering exchange tokens have the same fate as the ICOs? Share your thoughts in the comments section!
---
Images via Shutterstock, BitMEX