The environmentally conscious IMPT presale is ending this Sunday following an extreme surge in demand, leaving just a few days to get in on the presale before it gets listed on many top-tier exchanges.
The demand for the carbon credit-based ecosystem has increased significantly recently, pushing the presale past the $14.3 million milestone. With such intense demand, analysts expect the token to soar after it hits exchanges.
There still is some time to get involved. Here is how to invest before the token launches.
IMPT Presale Ends This Sunday Following High Demand
The IMPT presale has almost reached its conclusion, well ahead of schedule. The presale has raised a total of $14.3 million as it hits the final stretch before the token goes live and hits exchanges.
The presale for the token launched on October 3rd, and the high demand caused the token to raise $5 million within a fortnight of going live. Environmentally conscious investors quickly rushed to buy the token after learning how the project could push the industry into a greener future.
IMPT is a carbon credit marketplace that provides users with access to the voluntary carbon market (VCM), which generated a total of $2 billion in 2021. The voluntary carbon market allows individuals and businesses to purchase carbon credits outside compliance markets and lets them positively contribute to the environment.
Did you know?🧐

Bloomberg estimates that the VCM (voluntary carbon market) could grow up to $100 billion by 2030 📈

✅ Now you have a fantastic opportunity to invest in the $IMPT and receive a collectible NFT in return

Join #IMPT now ⬇️https://t.co/8KSvC4GHjF pic.twitter.com/Lh4pDcKXD0

— IMPT.io (@IMPT_token) November 28, 2022
Carbon credits hosted on the IMPT blockchain will be standardized as NFTs, making them completely transparent. This allows users to be sure that their carbon credits are genuine and haven't been double-counted – a prevalent problem in today's convoluted carbon credit marketplace.
If you're unaware, a carbon credit is a permit representing one ton of carbon dioxide being removed from the atmosphere. They provide one of the best methods for individuals and businesses to offset their carbon footprint and help the world move into a more environmentally sustainable future.
#IMPT – a credible and transparent ecosystem that allows you to decrease your carbon footprint ♻️

❌ no complex procedures to purchase carbon credits

✅ an input to the environment
✅ support of multiple impact projects
✅ NFTs

Join us now ⬇️https://t.co/8KSvC4GHjF pic.twitter.com/WR1ctLJlYV

— IMPT.io (@IMPT_token) November 26, 2022
Through the IMPT Carbon Marketplace, individuals and businesses can offset their carbon footprint and help promote environmental sustainability. When a user wishes to retire a carbon credit, the NFT is sent to a burn address to verify that the carbon credit has been used and is removed from circulation.
With the presale scheduled to end on Sunday, this might be your last chance to get involved early to benefit from the price surge on the token launch.
Shopping Platform Set To Attract Strong User Base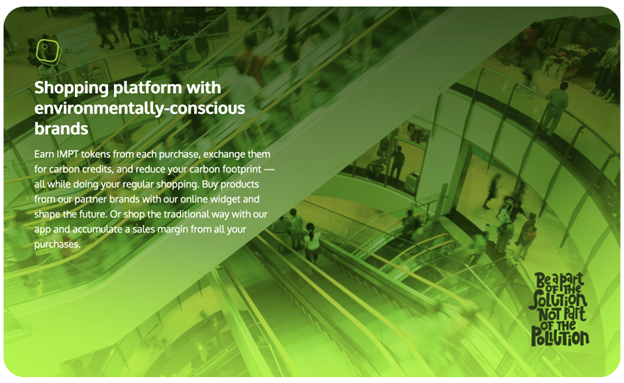 One of the primary features of IMPT is its Shopping Platform, which lets users offset their carbon footprint passively through their regular everyday shopping. It allows users to contribute positively to the environment while continuing their normal shopping.
IMPT has attracted thousands of world-famous global brands that shoppers will be highly familiar with. These brands have allocated a specific percentage of their sales margin for environmentally friendly projects such as IMPT.
When a user purchases the Shopping Platform, the allocated sales margin is held in their account as IMPT tokens. Once the user has accumulated enough IMPT tokens, they can swap them for a carbon credit to reduce their carbon footprint. This novel solution from IMPT provides a method for regular shoppers to address CO2 emissions responsibly.
Did you know?

You don't have to sacrifice shopping to decrease your carbon footprint 😍

✅Yes! – All you have to do is to join the #IMPT Crew 🔥

Learn more about #IMPT's affiliate program in the article below ⬇️https://t.co/KjGx9mIWdL

— IMPT.io (@IMPT_token) November 16, 2022
According to the IMPT whitepaper, the team believes that the average grocery spend in the United States is just over $500 a month. Therefore, if a supermarket allocates 2% of sales, that would allow shoppers to purchase a carbon credit each month without changing their shopping habits.
This passive approach to reducing carbon footprints has many investors extremely excited.
Some of the world-famous brands that are affiliates include brands such as Amazon, Microsoft, Netflix, Hugo Boss, River Island, Puma, and Nike.
As you can see, with such high-profile partnerships, it's not surprising to see the presale sell out quickly. With just days to go, this might be your final opportunity to purchase IMPT at presale prices.
Here's how you can invest before the token goes live on exchanges.
How to Invest Before Launch?
Investing in the IMPT presale is relatively straightforward. You first need a crypto wallet, such as MetaMask. Once installed, head over to the IMPT presale page and connect your wallet;
Next, select your wallet provider. In our case, it would be MetaMask;
Then you can simply choose how you would like to purchase IMPT. You can buy IMPT using ETH, Card, or USDT;

Once the presale has concluded, you will be free to claim your purchased IMPT tokens and send them to exchanges ready to be sold for a profit.
What do Traders Think IMPT Will Reach?
Traders are quickly getting excited about the potential gains from IMPT, with many believing that a 10x gain is highly possible. The IMPT Presale Stage 1 sold IMPT tokens for $0.018, so a 10x gain from there would require IMPT to hit a price of $0.18.
The team has already announced that IMPT will be listed simultaneously on major decentralized and centralized exchanges upon launching.
Specifically, LBank and Changelly Pro are the centralized exchanges that will list IMPT, and Uniswap will be the decentralized platform to list it.
📣 Attention, #IMPT Crew! 📣

We are happy to announce that after the presale, the $IMPT token will be listed on @Uniswap, @LBank_exchange, and @ChangellyPro 🔥

The exact dates will be announced!

Grab $IMPT before the end of the presale! ⬇️https://t.co/8KSvC4GHjF pic.twitter.com/n93UPuApNj

— IMPT.io (@IMPT_token) December 2, 2022
The combined volume from these exchanges is quite significant, with Lbank and Changelly Pro facilitating over $1 billion in daily trading volume.
One trader in particular that believes IMPT will increase 10x in the next few weeks is Rags2Boss;
The presale is almost over, but you still have a few days left to purchase IMPT.
Disclaimer: This is a paid release. The statements, views and opinions expressed in this column are solely those of the content provider and do not necessarily represent those of Bitcoinist. Bitcoinist does not guarantee the accuracy or timeliness of information available in such content. Do your research and invest at your own risk.