The highly anticipated initial exchange listing for IMPT is just days away. With only four days left before the presale ends, investors are starting to estimate how high the price can go when the token hits exchanges.
The presale for IMPT was highly successful after raising over $15 million within a few weeks of being live. The CEO of the project, Denis Creighton, recently announced that the presale would be cut short due to shifting market dynamics in the industry. This is excellent news for presale investors, as their investment hits exchanges much sooner than anticipated.
Just Four Days To Go Before IMPT Hits Exchanges
The IMPT presale went live in October and raised over $15 million. Environmentally conscious investors rushed to the presale to get their hands on the project that seeks to help push the industry into a green, sustainable future.
With the shift in market conditions and the unsustainable bear market, the IMPT project decided to reduce its fundraising goal and launch the token on exchanges much earlier than expected. The project development is well ahead of schedule, meaning the team is almost ready to launch the Carbon Credit marketplace in 2023.
With the presale being cut short, there are just four days before the token's presale ends. Once complete, the remaining Presale 2 tokens will be burnt, and the tokens allocated for Presale 3 will be locked for 12 months. The team has already demonstrated that the tokens have been locked using Unicrypt;
The tokens that were assigned for the presale stage 3 have been locked for 12 months and vested for a further 12 months 🔒⬇️https://t.co/lCFUmnl1xY pic.twitter.com/cRldNIRFuG

— IMPT.io (@IMPT_token) December 6, 2022
The team has announced prominent initial token listings on centralized and decentralized exchanges.
First, the team announced that IMPT would be listed on Uniswap on December 14th;
🚨 Exchange listing alert! 🚨

😎 Attention, #IMPT Crew – we have massive news to share!

After the presale ends on December 11, the $IMPT token will be listed on Uniswap! 🎉

Listing date: December 14

Grab some $IMPT now before it's too late! ⬇️https://t.co/N1w1ENFKVG pic.twitter.com/y7AVftPlXs

— IMPT.io (@IMPT_token) December 2, 2022
They followed this up with another announcement stating that IMPT would also launch on LBank, a centralized exchange that conducts over $1.4 billion in daily trading volume;
New listing announcement! 🚨

We are proud to announce that after the presale, the $IMPT token will be listed on @LBank_Exchange! 🎉

The exact date will be announced!

Buy $IMPT now ⬇️
https://t.co/8KSvC4GHjF pic.twitter.com/4F9QNQ7QJG

— IMPT.io (@IMPT_token) December 2, 2022
Finally, the team further announced that IMPT would also be listed on Changelly Pro – another centralized exchange that conducts over a billion dollars in volume;
🚨 Exchange listing alert! 🚨

The $IMPT token will be listed on @ChangellyPro 🔥

The exact date will be announced!

Don't miss out! Grab some $IMPT now ⬇️https://t.co/8KSvC4GHjF pic.twitter.com/9mmjxvQHyi

— IMPT.io (@IMPT_token) December 2, 2022
Together, these exchanges provide billions of trading volume for IMPT to host a successful initial exchange listing.
The CEO stated that the token would list for $0.0253, which is still higher than the price you can purchase IMPT in the presale.
$15 Million Raised as Investors Prepare for a Greener Future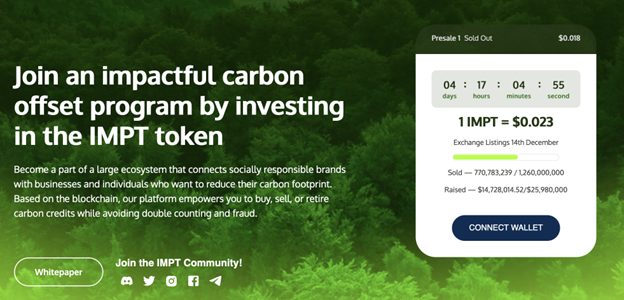 The explosive presale for IMPT generated so much attention due to its impact on future sustainability. The presale raised $2 million within five days of going live. IMPT is a platform that allows users to buy, sell, and retire genuine carbon credits on the blockchain. It also allows shoppers to earn carbon credits as cashback when shopping online at their favorite brands.
The problem with today's carbon credit market is that it's extremely complex. The limited pricing data and the prevalent scams discourage individuals and businesses from entering it. As a result, these individuals need a more straightforward method of purchasing carbon credits to offset their carbon footprints.
This is what IMPT seeks to change.
Through the Carbon Marketplace, users can be sure that the carbon credits they purchase are genuine. They will be hosted as NFTs on the blockchain and sent to a burner address when retired, completely removing them from circulation and preventing double counting.
The presale gathered more momentum when IMPT started to announce the list of affiliates on the Shopping Platform. With world-famous brands such as Nike, Puma, Dyson, Netflix, and Samsung on board, investors started to realize the impact that the project could have on environmental sustainability.
The Shopping Platform affiliates have allocated a certain percentage of their sales margin for projects like IMPT that are trying to build a greener future. When a user purchases a product on the Shopping Platform, the sales margin is held as IMPT tokens until they have enough to swap for a carbon credit. The Shopping Platform allows users to earn carbon credits and positively contribute to the environment passively.
IMPT Price Prediction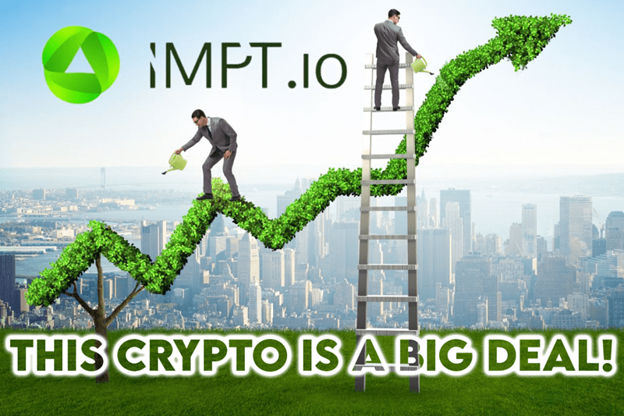 Predictions have been flying around the cryptosphere about how high IMPT might surge when it goes live on exchanges. Presale 1 sold the token for $0.018, and Presale 2 sold it for $0.023. The CEO recently announced that IMPT would list for a price of $0.0253 – meaning all presale investors will instantly start with a decent profit.
A handful of YouTube traders have started to release their opinions about how high IMPT could surge after listings.
One analyst, Rags2Boss, predicts that IMPT could surge as much as 10x in the days following the initial token listing. If we take the Presale 1 price as the base, this would mean IMPT could reach as high as $0.18;
Other analysts predict similar outcomes for the token, citing ESG investing returns as the primary driving force for pushing prices upward;
With the ongoing bear market and Crypto Winter in full effect, you might think that 10x returns are out of the question with such market conditions. However, previous presale tokens have seen significant returns during the peak of the bear market. For example, Tamadoge, listed on exchanges in October, managed to produce 1800% for presale investors – during one of Bitcoin's worst-performing months. Another presale token that performed well was IBAT, which saw as much as a 3000% price increase earlier in the year when the market sentiment was at its lowest.
With presale tokens producing some of the highest returns in recent months, IMPT holders can be forgiven to be expecting similar returns when the token finally launches on exchanges next week.
There is still time to invest. With just 4-days left in the presale, you still have the perfect opportunity to get involved at lower prices before the initial exchange listings.