Jay Smith is one of eToro's most recognisable traders, and he wants everyone to achieve success on the leading global investment and trading platform. Here, in his typically generous and helpful way, Basingstoke-based Smith – a.k.a. jaynemesis on eToro – who describes his trading style as "fundamentals, future and HODLing" [sic], reveals the six rules he trades by.
"First, I only invest in what I am passionate about," says the 30-year-old, a Popular Investor on eToro with over 10,000 copiers through the platform's unique CopyTrader system. "Therefore, focus my investments on cryptocurrencies and technology."
Second, Smith says he trades "in the same direction as my long-term predictions". He explains: "If I believe Snapchat will drop, I usually only short sell, for example. And if I think Bitcoin will rise, I trade long."
Number three: "I trade based on future vision and disruptive tech. Essentially, I am always weighing up tech giants and cryptos against one another, looking for who will innovate to become market leaders in two or three years' time."
The fourth rule is about diversity – not of stocks, but types of trade. "I trade short, medium, and long term," he continues. "If short-term trades go bad they can change to medium term; if medium goes bad they become long term. This ties in with rule two."
The penultimate rule will be especially pleasing for most traders. "I focus on fundamentals for stocks and token economics / team / deliverables for cryptos," Smith says. "technical analysis (TA) is only used to find reasonable entry and exit points."
This chimes with the final rule, number six. "My short-term trades are based only on TA, although as mentioned I look at the long term for everything I trade."
These half-dozen rules, carefully honed over a number of years, work well for Smith, and have earned him great gains as well as a phalanx of followers on eToro.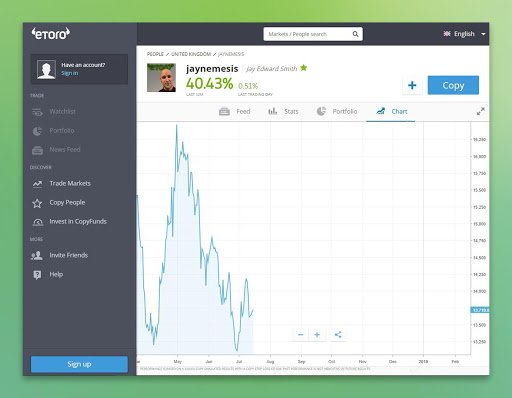 In 2017 he enjoyed returns of 340 per cent, having achieved an impressive 76 per cent the previous year. He certainly took advantage of the crypto bubble. It has been a learning curve, though. Smith joined the eToro platform in January 2014  and by the end of that year was 1.77 per cent down. In 2015 his fortunes – supported by greater knowledge – improved, and he registered a healthy 41 per cent gain.
Full-time trader Smith is excited about future possibilities, and cryptos in particular. He is not worried about the pull back in early 2018. "I've always been a fan of automation, futurology and transhumanism," he says. "On top of that, I am interested in politics, ideology and economics. Cryptocurrencies are a melting pot for all of these things, experimenting with new economic models, governance models, moral and ideological models and offer massive advantages over the systems they aim to replace.
"Some of my favourite crypto projects are Augur, IOTA, Loopring, Siacoin, EOS and Bitcoin. I firmly believe that cryptos will change the world, replacing stock markets, most currencies and powering everything from machine-to-machine payments and the Internet of Things through to streaming media, prediction markets, governance systems, voting systems, even potentially the internet. That being said, there is a long way to go, we are in the very early stages for most of these areas."
Many traders are attracted to eToro because of its simple-to-use platform and accent on cryptos. Smith was no exception. "Ease of use was the big reason," he says. "I used to trade stocks elsewhere and the web interfaces were horrible by comparison.
"It's a social network and therefore eToro is a living community of people who trade, all teaching and learning from each other, sharing ideas. They have a long history in cryptos, and added Bitcoin early, and co-founder Yoni Assia has a long history with cryptos. Unlike most organisations involved in this space, they have not been hacked – touch wood. That security aspect cannot be understated."
Smith did not set out to become a Popular Investor, but because of his success coupled with his desire to interact and communicate his advice in a transparent fashion made him an obvious candidate. "Although The Popular Investor Program (https://www.etoro.com/en/popular-investor/) didn't originally attract me to eToro, it has enabled me to pursue my passion: trading. The Popular Investor program rewards eToro's clients whose entire trading activity is copied by other people, provided they meet certain criteria such as enhanced risk management and they bring a unique trading style to the platform (rather than just copy someone else). This makes it easier for people to benefit from trading the financial markets, by looking at what other people are doing, and by simply copying them
"I received a call in late 2016 from my account manager who suggested I join the Popular Investor Program. Basically, it is a win-win scenario, because there was no effort required on my part. I just continued trading as normal but focused on keeping my copiers informed on my decisions throughout my trading.
"I believe I am currently among the best earning PIs on eToro. I earn a percentage of my assets under management each year, calculated every month. Currently, $16-million worth of clients' funds are following my trading strategies, and earn 2 per cent of that per year. Assuming this stays the same for the year that's approximately $300,000 a year, pre-tax."
Decent money is not the only driver for Smith. "Unlike working for some investment bank somewhere I really feel like I am helping ordinary people off the street to safely invest in tech and crypto," he adds. "The mums and dads who have no idea about this stuff also deserve to benefit from the changes it brings, and eToro enables this like nobody else.
"Ever since becoming a PI my primary focus for communication is to be as transparent as possible. I own my mistakes and explain my reasoning behind trades, even if it's sometimes based on little more than a hunch that something is oversold for example.
"Every week I publish a weekly update YouTube video, eToro and blog post. I also produce in-depth quarterly reports and release the spreadsheet of all calculations and data used. I believe this is a big factor in why my copiers remain loyal even during periods that I am losing money."
Offering a final nugget of advice for eToro traders, Smith says: "Start small, don't risk too much money until you have some good experience behind you. Secondly, avoid leverage. As the saying goes, you'll either make a killing or get killed."
Here is a video from 2016 with Smith explaining why and how he started trading on eToro, and why he prefers it over other platforms:
Join eToro's 10-million-strong global community today to take advantage of the innovative CopyTrader tool and learn more about the Popular Investor programme.
Benefits Of Trading On eToro
Straightforward, user-friendly, trustworthy and experienced platform
Instant execution of trades, thereby locking in a price
Ability to use CopyTrader and other innovative tools
Huge cryptocurrency community that shares knowledge and helps each other
Fast execution
Regulated company
CFDs are complex instruments and come with a high risk of losing money rapidly due to leverage. 65% of retail investor accounts lose money when trading CFDs with this provider. You should consider whether you understand how CFDs work and whether you can afford to take the high risk of losing your money.
Buying cryptocurrencies is not appropriate for everybody. Cryptocurrencies are not regulated. They are not backed by governments or central banks. Cryptocurrencies are backed by technology and trust. You will not benefit from the protections available to clients receiving regulated investment services, such as access to the Investor Compensation Fund for clients of Cypriot Investment Firms, or the Cypriot Financial Ombudsman Services Compensation Scheme. UK clients will not benefit from protections available from the Financial Services Compensation Scheme (FSCS) and the Financial Ombudsman Service (FOS) for dispute resolution. Past performance is not an indication of future results. This is not investment advice. Your capital is at risk.