Blockchain start-up investFeed has announced a highly successful start to its ongoing cryptocurrency crowdsale. The next generation social investment network for cryptocurrencies has had its live crowdsale campaign running since July 23rd, 2017 and has so far raised more than 11000 ETH. The sale will continue until August 7th at 9 AM UTC.
[Note: This is a press release.]
---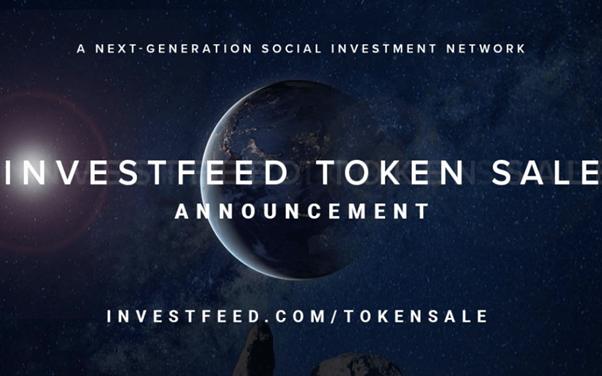 investFeed provides its users with insightful statements on the cryptocurrency market and a series of other additional features that make it much more like a community hub than a straight trading platform. The development team has been working on a series of investFeed iterations as far back as 2014.
The investFeed founders have seen that many of the platforms that try to serve the cryptocurrency community have failed to live up to their expectations, leaving them disjointed, and spread across various social networks and apps, as they attempt to share their insights. investFeed is analyzing these various shortcomings and addressed them in the careful development of their platform.
The platform native FEED token is still available in the ongoing investFeed crowdsale and will give holders access to content subscriptions, premium content, advanced investor tools, ad removal features and the potential to promote individuals' content on the network.
The investFeed development team has developed this blockchain based solution to attempt to build a dedicated network for crypto enthusiasts and pro traders, across the globe. They have also incentivized the platform so that contributors will benefit more than they would with current alternative social networks.
Originally starting out as a social investment hub for various traders and investors, the current iteration of investFeed is a result of the evolving investment community and the requirements that accompany that community. Alternative digital currencies have had a notably disruptive impact on the financial sector so far, despite attempts by governments and corporations to damage or destroy cryptocurrencies. The increasing adoption of blockchain technology and the recent diversification of currencies have made them a more attractive possibility for banks, governments, and individuals.
The intention is to provide individuals with a useful tool to manage cryptocurrency-related activities, as they begin to experiment with digital currencies. Social media networks offer a familiarity that investFeed can utilize to offer their user-base the option to invest in a platform that enables them to voice their opinions.
The investFeed social network will also include added functionality for portfolio management and order capabilities through third party APIs.
The FEED token will start with a substantial individual value on the investFeed platform, which should encourage a wide range of individuals in the creation of content. The company's long-term goal will be to democratize the experience of social media and what it can achieve.
ICOs and token pre-sales have recently gained significant traction due to their ability to support distributed applications and open source development teams. The investFeed token sale will allow the acceleration of product development and promote network growth and developer adoption. The investFeed ICO will continue until August 7th at 9 AM UTC or until the hard cap of 28,000 ETH is reached.
---
Images courtesy of investFeed