Both those inside and outside the crypto world are talking about the spectacular fall of FTX and the impact it is going to have on the market. The FTT token has crashed alongside the exchange and it brings a lot of scrutiny to whether some popular tokens are really worth what they are.
Some are even saying that meme coin Dogecoin could be the next one to go, given Twitter's woes which take up just as many headlines as FTX. Regardless, savvy investors will want to look to alternative tokens that might hold promise.
5 Crypto Projects that are Good Alternatives
1. Dash2Trade
It can be difficult to make investment decisions in the crypto market, especially when it is volatile. As such, projects like Dash2Trade offer an excellent means to manage the market, offering such features as crypto trading signals, predictions, and social analytics. The contracts have been fully audited by SolidProof and the team's profiles have been verified via CoinSniper.
Users also have access to a strategy builder tool and can keep track of presale launches, both of which are useful whether the market is experiencing a downturn or not. All of these features combined create a one-stop shop for users' needs.
Dash2Trade will conduct its presale in Q1 2023 – which is also when the dashboard will launch and beta testing will take place. The D2T token will be listed on both centralized and decentralized exchanges following the presale.
2. Tamadoge
Tamadoge is a P2E game and metaverse that resembles meme coins in many ways – except it offers utility. Players have Tamadoges, which they can battle with other players. These come in the form of NFTs and can be leveled up.
Players use the TAMA token to buy items like toys, food and more. These tokens are earned while playing games and through battles with other players. The Tamadoge NFT collection has a total of 21,100 NFTs, with the rarities being ultra-rare, rare, and common. The rarity determines stats such as speed, awareness, and agility, which will factor heavily into the Tamadoge battle experience.
3. Silks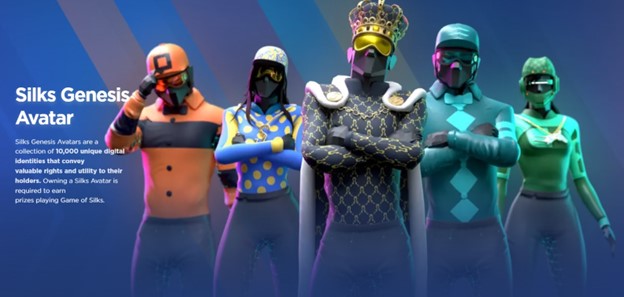 Silks is one of the more interesting P2E games on this list, as it mirrors the real world of thoroughbred horse racing. This gives it excellent potential in being able to establish marketing and adoption opportunities in the real world. Specifically, if your horse wins in the real world, you are rewarded in the game. This goes as far as to include clones of young horses in the real world in the game, or yearlings as the horses are called.
The project has multiple NFT collections including Avatars, Horses, and Land. These all have a purpose as a game mechanic, as players can buy and breed horses, or use land for a variety of purposes. It is worth noting that players will need a Silks Avatar to participate in the game. Gameplay mechanics include buying, breeding, and racing horses. There is also a staking mechanism in community farms.
Besides letting you take part in gameplay features, the other benefits  of owning a Silks Avatar include a lifetime mint pass for the annual Genesis Yearling Sale, exclusive experiences, giveaways, and IRL events. These activities earn players rewards.
4. Calvaria
Calvaria is a P2E card battler game with a striking setting. However, more than anything, the most salient feature of Calvaria is the fact that it is extremely accessible.
Players also do not need any crypto or assets, or even a wallet, to start playing the game. This makes it easy for non-crypto savvy users to start playing. There are two versions to the game that adds to this: Free-to-Play and Play-to-Earn. The game is also available on both PC and mobile app stores, widening the player base.
The features of Calvaria are a DAO for community-driven governance, an in-game store for NFTs and other assets, mini-games, and a scholarship system.
5. IMPT
Focused on protecting the environment, IMPT is building a carbon credits platform that allows stakeholders to offset their carbon footprint. These stakeholders include brands, businesses, and individuals. Its' a unique project that has a lot of potential to show the world that blockchain tech can do a lot of good.
Stakeholders use IMPT tokens to buy carbon credits, with 1 carbon credit can offset 1 ton of carbon output. There are various activities in the ecosystem, including shopping and social platforms, which allows users to earn IMPT tokens. There are also hundreds of environmental initiatives to contribute to. These will be vetted and follow Global Certification Protocols.
Stakeholders can also buy, sell, or retire their carbon credits to help them reduce carbon footprints. For this, they receive NFTs. The NFTs can then be held as a collectible or sold on an NFT marketplace like OpenSea or Rarible.
Good Projects Will Outlast Bear Market
The past few months have shown that even once-mighty crypto projects and tokens can fall in a span of a few days. To truly become resistant to market forces and other issues, teams need to create solid projects with effective ideas. The object should not just be to create money, but to create a genuine system of value.