I have been reading a lot about Comino's GPU miner and finally got the chance to review it. As soon as I learned that it was the supposed "ultimate home mining solution," I decided to leave the white gloves in the office and bring her home. 
---
At first, I was a little bit scared of the size of the device, but considering that the 8 GPUs are liquid cooled and 2 PSUs are air cooled, it's understandable why the device would be so big. That said, it's still 4-5 times smaller than a comparable air-cooled rig.
When I was unboxing the device, I was so excited that I totally forgot to take any pictures — my bad. When it came out of the box, however, I was really surprised. It really is a piece of engineering. The whole house is made of aluminum and it seems laser cut.
After the disassembly, I realized that the weight is coming from the water cooling.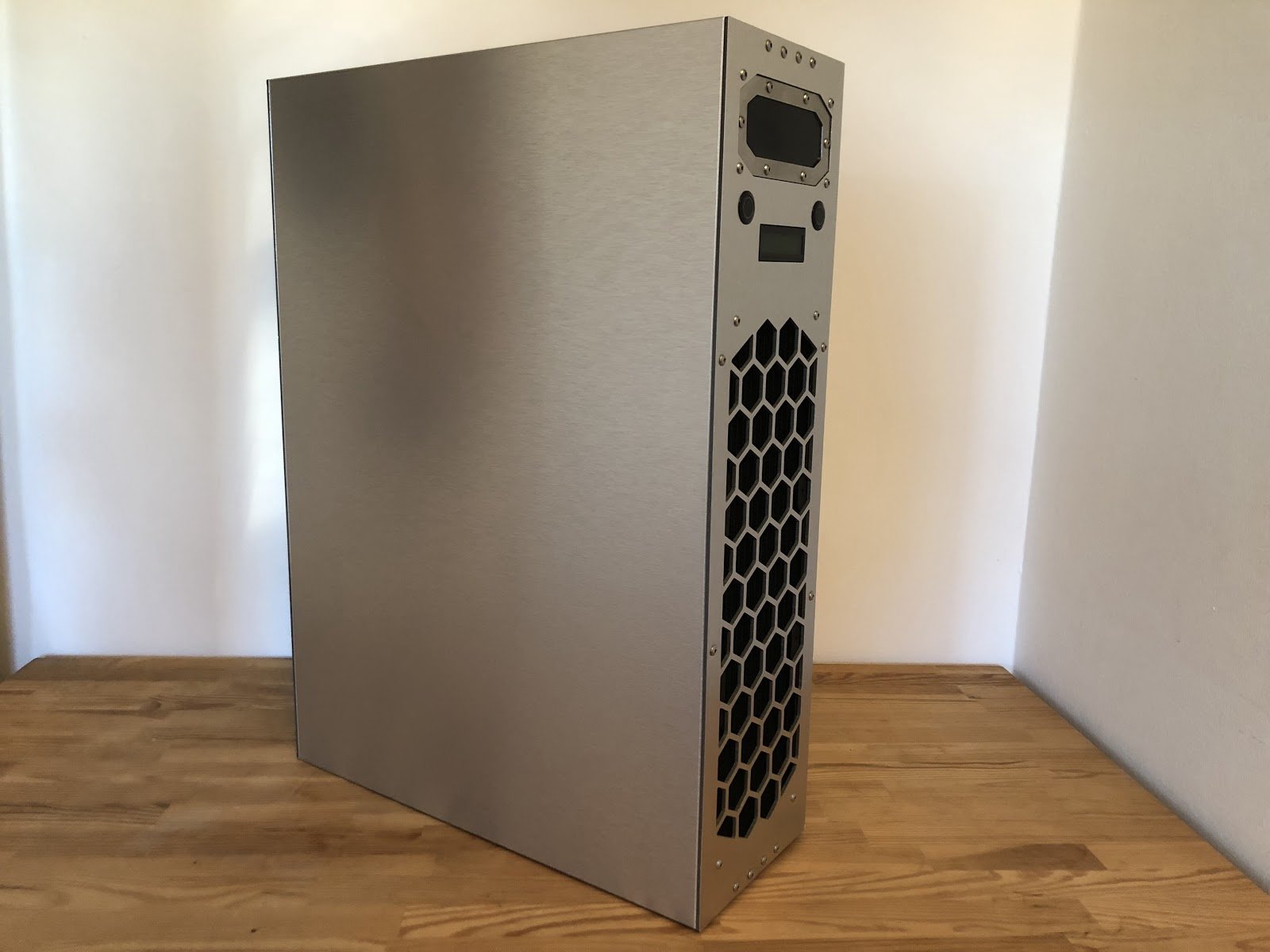 The design is almost perfect — who said that miners should be ugly? However, I wouldn't say my wife would consider this the nicest decoration of the living room but, compared to any other solutions, it looks really nice and quiet.
But let's get down to business and see the specs!
Miner Specifications
Let's first start with the heart — the miner is powered by 8 Nvidia P106 6GB Gigabyte GPU. These cards these are basically the 1060Ti series, but made specifically for mining — no HDMI outputs or other useless nasties. These cards were built for mining (yes, there is a difference) and come with a one year warranty.
Below are the specs:
Card name: Gigabyte GV-NP106D5-6G rev1.1
Graphics Engine: NVIDIA P106-100
Bus Standard: PCI Express 1.1
Video Memory: GDDR5 6GB
Engine Clock: GPU Boost Clock: 1708 MHz GPU Base Clock: 1506 MHz
CUDA Core: 1280
Memory Clock: 8008 MHz
Memory Interface: 192-bit
Power Connectors: 1 x 6-pin
Dimensions: 9.45 " x 5.16 " x 1.5 " Inch / 24 x 13.1 x3.8 Centimeter
Ethash hashrate: approx: 200±5% mH/s
Operating system: Comino OS (Customized Ubuntu)
What's inside?
As soon as I received the Comino miner, I was sure that I would disassemble it.
The inside of the machine is incredible. All the parts are designed and manufactured for this miner, specifically, and everything is in just the right place. There are no loose cables or noisy fans. Everything is just where it needs to be and is served by water cooling, making for silent mining.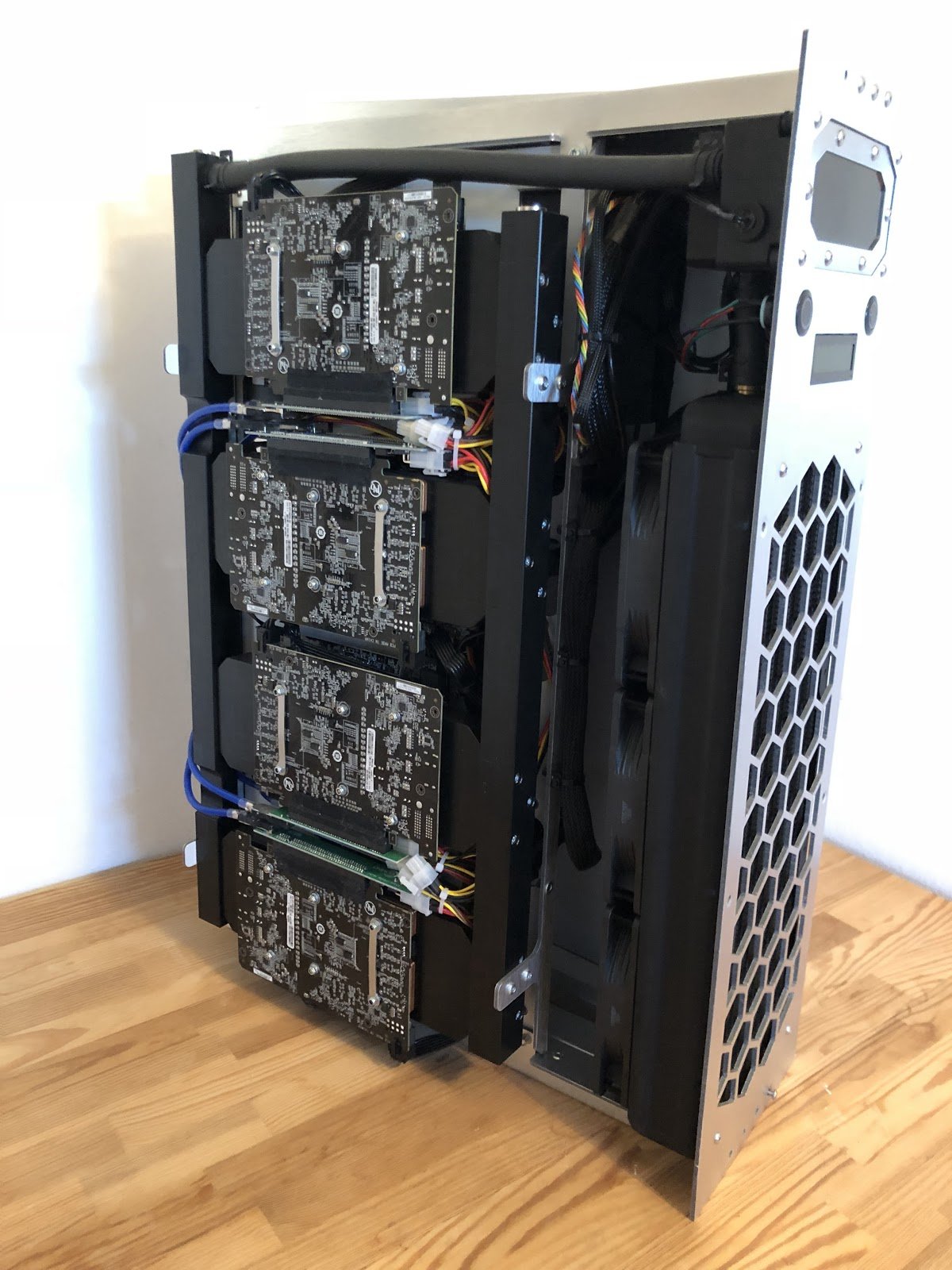 Installation
The installation process is quite straightforward. You power it on, press the right button, and let it boot up. After the successful booting procedure, connect to the Comino_xxxx named wifi and use your password given in the manual. Connect and setup.
Reset WiFi
If you don't have the right password, just press the "Mode" (left side) button 3 times, then choose option 2 to reset the password. After that, the wifi name and password will be displayed on the screen.
After you are connected, there will be a pop-up screen asking for login credentials — just shoot in admin/admin and it will be fine. In that screen, you can set up you wifi. It's pretty easy. Just choose your network and input password then save it. You can set up your GPU settings here as well.
Ready to mine
Under the wifi settings, you can add your Ethereum address and save it. Reboot the device and you are ready to go!
You can access the device remotely via my.comino.com and make some more advanced setups — by default, the device is currently supporting Ethereum and Zcash. However, according to the company's statements, it will be able to mine other altcoins soon.
There is no option to change the pool or the coin, which might seem strange for some experienced miners it is strange — but this thing is just working out of the box.
Of course, you can reach your miner on the local network by typing the IP address of the device — which is pretty easy since it is displayed on the front screen.
The setup is easy, but it would be nice to have a manual added to my.comino.com which includes the serial number and secret key. However, if the miners end up on the second-hand market, users may still contact Comino via email and request the transfer of a device to another account. This method actually helps prevent theft.
Conclusion
This is a really nice device and, compared to any other mining solution, it is really easy to setup and really silent. I am not sure that it would be a good idea to put it in your bedroom, however, but it definitely lets you sleep if there is a wall in between.
The design is really nice but uses a lot of aluminum and water cooling — making it quite heavy. As far as I can see, the miner is made from quality materials and parts. Comino designed the raisers using only gold-plated sockets, cables, controller board operating cooling system, and chassis. Meanwhile, the Noctua iPPS fans and HWlabs radiator are some of the very best found on the market, so they won't let you down. (If you ever tried building a rig, you already know the Chinese risers, adapters, and parts will make your rig a nightmare.)
I think that this is not a data-center big business solution. (Comino has an enterprise solution for that.) If you want to start home mining with an easy configuration and want to have a nicely designed miner in your home or office, here you go.
Mining stats
For the first 10 hours of mining, my average rate was 199.87 mH/s with the default configuration — so we can say the device is working as promised!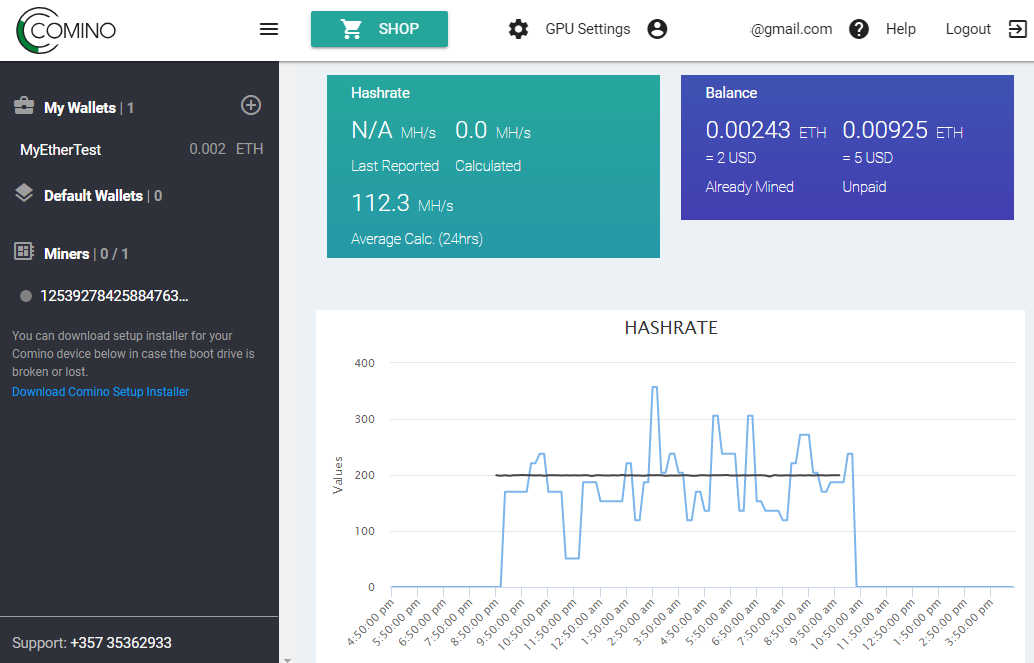 What do you think of Comino's miner? Let us know in the comments below!
---
Images courtesy of