Bitcoin has undergone a strong rally over the past few days.
After reaching lows of $10,400 just a week ago, the coin has entered a strong uptrend.
At the highs of Friday evening, BTC traded as high as $11,500, far above the aforementioned lows.
Analysts say that Bitcoin bulls must maintain $11,100 moving forward to maintain their current trend.
Technically, technical and fundamental signs suggest that further upside is to be expected in the coming days and weeks.
One analyst noted that BTC's medium-term RSI readings indicate that this rally has legs.
Bitcoin Must Maintain $11,100 Moving Forward, Analyst Says
Bitcoin is positioned to continue its ascent if it manages to establish $11,100 as support, one analyst recently said. He shared the chart below just recently, noting that this region has been pivotal for BTC over recent days.
"Speed, power and momentum. Eyes on the upper range at a $11,800's if we can continue with this momentum through the weekend, but right now market is showing a good amount of strength! Bullish. In terms of support, $11,100 is super critical to maintain."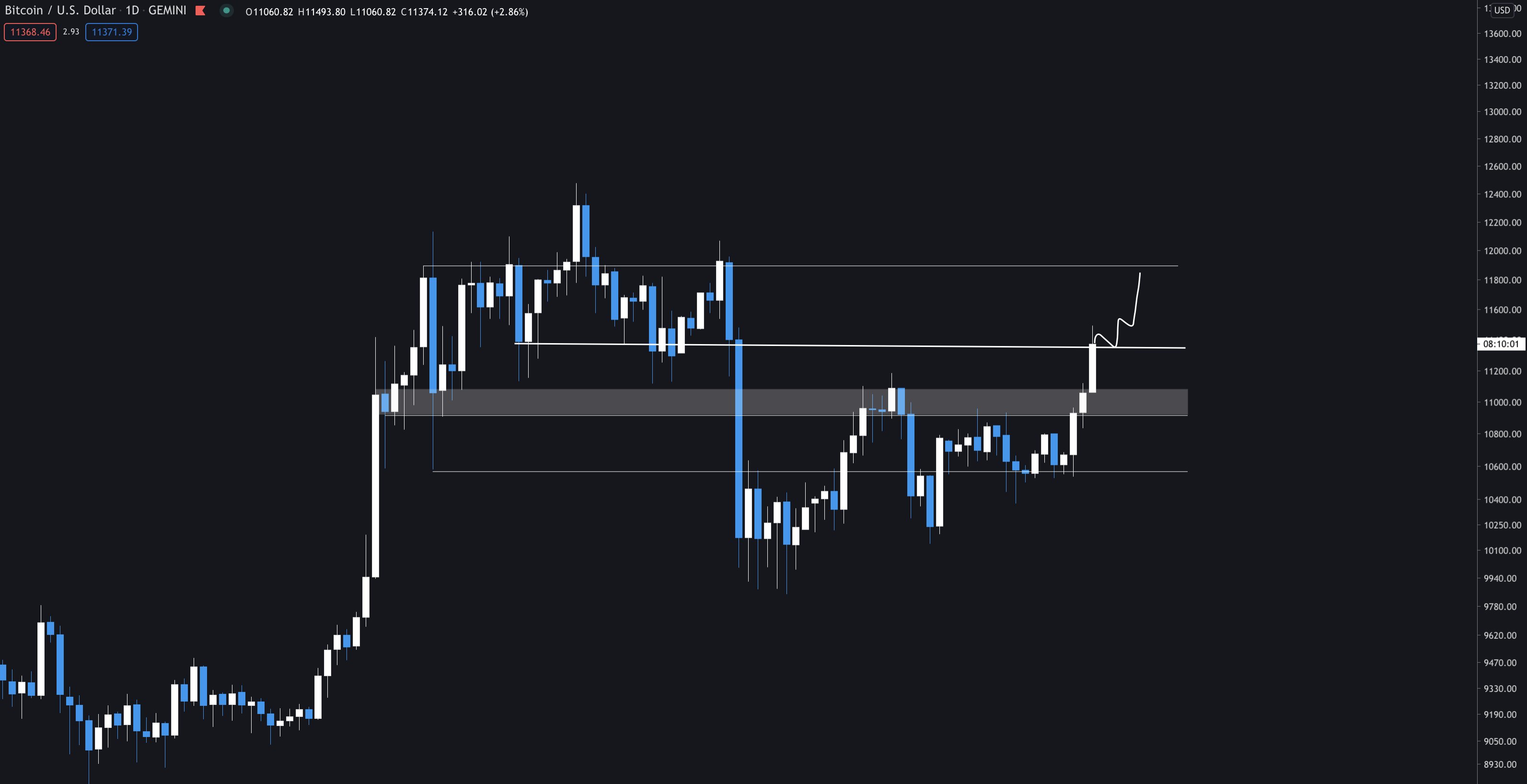 Chart of BTC's price action since the middle of July with analysis by crypto trader Cactus (@TheCryptoCactus on Twitter).
Chart from TradingView.com
Bulls on Form For Further Upside
As reported by Bitcoinist previously, analysts are optimistic that Bitcoin has further to move to the upside.
One crypto-asset analyst commented that BTC's ongoing move is taking place on a "clean" relative strength index (RSI) uptrend, which may indicate that there's further to the upside that Bitcoin can run:
"First convincing reclaim of the EQ of the RSI since the 12k drop. Looks pretty good… The RSI is more clean than PA itself recently. Clearly broke the downtrend, now in an uptrend," he said while pointing to the below chart.
Image Courtesy of Byzantine General. Chart via TradingView.
The RSI is an oft-used technical indicator that shows when an asset is relatively overbought or oversold (or neutral, for that matter) over a certain time period.
Other fundamental trends, such as the ongoing fiscal stimulus talks in the U.S., are set to drive the cryptocurrency market higher in the coming days. The passing of yet another bill is likely to suppress the value of the U.S. dollar, which will result in a rally in the values of leading alternative assets like Bitcoin and gold.
Featured image from Shutterstock
Price tags: xbtusd, btcusd, btcusdt
Charts from TradingView.com
It's "Super Critical" That Bitcoin Maintains $11,100 MovingForward