With just three days left in the Dash 2 Trade presale, only 7% of tokens remain for purchase at presale prices before D2T launches and hits centralized exchanges.
Scheduled to end January 6th, the final stretch of the presale for the D2T token has investors highly excited for what's about to come for the project, with many investors expecting major 2023 success after launching. They believe that the crypto analytics platform will quickly generate traction as it helps traders across the board become consistently profitable during a time when trading opportunities are few and far between.
The Dash 2 Trade analytics platform allows users to maximize their trading returns by providing a wide variety of features and tools to help traders make better-informed decisions. The best thing about the platform is that users will require D2T to access the subscription-based model, ensuring D2T has a robust utility throughout 2023.
Just Three Days Remain in the Hottest 2023 Presale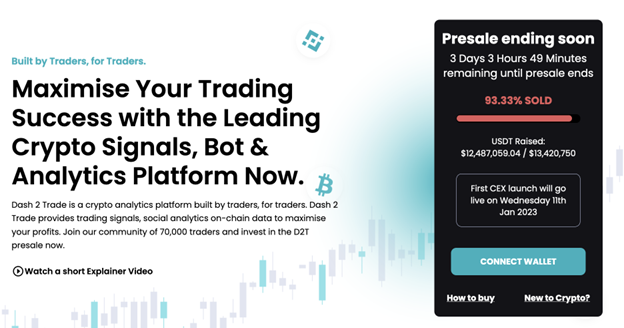 The presale phase of the Dash 2 Trade project has almost concluded. With just three days remaining in the sale, investors eagerly anticipate the next steps for the Dash 2 Trade platform and the D2T token.
So far, the Dash 2 Trade project has raised over $12.5 million in the presale, with an overall target of $13.4 million to be raised.
Once the presale has concluded, the D2T token will be available to claim for all investors. The token is scheduled to go live on both centralized and decentralized exchanges on January 11th, 2023. The Dash 2 Trade team has already announced that LBank and BitMart will be the first two exchanges to list the token, with additional tier-1 exchanges to be announced.
What is Dash 2 Trade
Dash 2 Trade is a world-class crypto analytics and intelligence platform with the goal of making traders more consistently profitable by providing them with the relevant information and metrics to make informed trading decisions.
There are thousands of tokens in the crypto market, and the space moves at lightning speed, making it impossible for traders to keep up-to-date with all the latest developments. The entire idea of the platform is to help traders stay informed, so they have the latest information required to make better trading decisions.
In a nutshell, Dash 2 Trade seeks to help traders find what cryptos they should be trading at a time before it becomes popular and expensive to do so.
💪NEW YEAR – NEW GOALS 💪

Maximise Your Trading Success with Dash 2 Trade – the Leading Crypto Signals, Bot & Analytics Platform!
Put your money in a long-term investment like #D2T!

The FINAL stage of our presale is still live on our website. ⬇️https://t.co/ExvBBjKIU6 pic.twitter.com/FX3Edl7K21

— Dash 2 Trade (@dash2_trade) January 2, 2023
The dashboard provides actionable crypto trading signals, with buy and sell targets, so that traders can be alerted to profitable movements in the market. It also provides in-depth market predictions, social analysis, and on-chain metrics to help traders make better trading calls.
One key feature of the platform is the trading strategy creation tools, which lets traders design and test new trading strategies based on the metrics provided by Dash 2 Trade. Traders can test their new systems in live conditions without risking their capital to see their performance.
Why is Dash 2 Trade Set to Become a Major Success Post-Launch?
With just days left in the presale phase, investors are excited about what's to come from the project in 2023.
Here are five reasons why Dash 2 Trade is set to become a significant success in 2023.
Features To Help Traders
Dash 2 Trade is jam-packed with incredible features that are set to help traders become more consistently profitable. The platform offers the following;
Trading Signals with buy/sell opportunities
Social sentiment and on-chain analysis to stay ahead of the space
Presale Launches to keep track of presales with a scoring system
Strategy builder to test new ideas
Social Trading
As mentioned, the trading signals will be vital to alert traders to trading opportunities based on the Dash 2 Trade metrics. This is expected to be the bread and butter of the platform and will be one of its flagship features.
The bespoke presale and ICO scoring system is expected to be one of the groundbreaking features released by Dash 2 Trade. With crypto markets in a rough bearish phase, it's essential that investors avoid crypto presale scams, honeypots, and rug pulls. Dash 2 Trade seeks to help traders invest wisely by creating a bespoke scoring system for presales and ICOs, to help traders assess the legitimacy of projects.
The Dash 2 Trade team believes that keeping track of the presale space provides valuable insight into where the general market might be heading. Therefore, they manually score projects to assess metrics that cannot be evaluated by automatic software and produce a "Dash Score" to rank presales. The scoring system considers metrics such as team credentials, contract audits, and tokenomic validity.
The team recently released an overview of this section of the dashboard, and it got the community extremely excited;
Another flagship feature will be the social indicators and on-chain analysis, designed to help traders stay ahead of the space. The team behind Dash 2 Trade believes that socio-cultural activities in the space first dictate significant market movements. Value is first driven by perception, which is why tracking social and on-chain metrics is essential. The dashboard will automatically gather social metrics for crypto, allowing users to sport potentially bullish coins that could surge higher.
A Token With Real-World Utility
✴️D2T MEMBERSHIP ✴️

✅The premium tier is priced at 1,000 DT2 tokens per month.
✅A 20% discount is available to those that commit to an annual purchase!

Visit our website for more ⬇️https://t.co/ExvBBjKIU6 pic.twitter.com/9hn7vPZjJ9

— Dash 2 Trade (@dash2_trade) December 29, 2022
Another reason why Dash 2 Trade is also set for major 2023 success is that it's a token that provides real-world utility – something not many other projects can remotely achieve. In addition, the Dash 2 Trade platform is powered by the D2T token itself, meaning users will need the token to have access to the platform through a subscription.
Although there will be a free tier, most features will be exclusive to the Starter and Premium tiers. The Starter package costs 400 D2T monthly and provides access to most of the dashboard's features but only contains foundational-level metrics. On the other hand, the Premium tier costs 1,000 D2T monthly and allows access to every component of the dashboard, and provides professional-level data streams.
As the Dash 2 Trade ecosystem matures, traders will continue to require the token to pay for the subscription each month – providing a real-world use-case for the token itself.
A Team With an Extensive Track Record

One of the major driving forces behind the Dash 2 Trade presale being so successful was the team steering the project. The team comprises world-class development leaders backed by quant developers and venture capitalist investors.
They had previously created the Dash 2 Traed sister project called Learn 2 Trade. This Forex education and signals platform was established in 2017 and became extremely popular after attracting over 70,000 users.
Learn 2 Trade became one of the cornerstones of the Forex education community, and the team behind the project decided to partner with profitable crypto traders, quantitative researchers, and AI developers to deliver a crypto-based version of the platform.
With such a highly experienced team behind the project, it's easy to understand why investors expect huge gains once the token launches on exchanges.
Listings on Major Exchanges
Once the presale has concluded, the D2T token is scheduled to be launched on centralized exchanges across the board. The team has already announced major partnerships with three major crypto exchanges, including;
LBank
Changelly Pro
BitMart
These are the first three exchanges expected to launch D2T after the presale is finished. Together, these exchanges facilitate well over $1 billion daily trading volume, providing ample liquidity for D2T to flourish.
Furthermore, the Dash 2 Trade team is expected to continue to announce other exchange listings, with many investors expecting Tier-1 exchanges such as Binance or OKX to start listing the token down the line.
Continued Marketing Efforts

The final reason Dash 2 Trade is set for a successful 2023 is due to the team's marketing efforts. The Dash 2 Trade presale has been publicized on a range of the top crypto news sites, including NewsBTC, MarketWatch, YahooFinance, Analytics Insight, and Cryptonews.com.
The team has already stated that the dashboard has almost finished the development stage, meaning the remaining funding raised in the presale will be dedicated toward marketing the platform and gaining users.
If Dash 2 Trade continues to gain widespread attention across major crypto news publications, it will set the foundation for a very successful 2023.
Conclusion: Should You Buy D2T?
Any investment is wholly down to your financial circumstances and risk appetite. However, if you are after a solid presale project with excellent fundamentals, a competent team, and the expectation of significant profits, then D2T should undoubtedly be on your list. However, with only three days to go, you only have a little time to decide.
If you miss the presale, you can still participate in the growth of D2T by purchasing the token on centralized exchanges when it launches. Once the Dash 2 Trade dashboard has been released, investors expect the token to surge much higher.
Disclaimer: This is a paid release. The statements, views and opinions expressed in this column are solely those of the content provider and do not necessarily represent those of Bitcoinist. Bitcoinist does not guarantee the accuracy or timeliness of information available in such content. Do your research and invest at your own risk.