Litecoin has rallied 30% in the last two weeks and sells for $66.04 at the time of writing. The oversold asset could be heading to a market bottom, according to Litecoin momentum indicators. Having been disappointed by high-cap cryptocurrencies yet again, investors are on the hunt for promising presales to weather the crypto winter.
These three presale tokens are currently trending, as a result:
1. Calvaria (RIA) – The Best Play-to-Earn Crypto Presale of 2022
Gaming takes a large slice of global blockchain use. So it comes as no surprise that gaming tokens are one of the most lucrative crypto investments. That partly explains why investors are stocking up on Calvaria, already in the fourth stage of its fast-paced presale.
The P2E battle card game has built a vast community on Twitter and Telegram in a short space of time since its launch. Much of the craze has to do with Calvaria's vibrant theme and storyline. The game is centered around the afterlife, where different factions are vying for supremacy. The afterlife opens plenty of creative possibilities, as it has rarely been explored in gaming or popular media. The story mode is terrifically gripping; the project is trending in traditional gaming communities.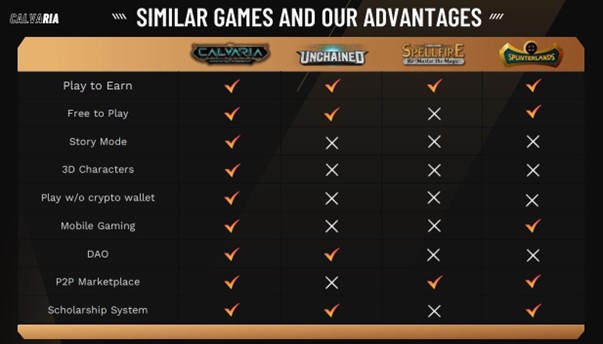 The fact that Calvaria is available in both play-to-earn and free-to-play formats also helps it penetrate traditional gamers. This essentially means that you don't need to install a wallet or buy in-game assets to play the game. You can opt for P2E once you're acquainted with the gaming mechanics and want to turn your hobby into a source of side income. Calvaria will be an excellent alternative to games like Axie Infinity that are on the ebb.
Stage 3 – Sold Out!?

We're happy to announce that 3rd stage of our presale has been sold out and next stage is officially open!

Stage 4 Is LIVE

30M RIA | 1 USDT = 40 RIA
Price: 0.025$

Don't miss a chance to get RIA at the best price?

Join Presale: https://t.co/rlaLVesbtQ pic.twitter.com/RkKIcXQWGr

— Calvaria: Presale is Live! ✨ (@CalvariaP2E) November 4, 2022
Calvaria comes with a staking system, a DAO, multiple mini-games, an NFT marketplace, and a scholarship system to host a full-fledged GameFi ecosystem. The action-packed Calvaria roadmap hints at a 30-50X bull run on the release of Calvaria: DoE Alpha Version, scheduled for the first quarter of 2023.
Don't forget to check out the $100k Calvaria Giveaway on Gleam.
2. Dash2Trade (D2T) – Presale with the Highest Growth Potential in 2023
Dash2Trade is another cryptocurrency that has been reigning the crypto market for the last few weeks. D2T presale is closing in on its third stage, after raising around $5M in just two weeks. As one of the first-of-its-kind crypto analytics and intelligence platform dedicated to both seasoned and newbie crypto traders, Dash2Trade holds large potential for growth in the coming years.
The platform's advanced design helps users stay on top of the market using powerful data points that have a true impact on their profitability. What sets apart Dash2Trade from the myriad of crypto analytics platforms is its unique approach that empowers users to get focused insights into the market, rather than inundate them with complex technical narratives.
The key features of Dash2Trade are trading signals, a bespoke presale scoring system, social sentiment and on-chain analytic tools, strategy builder tools, and new cryptocurrency listing alerts.
Dash 2 Trade will launch its dashboard and begin beta testing in early 2023. Once subscriptions are open, you will be able to access social metrics data, technical indicators, presale insights and scoring, real-time event streams, customizable watch lists, news feeds, and new listing announcements from the dashboard.
? #D2T CREW! ?

We Are Selling Out Really Fast!! ?

Don't Miss This Opportunity To Be An Early Investor!

JOIN THE #D2T PRESALE NOW BEFORE IT'S TOO LATE! ⬇️https://t.co/ExvBBjLgJE pic.twitter.com/7FddHXw73G

— Dash 2 Trade (@dash2_trade) November 3, 2022
For the latest updates about the project and presale, follow Dash2Trade on Twitter and Telegram.
D2T is also running a giveaway for presale participants, with $150K up for grabs.
3. IMPT (IMPT) – The Face of the Green Crypto Movement
The carbon offset market is growing both in the mandatory and voluntary sectors. We are now more conscious than ever about our carbon footprint and its impact on the environment. Can Web3 accelerate the trend?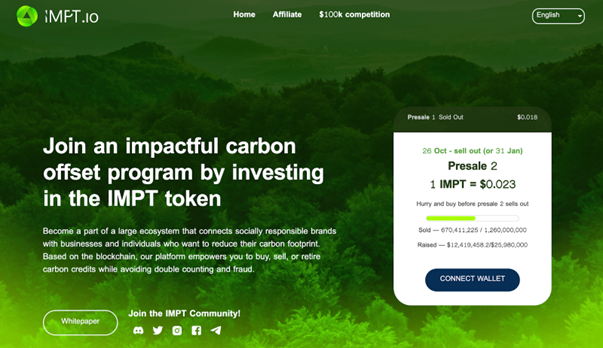 The widespread reception of projects like IMPT proves that Web3 has the potential to catalyze climate action. The large blockchain ecosystem brings together high-impact environmental projects and environmentally-responsible businesses and individuals under one umbrella on a common mission.
The IMPT marketplace facilitates seamless trading of carbon credits, collected from credible initiatives that work on restoring and regenerating the planet. It converts carbon credits into NFTs to eliminate the risks of double spending. You can retire your NFT carbon credits on IMPT to offset your carbon footprint in exchange for tokenized digital artwork.
IMPT Store, on the other hand, allows you to earn rewards for responsible shopping. Every time you buy products via the platform, you earn IMPT tokens, which you can convert into NFT carbon credits. IMPT has secured partnerships with leading global brands like Samsung, River Island, Bloomingdale's and Bodega to bring the store alive.
In addition to these, IMPT will launch a social platform where businesses and individuals can track their IMPT scores.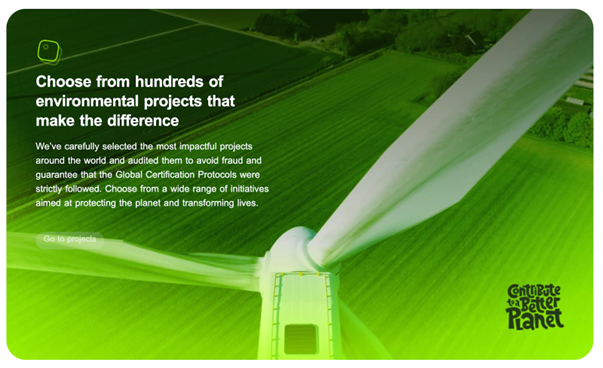 Investors, from both the crypto and non-crypto sides of the world, are buying IMPT in large quantities at the presale. It is one of the best green crypto projects of 2022. IMPT tokens are selling for $0.023/token at the second stage of its presale, which is heading for an early sell-out. Join IMPT on Twitter and Telegram for the latest updates about the project.
IMPT presale investors get a chance to win $100k.