Chainlink has suffered a strong retracement since the $20 highs it saw last week.
The altcoin is now trading for $16, 20% below the local highs, after it suffered a flash crash.
There are few traders willing to take short positions on the cryptocurrency due to its explosive volatility.
There are many analysts, though, willing to say that Chainlink is likely to suffer a greater retracement in the days ahead.
At the $20 highs it just traded at, LINK was trading around 1,000% higher than its March capitulation lows.
Chainlink Is Readying for a Bigger Correction: Analysts
A number of analysts are preparing for an even larger dip in the price of Chainlink, even after a 20% correction.
One cryptocurrency trader shared the chart below on August 20th. It shows that LINK's recent price action has formed the first lower low and potential lower high in this uptrend. This means that the bullish market structure that Chainlink had has been broken, which opens the floor to a retracement:
"This is the first lower low and potentially lower high that LINK has made in a long time… It will be interesting to see if LINK have the momentum to reclaim this level Fair play to @Pentosh1 on his short call. I'm not that brave and would rather buy dips in this market."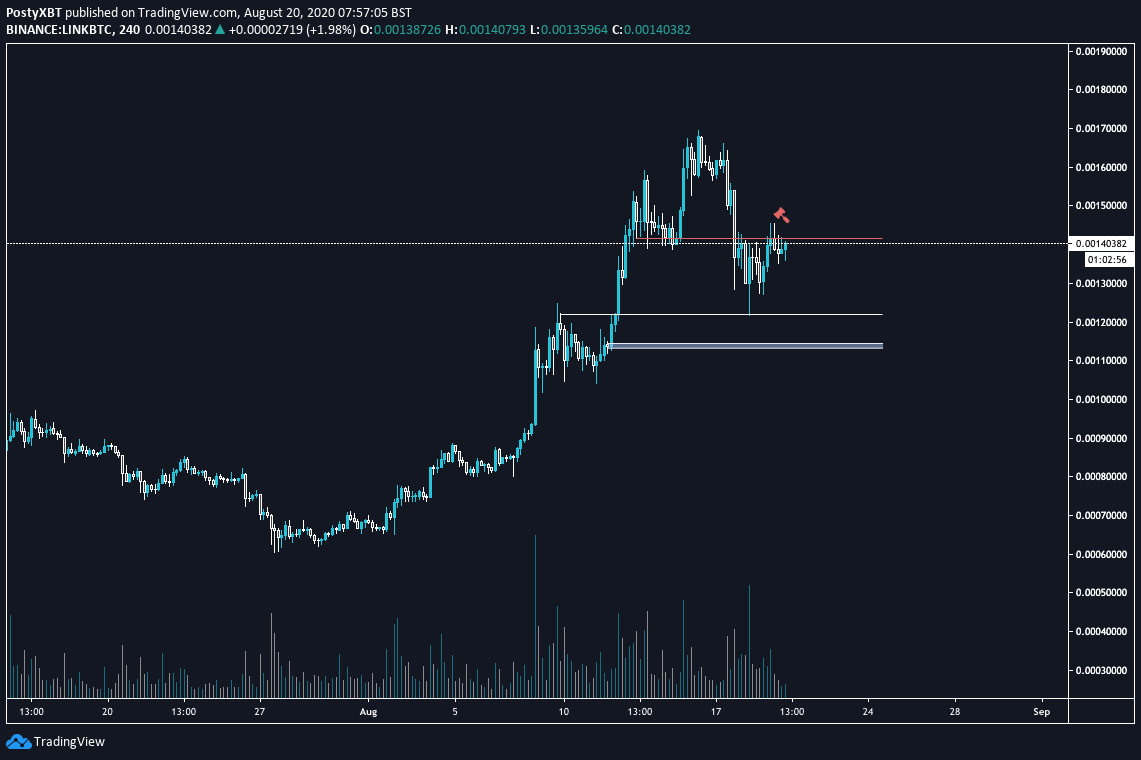 Chart of LINK's recent price action with analysis by trader Posty (@PostyXBT on Twitter).
Chart from TradingView.com
This skepticism has been shared by a number of other commentators.
One analyst that goes by "Steve" says that a pullback for Chainlink to $13.00 is imminent,
"This is a very unbiased & non-marine opinion on LINK. I have no business FUDing the project nor do I need to support it in a culty way. Facts are that we had a HUGE run-up and are now pulling back, which is good. I do see more blood coming though. Simple TA shows that we have no supports tested on the daily. Our first "bigger support" is around $8.50 (0.618 Fib Level). The minimum pull-back I am expecting is to $13.00 We also broke the daily trend for Chainlink."
On-Chain Fundamentals Still Look Decent
LINK's on-chain fundamentals are still in a good state despite the ongoing correction and the expectations of further downside.
Blockchain analytics firm Santiment reported on August 19th that the number of unique addresses transacting Chainlink remains high, boding well for the price action:
"$LINK has held up well against #altcoins this past day since its -16% Monday dump. A major reason is the fact that its unique addresses circulating transfers on the network has remained high compared to other #alts."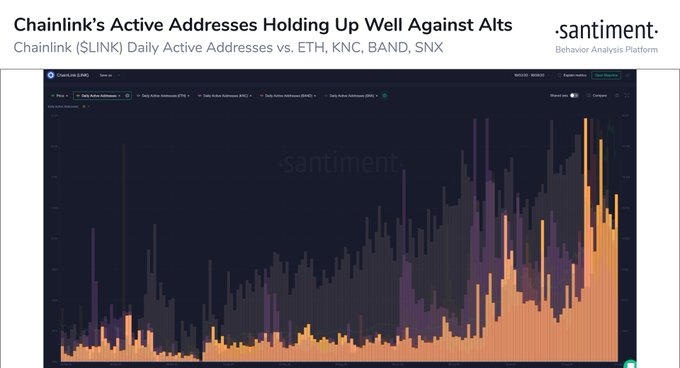 Chart of LINK's daily active address count vs. other cryptocurrencies like ETH, KNC, BAND, and SNX
from Santiment, blockchain analytics firms.
Photo by olly allars on Unsplash
Price tags: linkusd, linkbtc
Charts from TradingView.com
There's a Mass of Analysts That Think Chainlink (LINK) Will Drop After Falling 25%