Officially launched in 2016.09, the blockchain startup MATRIX is looking at a market value of 360 million USD and aims at rank among the top 100 in global cryptocurrencies. Investors are obviously attracted and gaining confidence.

---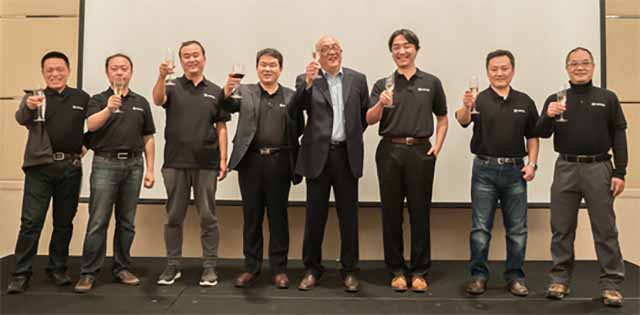 When Deng won the 1st prize in the world top AI competition Pascal and COCO together with his team, the Tsinghua professor might not expect that how artificial intelligence will shape the future of BlockChain as what he is doing now. His team focuses on deep learning based Bayesian algorithm and he has been PI for numerous national-level research projects. Now he is in charge of designing machine learning algorithm for MATRIX.
With a fusion of BlockChain and AI Technology, MATRIX has built a revolutionary BlockChain 3.0 cryptocurrency solution that brings significantly boosted transaction speed, enables general users with natural language processing (NLP) technology, enhances security under intelligent contract, and utilizes mining activity with universal value.
"BitCoin mining consumes 17% of total global computing power, it is wasteful for mankind for hash calculation." The MATRIX team apparently keens to challenge the status quo. The team, including industry-leading experts like Bill Li (Chief Network Architect), Ethan Tian (Chief R&D Engineer), Tim Shi (Chief Chip Scientist), are inventing a new Bayesian mining system that these mining activities will support medical diagnoses, complex finance modeling, behavior recognition and any other non-crypto cases which need massive computing power.
Owen Tao, CEO of MATRIX, with double degree of physics and economics from Peking University, mentioned during the same conference, that MATRIX is an open source ecosystem and there is a clear roadmap ahead, "Infrastructure and private chain will be ready 2018.9, mining facility and big data applications will be ready in 2020.3", he said, "Sectors like credit/medical/energy/intelligent city/finance will be greatly impacted."
MATRIX ICO Facts:
MATRIX ICO ended at 3:07:02, Jan 17 (UTC).
A total of 13227.5 ETHs are sold through 212 transactions.
MATRIX-ICO Coin Investor:3888 transactions
MATRIX–ICO User Data:Registered User,69543;Active User:60924;KYC User:22926;
About Matrix
Designed to be the new generation blockchain, MATRIX leverages the latest Artificial Intelligence (AI) techniques to revolutionize the landscape of cryptocurrency. MATRIX differentiates itself from previous blockchains by offering breakthrough technologies in building AI-enabled autonomous and self-optimizing blockchain networks, which feature multi-chain collaboration and decoupling of data and control blocks.
Media Contact
MATRIX AI Network
[email protected]
References:
Telegram: https://t.me/matrixainetwork
Official Website: https://www.matrix.space
Facebook: https://www.facebook.com/MATRIXAINetworks
Twitter: @matrixainetwork
Reddit: MATRIXAINETWORK
---
Images courtesy of Matrix