NFTs have burst out onto the blockchain in a new way this year, registering an unprecedented trading volume of $ $12.13 billion for the first quarter of 2022! No wonder that more distinctive projects are released to disrupt the industry and NFT enthusiasts are clamoring to be a part of this bullish and burgeoning market. Amid the NFT trading boom, a new and distinctive project is released intending to change the way of thinking about digital art. METADRAGNAROK seems to be a NFT dragon Metaverse where people breed, collect, fight and earn on their one-of-a-kind digital assets.
METADRAGNAROK is an open-world exploration, NFT creature collecting and auto battle game built on the Binance Smart Chain (BSC) and Solana (SOL), released on PC in 2022. It is a Dragon Metaverse with NFT dragon collectibles that unites high-quality graphics, created by unique and advanced algorithms and cutting-edge technology.
Metadragnarok is a gaming universe in which the world is ruled by fearsome, fire-breathing Dragons. Collecting dragons as pets, growing them, and taking on monster opponents in the Arena will earn players a spot on the Leaderboard as the greatest dragon trainers. They may actually own, purchase, sell, and trade resources earned in the game via smart gaming and contributions to the ecosystem in the universe's player-owned economy. There are a plethora of Dragons in various shapes and grades. Each Dragon has its own set of abilities and counter-classes.
The dragons are the ultimate manifestation of the players' efforts in the game, and they will be able to train, level up, evolve, and strengthen their lineage in order to achieve unique, rare, epic, legendary, and mythical dragons. These will not only be personal achievements that players will be proud of, but they will also be able to show off their dragons in a real-time combat against other players in a PVP arena and attempt to become the best of them all.
MISSION
Metadragnarok is founded with the goal of creating a fair, transparent, and non-custodial game running on smart contracts to reward the players with not only the most realistic open-world exploration but also real money.
Besides, Metadragnarok will evolve into an ecosystem of amazing Dragon gaming experiences built on community and player-owned economies as foundational pillars.
Metadragnarok team's desire is to make a community-governed NFT game with digital items that are tradeable on marketplaces. In that, users and the core development team are both incentivized to work together to grow the network. The mechanism by which the community of $DRA holders will govern and maintain the protocol, via the Metadragnarok Council, and what types of changes can be proposed.
DRAGONS(NFTs)
Dragons are grouped into one of 9 classes: Light, Dark, Fire, Water, Grass, Ice, Ground, Elf, Ice, and Thunder. As in many RPGs, the choices users make regarding the class of their Dragons will affect the outcome of their battles with wild monsters.
Each dragon has a different rarity. The rarer a Dragon is, the stronger his unique skill is. Also, his value on the marketplace is higher. There are 6 different levels of rarity: Common, Uncommon, Rare, Epic, Legendary, and Mythical.
When a Dragon reaches a certain level, players can undergo mutation to create a whole new Dragon with superior look and stats to the previous one by purchasing an evolution-supporting NFT item from the Marketplace. It is important to remember that the old NFT will be burnt. Evolution not only increases a dragon's power but also its market value.

GAMEPLAY
Only players who possess a dragon can participate in the game. There are two methods to obtain a dragon: buy a dragon and buy dragon eggs, hatch them and wait for them to give birth to a new dragon. The game may be enjoyed in a variety of ways.: PVE, PVP, or World Boss – where players have to cooperate with others to defeat mutual enemies. It means that players can compete with other players, join quests, defeat bosses, and participate in special events to unlock new areas and in-depth storylines. This play-to-earn game is offering its users money according to the time they spend on this gaming platform. With every win, players will earn some reward in the form of valuables and in-game items. In-game items, valuables, and dragons with high traits are tradable. If players get bored with the dragons in the future, they can simply sell them at the NFT marketplace to have money in their account.
PVE: AFK IDLE is an activity in which players may collect materials to utilize the power of each of their dragons when joining PVE without having to spend too much time online. Users can choose a level on Adventure Map to join the land, travel and discover hidden. Dragons will be raised by defeating 1-3 little monsters that dare to block their way. Players who conquer levels 1-9 will receive the token rewards.
PVP: Players have to battle against the others to make their dragon a fighting hero legend and to prove they are superior Dragon trainers. In PVP, queuing in the Ranked Arena involves being randomly matched with an opponent with the same skill or calling out other players in ad-hoc wagered matches in the Arena. Two players will have a token bet agreement, the winner will receive the loser's DRA tokens (with 2% deduction). And the loser will lose the item(s) and blood bottle used in this battle. Players who don't join battles can spectate and wager on the outcomes.
World boss: Players need to cooperate with others to defeat mutual enemies. It might take a couple of times to complete the quest, but the result will not let them down. Players who conquer levels 1-9 will receive the token rewards. The reward differs based on the amount of damage the player has caused to the boss.
TOKEN USAGE
The native token of Metadragnarok is $DRA. In addition to major tournaments, Dragon evolution and burning mechanism, it is used to advance areas (mission) with rare NFT items drop and participate in DAO Governance, purchase NFT Eggs and unlock new areas. The main play-to-earn reward is also the second token, called $DOR. It is applied for in-game activities, to participate in game modes and special events.
ROADMAP

The Metadragnarok roadmap is separated into four different phases, each focuses on improving aspects of the game and bringing new features and capabilities for players.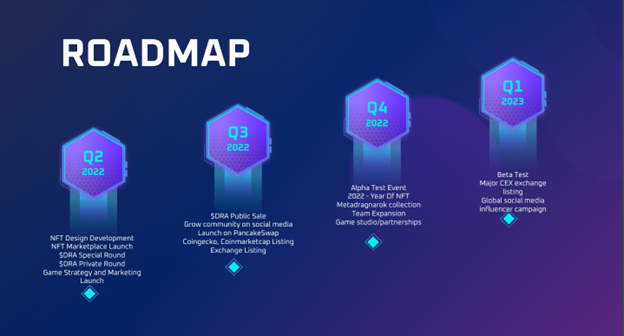 TEAM
Metadragnarok, with a team of expert game developers with years of experience in the game industry in general and the blockchain gaming industry in particular, has created a strong foothold for themselves via the market through their achievements, successful projects and potential investors.
TOKENOMICS
Metadragnarok is primarily reliant on its economic mechanics as a play-to-earn modern. The circulating supply is 1,000,000 tokens (50% on BSC+ 50% on SOL).
The distribution is shown in the image below: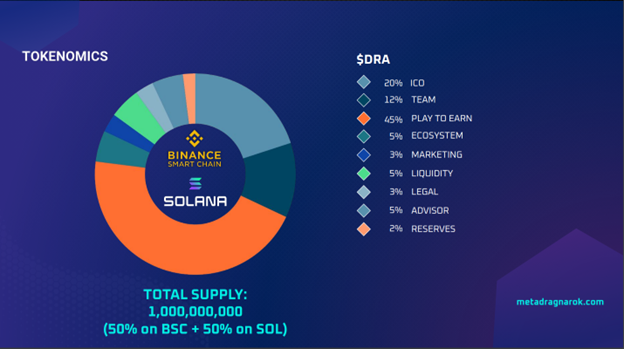 CONCLUSION
The potential of the blockchain, particularly NFT's integration in new upcoming projects, creates great opportunities for many to combine entertainment with earning elements. Metadragnarok seems to merge the two trendy superpowers: a dragon and the blockchain. The first implemented innovations can make this project a must-try for NFT lovers.
VISIT FOR MORE INFORMATION
Website: https://metadragnarok.com/
Twitter: https://twitter.com/metadragnarok
Medium: https://medium.com/@metadragnarok.info
Reddit: https://www.reddit.com/user/Metadragnarok
Youtube: https://www.youtube.com/channel/UCHk1f5GyF1uIvx6ZjyDQNPA
Telegram Group: https://t.me/MetaDragnarok_Official_Community
Telegram Channel: https://t.me/MetaDragnarok_Official_Channel
$DRA TOKEN INFORMATION
Name: Metadragnarok
Symbol: $DRA
Total Supply: 1,000,000,000 $DRA (50% on BSC+ 50% on SOL).
Network: BSC (Binance Smart Chain) & SOL (Solana)
Token contract:
BSC: 0x4fa1f3802Fa85cC19c94255999e9493Bcd7161bF
SOL: 7xyUV7Hev7W6m21DWcjBE8ArZEfPtyFqztcKbTHkQC59