The new meme token Dogeliens (DOGET) is currently making waves across the crypto space. With its unique offerings, the new cryptocurrency is a breath of fresh air  in a meme coin sector dominated by the likes of Dogecoin (DOGE) and Shiba Inu (SHIB).
This article delves into how Dogeliens (DOGET) can achieve cryptocurrency market success like The Sandbox (SAND) and Internet Computer (ICP) following the blockchain gaming sector's exponential growth.
The Sandbox: Big Gaming Altcoin to Buy Now
As a highly successful cryptocurrency platform, The Sandbox (SAND) is one of the foremost blockchain-based gaming ecosystems. With its play-to-earn (P2E) capability, The Sandbox (SAND) enables users to create, play, own, and monetize gaming experiences using The Sandbox (SAND) tokens and non-fungible tokens (NFTs).
The Sandbox (SAND) enjoys significant popularity among game enthusiasts due to its providing the benefits of true ownership, monetization functionality, and cross-game interoperability. At the time of writing, The Sandbox (SAND) platform is one of the biggest blockchain gaming ecosystems, with over 2 million users.
The Sandbox (SAND) is one of the largest cryptos by market capitalization, currently ranking in the 44th position on CoinMarketCap. It took off with an initial coin offering (ICO) price of $0.008 and rose to an all-time high (ATH) of $7.53 in November 2021, raising over $3 million initially.
Also, The Sandbox (SAND) is at the center of partnerships with global brands, including Square Enix, ATARI, Shaun the Sheep, and more. Undoubtedly, The Sandbox (SAND) has grown to become one of the best cryptocurrency-related investments.
Internet Computer: Feature-Rich Big Cryptocurrency
Internet Computer (ICP) is a crypto protocol operating a decentralized internet to provide independent data centers to corporate cloud services. Nevertheless, Internet Computer (ICP) is much more than a form of digital money.
Internet Computer (ICP) is a major player in the cryptocurrency market and one of the most traded cryptos on major exchanges. The altcoin currently ranks 39th on CoinMarketCap's list of largest cryptos by cryptocurrency market capitalization.
Internet Computer's (ICP) cryptocurrency market success follows years of innovative offerings to the crypto community. One of these offerings is that the project enables creators to build innovative projects for the future.
Despite falling cryptocurrency prices, experts believe Internet Computer (ICP) will embark on a bull run that could help its price to skyrocket to $34.72 by 2025 and an average price of $144.48 by 2030.
Dogeliens: New Meme Token with Huge Profit Potential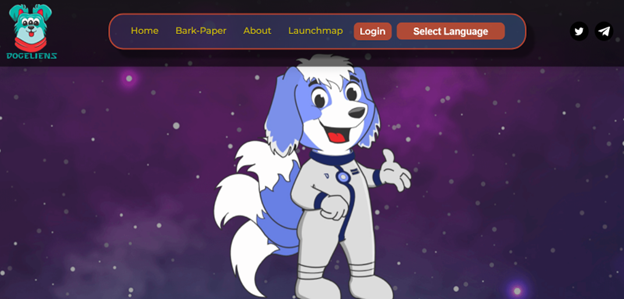 Dogeliens (DOGET) is a Binance-based decentralized platform and new cryptocurrency that aims to continue the meme coin hype but with added features.
As a new cryptocurrency, one of Dogeliens' (DOGET) top priorities is utilising the power of NFTs.
Like The Sandbox (SAND) and Internet Computer (ICP), Dogeliens (DOGET) has the potential to succeed, with the new cryptocurrency pushing to raise $20 million from its ongoing pre-sale. From the look of things, Dogeliens (DOGET) could take over the meme coin world and become a major player in cryptocurrency.
Undoubtedly, the new cryptocurrency's integration of decentralized finance and NFTs will set it on course to enjoy considerable global adoption by crypto users.
Experts all seem to agree that Dogeliens (DOGET) has the potential to succeed like The Sandbox (SAND) and Internet Computer (ICP), given its features and offerings. Nevertheless, it will be exciting to see how things turn out after the new cryptocurrency launches in the cryptocurrency market.
From our analysis, the chances that Dogeliens (DOGET) will adapt favorably to growing market competition are high, making it a potential next big cryptocurrency to consider adding to your crypto wallet.
To know more about Dogeliens (DOGET), visit the following:
Presale: https://buy.dogeliens.io/
Website: https://dogeliens.io/ 
Telegram: https://t.me/DogeliensOfficial 
Disclaimer: This is a paid release. The statements, views and opinions expressed in this column are solely those of the content provider and do not necessarily represent those of Bitcoinist. Bitcoinist does not guarantee the accuracy or timeliness of information available in such content. Do your research and invest at your own risk.