Alongside the Ethereum price increase in October 2022, Dash 2 Trade (D2T) has the potential to become the next big crypto altcoin to explode as we enter into 2023.
Offering investors the opportunity to join the initial token offering via a 9-stage presale, D2T is an ERC-20 token that boasts deflationary tokenomics and multiple use cases.
Ethereum Jumps after UK Votes to Recognize Crypto Assets
With Rishi Sunak officially declared the new Prime Minister of the United Kingdom; the UK parliament has voted to recognize crypto assets as regulated financial instruments. On October 25th 2022, the overall crypto market cap increased by 5% – breaching the $1 trillion mark.
One of the highest performers following the news was Ethereum (ETH) – one of the best altcoins in the space. Ethereum soared from $1,340 on October 25th to $1,535 in just 24 hours – equating to a price increase of 14.5%.
Alongside the recent price jump, many expect Ethereum to regain momentum throughout 2023. In August 2022, Vitalik Buterin, the creator of Ethereum, announced that the blockchain has officially shifted from a Proof-of-Work (PoW) to a Proof-of-Stake (PoS) consensus. This change is expected to make Ethereum a more scalable platform and help reduce the high gas fees and transaction costs.
However, Ethereum may be one of many altcoins to experience upside potential in the new year.
Dash 2 Trade – The Next Cryptocurrency to Explode in 2023
Dash 2 Trade is an all-in-one intelligence and trading signals platform which gives investors exclusive access to its platform dashboard via D2T – the native cryptocurrency. An ERC-20 token, D2T, is built on the Ethereum blockchain and boasts a limited token supply of 1 billion.
With the potential to become the next cryptocurrency to explode – D2T is expected to launch its dashboard and token exchange listing by Q1 2023. To support beginner and advanced traders with their trading decisions, Dash 2 Trade holders can leverage the native token to provide exclusive features.
D2T can be used to purchase a starter or premium tier package – which costs 400 and 1,000 D2T, respectively. This gives access to tools such as a backtesting platform – where traders can test out future trading strategies without risking real funds.
Dash 2 Trade will also incorporate a scoring system to rank upcoming presale projects – which can be a great way to diversify your funds in the crypto space.
A social trading platform, Dash 2 Trade allows token holders to compete for free D2T rewards by taking part in weekly trading competitions. Alongside social indicators, Dash 2 Trade implements social indicators – which analyze social media trends of various assets to identify socio-cultural price movements.
The platform will also offer on-chain metrics and new crypto pricing alerts, as platform subscriptions will be made available during the start of the next quarter. Read the Dash 2 Trade whitepaper to learn more about this project.
Invest in the Dash 2 Trade Presale Now
Dash 2 Trade is running a 9-stage presale where 700 million tokens will be distributed in an effort to raise over $40 million. Currently, on stage 2, D2T is available to purchase for only $0.05 per token.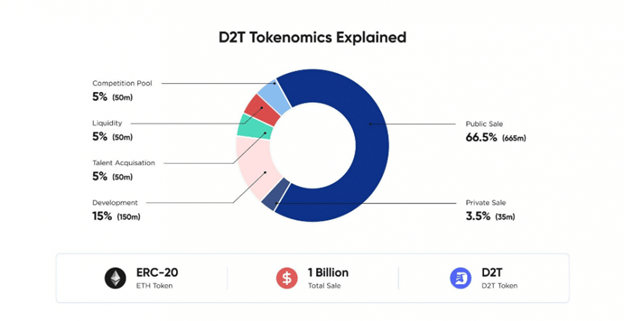 Over the course of the presale rounds, D2T will increase by 39% – rising from an initial presale price of $0.0476 to $0.0662. With a minimum investment of 1,000 D2T – you can invest in the presale for just $50 during round 2. However, the investment requirement will increase to $62 for those waiting until the last presale stage.
To incentivize new presale investors, Dash 2 Trade is hosting a $150K D2T giveaway which can be won by a lucky winner that invests in the D2T presale.
Since launching the presale campaign on October 19th, 2022, D2T has raised over $2.5 million. Due to the rapid pace at which this presale is selling out, interested readers may want to collect D2T at a low price for potential profits in the long term.
Join the Dash 2 Trade Telegram Channel to stay updated with this crypto project.