Bitcoin has seen low volatility since the Saturday flash crash, during which the leading cryptocurrency fell by $1,500 in the span of five minutes.
For the past three days, the asset has ranged between $11,100 and $11,500 for the most part.
On-chain analysis by Santiment, a blockchain analytics firm, predicts that this nascent market will soon see some volatility.
Santiment believes that this volatility is likely to be the upside.
Other market commentators agree, saying that the fundamentals and technicals of Bitcoin seem conducive to more price upside.
Bitcoin Could Soon See a Volatility Spike: Santiment, a Blockchain Analytics Firm
According to blockchain analytics firm Santiment, Bitcoin just saw a massive spike in its "token age consumed" metric. This likely means one of two things: 1) a lot of BTC just moved, or 2) a decent chunk of "old" coins, meaning coins that have not been transacted in a while, have moved.
Santiment claims that this is a sign that the BTC market will soon undergo a bout of volatility, potentially in the upward direction:
"$BTC has just indicated that the 3rd largest token age consumed spike since April has taken place today, indicating a potential short/mid-term price direction change and increased volatility… More likely to the upside than down, because this indicator more often than not foreshadows short-term to mid-term price reversals."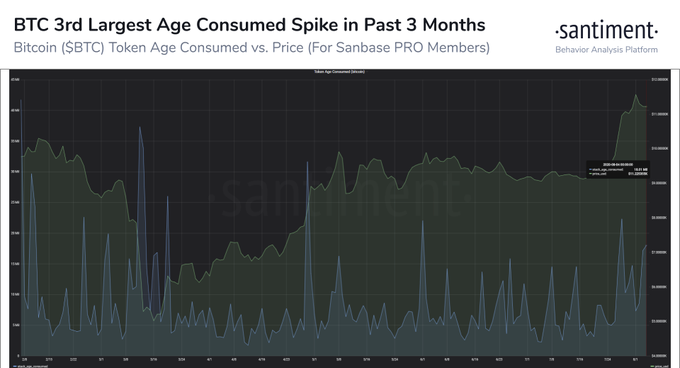 Chart of the token age consumed metric for BItcoin over the past few months with price action from Santiment, a blockchain analytics firm.
Bulls in Control
Most analysts agree that Bitcoin bulls remain in control, despite the drop last weekend. This suggests that should volatility arrive, BTC is more likely to move higher than lower.
One cryptocurrency trader noted that as long as since Bitcoin is holding above $10,500, he automatically has a bullish bias. This is in reference to the importance of that price level for BTC, which held as resistance on three separate bull rallies over the past 12 months:
"$10.5k 1W S/R level. Zooming in (2nd chart) & seeing price interact with it after sweeping & closing above the LTF swing low with an inefficient move waiting to be filled above gives me a bullish bias this week."
Another analyst has noted that the shape of BTC's weekly chart looks identical to the shape of BTC's monthly chart at the 2018 lows. As reported by Bitcoinist, that analyst said:
"Can't believe I didn't see it before. On the Weekly, classic pattern I call the "Smooth Transfer of Power" A. Bears get weaker as price descends B. Bulls silently buying all along take control C. Re-test of power D. Lift off Compare to the Monthly one, Crypto Winter '18-'19."
Chart of BTC's price action over the past few months from trader b.biddles (@Thalamu_ on Twitter). Chart from TradingView.com
Should history rhyme, BTC is on the verge of a multi-week and potentially multi-month run.
Featured Image from Shutterstock
Price tags: xbtusd, btcusd, btcusdt
Charts from TradingView.com
On-Chain Data: Bitcoin Will See Even More Volatility After $1,500 Plunge