Meme coins are not known exactly for solving problems in the economy but for promoting creativity and art through memes and other expressions. This is seen with meme coins like Shiba Inu (SHIB) and Akita Inu (AKITA) with the dog memes, but Parody Coin (PARO) is bringing a change to the system with the unique functions of its ecosystem.
Parody coin comes to make a revolutionary change in the NFTs space. Recently, the crypto industry has been all about NFTs, with certain predictions putting the NFTs industry at a market value of over $100 billion by 2025. Unfortunately, even as it is now, it's quite difficult to access the market if you're buoyant with enough fees to mint a new NFT and trade.
On the Ethereum blockchain, several projects are operated, which increases the cost of transactions and minting NFTs. The average person will spend between $100 and $500 to mint a new NFT on most marketplaces on the Ethereum blockchain. You'll incur the same amount in transaction fees to transfer an NFT from one address to another. Nevertheless, the project still has lots of people into it because you can sell one NFT for millions of dollars.
The NFT market can drive away many from its interesting and profitable aspects as the costs continue to grow.  This is what births the concept of the Parody coin; with the Parody coin, you can mint NFT parodies of your original popular favourite NFTs and sell them at a profitable price in PARO tokens. You can also buy from a list of parody NFTs listed in the ecosystem's marketplace with PARO tokens.
These features position PARO tokens to make great profits as people invest and enjoy the functionalities of the ecosystem. It also put the coins at an advantage of surpassing coins like Shiba Inu (SHIB) and Akita Inu (AKITA).
How Does Parody Coin (PARO) Surpass A Coin Like Akita Inu (AKITA)?
Akita Inu (AKITA) is a meme-based ecosystem that uses memes to drive cryptocurrency adoption among enthusiasts. The ecosystem is the same as Shiba Inu (SHIB) but with different token metrics. It is a meme project inspired by Elon Musk and Dogecoins. The ecosystem does not do much other than promote the use of memes and reward users who create and share memes.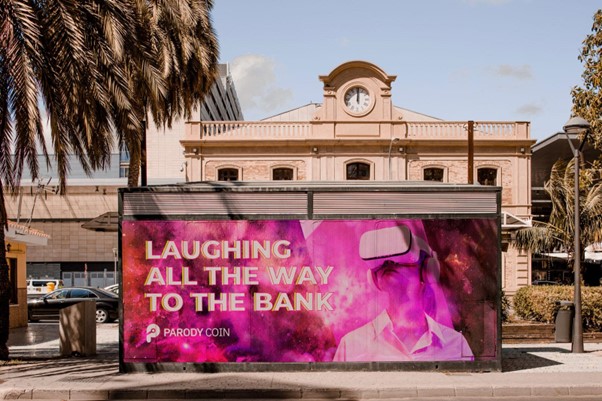 Parody Coin easily surpasses this coin in every aspect of its features. It breaks the norm of meme coins not having anything important to do other than promote memes and a fun atmosphere for games and mockery of other coins. Parody Coin has a marketplace for its parody NFTs, a ParoVerse, a DApp Store, Paro Rewards, a Staking system, and the PARO coins that can be swapped on any blockchain.
Parody Coin (PARO)
PARO tokens are the native coins of the Parody Coin ecosystem. Users of the tokens will be able to pay fees to mint and transfer NFT parodies between wallets on the marketplace. Furthermore, transactions involving the sale of NFT parodies will be settled with the PARO tokens. In addition, it is the medium of exchange in the Paroverse and the other DApps launched in the ecosystem.
PARO tokens will also be exchangeable with other blockchain assets, which will happen through liquidity pools on decentralized exchanges. These pools will depend on users volunteering to fund the wallet that facilitates the conversion between different coins.  With PARO, the burden of maintaining liquidity is taken away from its users.
PARO can be swapped with any crypto on any blockchain through the native Parody bridge. This bridge will maintain a liquidity pool wallet in other blockchains through a smart contract. In addition, the bridge uses the Chainlink oracle network to set market-sensitive exchange rates.
With these functions, there is potential for the coin to grow in market value beyond the capitalization of DOGE, SHIB, and AKITA, among others. In addition, as a holder and user of PARO, you also get to be part of the community DAO that governs the Parody Coin ecosystem.
More info on Parody Coin (PARO):
Presale: https://presale.parodycoin.io/register
Website: https://parodycoin.io/
Telegram: https://t.me/PARODYCOIN_OFFICIAL
Disclaimer: This is a paid release. The statements, views and opinions expressed in this column are solely those of the content provider and do not necessarily represent those of Bitcoinist. Bitcoinist does not guarantee the accuracy or timeliness of information available in such content. Do your research and invest at your own risk.