Modern agriculture is an over $5 trillion industry that faces more unique obstacles than ever before. Climate change and jurisdictional regulations continue to challenge farmers, who are tasked with meeting the nutritional needs of an ever-growing world population with fewer and fewer land resources. Traditional agricultural techniques alone can no longer accommodate world demand, while catastrophic weather events can wipe out an entire region's crops, driving up costs globally.
---
Farmers are eager to adopt new farming techniques, and many are willing to implement new innovations in AgTech to help them meet demand. Fortunately, the outlook for contemporary farming practices has just improved, as Pavo, the IoT blockchain solution for the AgTech ecosystem, accelerates the roll-out their technology on farms in the US. Pavo's blockchain-enabled solution was developed to help growers optimize their planting, growing, and harvesting strategies to improve overall crop quality and yield.
Pavo is in part an IoT-driven platform that relies on sensors that monitor and report soil and growing conditions to farmers through the platform's iOS and Android app. Using the app farmers can see real-time info on temperature, humidity, soil, moisture, and more from virtually anywhere in the world. Their system was recently installed on a farm in Stockton and at an almond and walnut farm in Dixon, California, with a third installation happening in Merced in the near future.
The Dixon farm is a 10-acre farm with 7 acres of planted almond and walnut trees, including some 50-year-old almond trees, along with younger 7- to 15-year-old trees. They also cultivate 40-year-old walnut trees. The system was installed by Pavo's IT sensor engineer within a couple of hours, and features in-ground and above ground sensors powered by solar panels or AAA batteries that require minimal power. Everything is connected wirelessly to the app. The next aim of the project is to create a turnkey plug-and-play solution that can be easily deployed by anyone within minutes.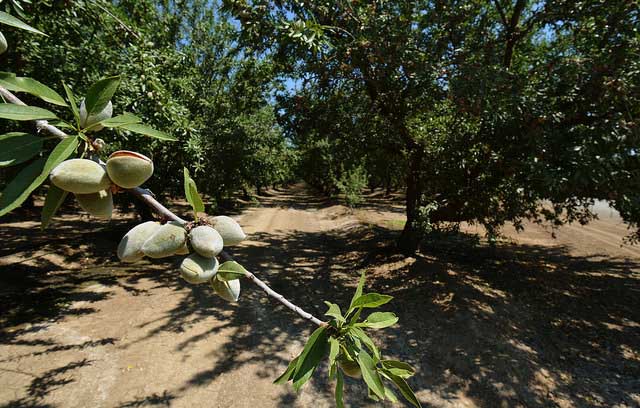 Almonds are California's largest tree nut crop, and one of the top agricultural exports from the state itself and the US overall. Yet, Californian farmers are faced with strict watering restrictions, which is problematic with a notoriously thirsty crop like almonds. Farmers often have to import water to their farms in order to keep the trees healthy and productive, but this puts the growers under the microscope of environmentalists and legislators worried about California's depleted water table.
With Pavo's IoT technology, however, an almond grower can choose the ideal timing and amount of watering needed to ensure greater nut yields, without taxing water resources unnecessarily. Growers are able to assess seasonal patterns and temperatures, so they are watering at optimal times, and they can track consumption and the amount of water going into the ground.
Future development of the product could soon offer even more peace of mind for farmers. A catastrophic cold snap in northern California earlier this year when the almond trees were just beginning to bloom wiped out up to 80% of this year's crop. With Pavo's IoT system, farmers could be warned early enough to deploy things like wind machines and sprinklers to offset the effects of weather events such as an unseasonal freeze and mitigate the overall damage to the crop.
Pavo's core technology was initially developed to meet the needs of nut tree farmers in Turkey. While the project is appropriate for any crop type, the company's initial expertise in this sector has prompted them to start to develop some of the features that a global blockchain-driven ecosystem can deliver to farmers worldwide with the tree nut industry. Their solution, presented to farmers in a SaaS subscription model, has the potential to collect, aggregate, and share cultivation information from farmers all around the world, giving growers the opportunity to analyze and learn techniques from other places. By integrating blockchain into its platform, Pavo lets growers ensure excellence as their product moves through the supply chain, which means buyers anywhere can track product quality right down to a specific harvest lot.
As the company's vice chairman and co-founder, Allan Young, points out:
Farmers have a lot of reporting requirements and compliance regulations that they need to know and monitor regarding irrigation, moisture, etcetera. Our system not only allows growers to track the health and efficiency of their own crop production, but also makes it easy for them to ensure they have complied with various legislative and reporting obligations.
The company is now in the second phase of its public ICO presale, which has a minimum purchase requirement of 5,000 tokens and features a 33% bonus. Pavo has chosen ICOBox, the world's premier SaaS solution for companies carrying out their own ICOs, to guide them through the process. The main sale for PavoCoin begins on June 12, 2018, featuring a 25% bonus and no minimum purchase requirement. The main ICO will continue until July 14, 2018, with decreasing bonuses available throughout the sale.
For more information about PavoCoin, please visit pavocoin.com.
---
Images courtesy of Pavo, Flickr/Eric Sonstroem