Thailand is seeking to improve its electricity production by leveraging solar energy and blockchain technology. Thai-backed BCPG will work with Power Ledger to make this happen.
---
Renewable energy developers BCPG and Power Ledger have announced plans to introduce peer-to-peer renewable energy trading in Thailand. Solar energy will be at the heart of this undertaking, and it is set to revolutionize electricity production in the country and, hopefully, South East Asia.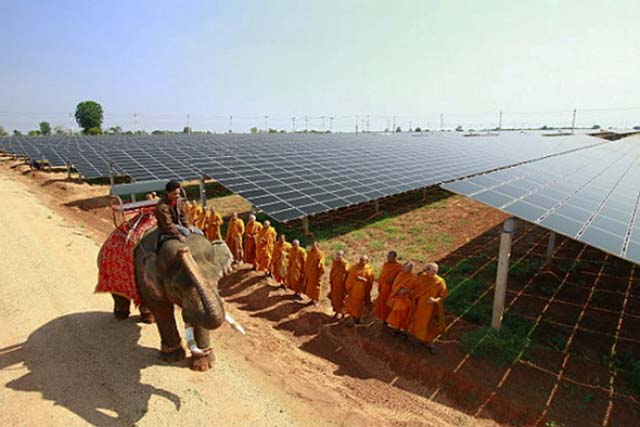 Leveraging Solar Energy to Meet Growing Demands
Thailand is growing fast, and demand for electricity is growing with it. The P2P renewable energy grid is expected to supplement the already strained power plants currently supplying the country's electricity demands.
The proposed plan will not only ease Thailand's electricity needs but also overcome a myriad of other problems. David Martin, Power Ledger's managing director noted that the proposed plan will reduce costs and carbon production and will be more resilient against severe weather conditions, unlike the current electricity production plants.
BCPG and Power Ledger plan to begin implementing this plan in Bangkok, Thailand's biggest city. The two companies propose installing solar panels in 6-10 multi-story buildings ranging from housing units, schools, hospitals, and malls, among others.  
Proactive Environmentalism + Profitability
The P2P renewable energy project will be profitable in two key aspects. First, it will ease the government's financial burden of building more power plants. Second, participants will be able to trade energy among themselves – Power Ledger's energy trading platform will enable participants to trade between 1MW and 2MWs of embedded solar energy. Additionally, the project will save the country a lot of money in losses incurred from the current electricity deficits and reduce individuals' cost of electricity.
The Thai government will rely on Power Ledger's reputable energy trading platform to accomplish this. BCPG, on the other hand, has been tasked with selecting the ideal Thai bank that will provide autonomous financial settlement for these transactions.
Utilizing Blockchain Technology to Transition from Centralized to Distributed Energy Model
Bundit Sapianchai, the President of BCPG, notes that Thailand is ready to transition from a centralized to a distributed energy production model. Commenting on the proposed plan, Sapianchai stated:
Innovation is at the heart of BCPG. And we are excited to be working with Power Ledger. […] This will help reduce the government's investment in building large-scale power plants to meet the growing demand for electricity and at the same time offer customers and consumers a greater choice of electricity from renewable energy in the form of Peer-to-Peer energy trading.
For his part, Power Ledger's Martin commented:
Renewable microgrid developments allow for the efficient installation and operation of generation capacity close to consumers, we're really proud to be working with BCPG to bring this technology to South East Asia  
Do you think Thailand's proposed P2P renewable energy project will materialize and meet its potential? Let us know in the comments below!
---
Images courtesy of Pexels, YouTube, Power Ledger