Crypto traders often suffer from the limitations of their own physical capacities. The conditions of the crypto market make it very difficult, open 24/7 around the world, make it very difficult to follow every important move in price action.
In order to capture the most profits and execute their trades without obstacles, savvy traders leverage their technological resources. In that sense, RevenueBOT, a software system to automatize trading by letting users create their own trading bots, has become one of the most efficient solutions in the sector.
Live since 2018, RevenueBOT operates as a non-custodial platform with an approachable interface, letting everyone create their own bots and strategies. The platform uses an API that connects with the API Key and connects it to the RevenueBOT platform.
On it, users need to manage and set on their bots, adjust profit-taking and stop-loss levels, and determine the most efficient time to deploy them. Unlike other platforms, RevenueBOT lets the user create multiple bots and combine them with an array of different strategies.
The RevenueBOT platform is created keeping usability and convenience in mind. It is packed with features designed to make trading simple and stress-free. These features include:
Simulation mode that enables users to test their bots in a risk-free environment before deploying them
Quick Start menu that guides new users, helping them become familiar with the platform
Automatic Switching mechanism that enables the bots to switch to a fallback trading pair at times of low volatility for the primary trading pair.
Ready Trading Templates for beginners to readily create and deploy bots without having to go through the advanced bot settings.
Automatic Flipping of Bot Algorithms to match the changing market situation
Compatibility with TradingView signals and Filters that automatically triggers the bot's action at ideal market conditions
Personalized mentoring services from experienced traders
With all these features in place, the user gets complete freedom to operate with a variety of strategies, without the tradeoffs of competing platforms. By using RevenueBOT, users will not only earn profits while saving time, but also gain a valuable learning experience that helps them improve their understanding of the market and various trading strategies.
Getting started With RevenueBOT, What You Need To Know
In order to start creating their bots and to operate on the platform, users need to go to the official website and create an account. Once created, users need to select one of the crypto trading platforms to create the API Keys and connect it with RevenueBOT.
The latter operates with leading crypto exchange Binance, Bitfinex, FTX, these platforms hold the most in crypto trading volume across the industry. In addition, RevenueBOT lets users connect with Exmo, CEX.IO, and Bittrex.
The platform was created to be friendly and reduce friction from a process that can be cumbersome in competing platforms. Once the sign-up process is completed, the user will have access to the control, as seen below.
On the control panel, users can see their crypto balance, ID, and status. RevenueBOT also tracks every trade and provides insightful data on the total bots trading, profit and loss for different time periods, and the issues presented when carrying out a trade.
All this data is useful for a trader, as they'll be able to determine which strategists are effective, at what time frames, and per which amount of profit-taking or stop-loss levels. Thus, operators can become more effective traders.
Also, as seen below, RevenueBOT offers 6 core features which as mentioned include full trade statistics on every active bot. Fully automated trading supported by the cloud, which prevents any type of downtime, and manages the execution of all trading orders.
The fact that RevenueBOT holds none of the users' crypto funds provides an additional advantage, as traders are safe against any bad actors, and many more features, such as a simulation mode, an automatic trading pair switch, trading templates, Tradingview signals compatibility. However, two of its best feature are simultaneous trading and marketplace capabilities.
The first lets you execute your crypto trading strategies across multiple exchanges, maximizing any potential profits on a good trade. The second provides you with over 100 ready-to-use trading bots, already configure, and with a mentoring service to leverage the most of its capacities.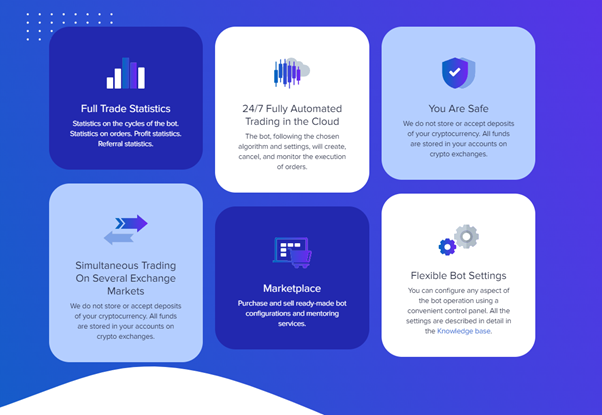 Why You Should Run Your Own Crypto Trading Bot With RevenueBOT
More veteran trades will be able to set up their own bots, but RevenueBOT will always offer you the tools to learn along the way or access their marketplace. This makes the platform much more accessible than its competitor with the capacity to evaluate which bot is better suited to current market conditions.
In addition, RevenueBOT has no subscription or commission fees, users can freely benefit from the bot and the platform will only take a percentage of a successful deal. According to the website, this amount stands at 20% but will never surpass 50 USD per month for each of the products offered by exchange platforms.
Since the bots can't really access the funds on your account, you will need to top up your crypto balance to pay for any fees on RevenueBOT. In the following link, you'll have access to a 10% bonus upon your first time depositing funds on RevenueBOT. Along with the benefits and features mentioned, this platform will give you the edge you were looking for when jumping into the crypto market.