With a critical energy consumption problem currently plaguing the world, Robotina seeks to rethink the way we interact with traditional power networks. By deploying a myriad of modern technologies to optimize energy consumption, individuals will be able to not only save on costs but help save the planet as well.
---
A Growing Power Problem
With international energy consumption levels growing at an exponential rate and a variety of renewable sources entering the playing field, energy management has become an immense problem to systematize. To address this growing problem both a paradigm shift in the way individuals interact with the power grid and providers interact with consumers are required.
With decades of experience under their belt, Robotina is stepping in to address this problem at both a business and consumer level. The key to the problem deals with bridging the gap between energy providers and consumers, effectively creating a collaborative effort in which both consumption and delivery of energy are efficient and streamlined. With tested solutions, modern technology, and a unique three-pronged approach, Robotina poised to have an immense impact in this field.
From Purchasing to Power
Robotina has developed a unique system combining the best elements of the internet of things (IoT), artificial intelligence (AI), and blockchain technology to not only modernize energy consumption processes but allow individuals to reduce their costs, and effectively increase both their safety and security.
Robotina is unique in that they are also a manufacturer with their own in-house research and development team. The first step in the process at the consumer level involves Robotina's proprietary energy based IoT device.
After receiving Robotina's unique Energy Management System (EMS) device, consumers can start reducing their consumption by monitoring and optimizing their entire usage cycles. The EMS device collects data that is then used to benefit the user by optimizing consumption patterns through their unique AI implementations. Additionally, users earn the platform's native token through group energy purchases and data sales, which they can then use for additional services provided by Robotina.
The Robotina token (ROX) will power the platform and operate all utility featured in the ecosystem. Token holders will be able to verify their status on the platform, participate in group energy purchasing, receive discounts on services provided by the platform, and utilize the Robotina App Store. A massive 70% of the tokens are being offered to crowd sale participants, ensuring a democratic distribution and increased number of platform participants.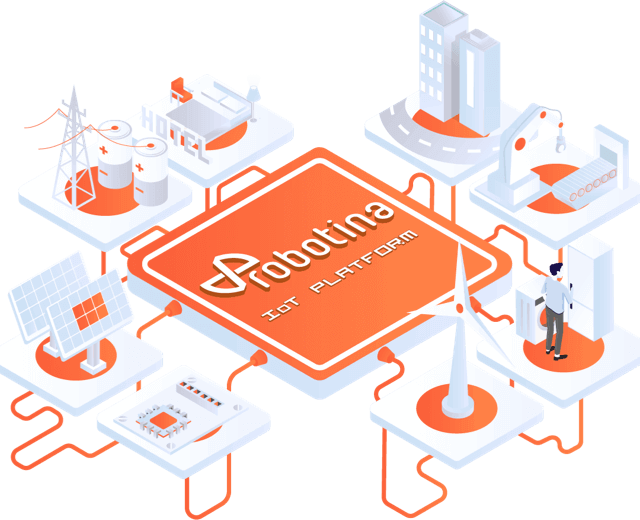 A Competitive Landscape, But a Serious Advantage
Although competitors such as WePower and Power Ledger currently operate in the blockchain-powered energy space, Robotina offers both a wider array of technologies and existing practices that could potentially establish them as the top project to watch.
While WePower and Power Ledger offer blockchain-based solutions, Robotina ups the ante by deploying both their IoT devices and AI services to optimize consumption levels and monitor performance levels. Robotina also owns patents on their technology and has an existing business track record as well. Aside from software development and financing, Robotina's main driver is automation which is geared toward easing the entire process on the consumer end.
Although all three offer a form of existing marketplace solutions, Robotina is the only project to offer both hardware and software services, a community-based data exchange, energy crowdfunding, and fault detections.
Robotina's presale is currently taking place with a 10% bonus. For more information about Robotina, visit their website and check out their white paper. To reach the team directly with any questions, make sure to check out their Telegram channel.
Do you think Robotina has what it takes to revolutionize the way we interact with and purchase energy? Do you think these forms of both automation and detection could help efficiently clean up the planet? Let us know in the comments below!
---
Images courtesy of Robotina, Pixabay, AdobeStock