The cryptocurrency market has had its share of value loss these past few weeks after a few exciting days following Elon Musk's acquisition of Twitter. The cryptocurrency already had high hopes for Dogecoin (DOGE) since it reacted the most to Elon Musk's news. However, the memecoin is overpriced for a massive pump, which has led memecoin lovers to find potential in other underpriced tokens like Runfy Token (RNF). Runfy is nothing like Dogecoin, but the fundamentals are somewhat similar. The new Runfy project aims to create fun by helping its community members improve their health and wellness. But much more important, it is very underpriced, and users reckon if they buy this on presale, it is less risky and will allow for a bigger profit margin.
Amid a wider market crisis, when returns on most fixed-income crypto products have fallen as low as 0%, and even below, ethereum staking is providing crypto enthusiasts with eye-catching dividends. Operations at centralized crypto lending firms like Genesis and Circle were recently affected by the concerns of contagion resulting from the exchange FTX. Genesis has suspended withdrawals, while Circle has reduced its stablecoin deposit yield to 0%.
The DeFi market is gaining ground, and at Lido, a staking service, users merely staking staked ether (stETH) may earn up to 10.7%, a record high since the Merge event, with even larger returns for holders as stETH's value rises.
Ethereum (ETH) The Second Largest Crypto
Ethereum (ETH) is the network for the second-largest cryptocurrency, and it looks pretty promising for crypto enthusiasts looking to be safe during the bear market rally. Ethereum is regarded as the most valuable blockchain network primarily due to the thousands of other applications built on it. Ethereum has shown strength and innovative prowess since its creation, and the ethereum community is still quite positive that the network is guaranteed to regain lost value.
Since the Merge enabled the transition from Proof-of-Work to a Proof-of-Stake consensus mechanism, there have been various concerns around gas fees, transaction speeds, and supply. Still, recent updates have reported that ethereum staking yields are at an all-time high since the Merge. Staked ether (stETH) is an equivalent of the ETH token created to offer liquidity for staking, considering staked tokens are locked for a long period.
Reports say that the rewards have increased because rebasing oracle limits also increased. These additional rewards are supposed to be cryptocurrencies that help to adjust supply levels to maintain a stable value. Ethereum DeFi is looking strong as a result, and it could spur users to start looking at staking possibilities again.
Runfy Token (RNF) The New Health And Wellness Crypto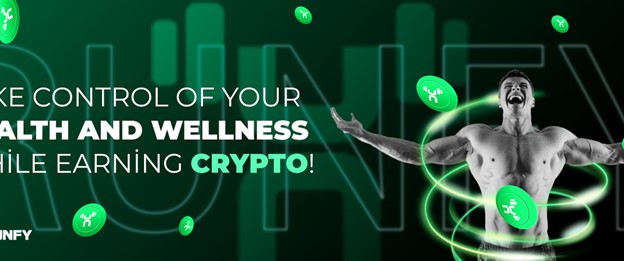 Runfy Token (RNF) is a new health and wellness token launched on the BNB Smart Chain. There have been some iterations of this model, and the market accepted them. Runfy Token aims to introduce a new dimension to health and wellness using the blockchain. Blockchain has shown the potential to power other use cases apart from financial solutions, and Runfy would put centralized fitness brands on their toes. Blockchain solutions reckon that users are the biggest value providers of a system and, as such, always find a way to reward and give back to users in a situation where centralized brands keep 100% of the profit.
Runfy will reward users for interacting and using its wellness solutions. Also, the more users explore the tools, the healthier they get, as they were created in collaboration with expert health professionals. Runfy hopes to work its utility around NFTs, the metaverse, and the possible gamification of activities on the app.
Runfy Token (RNF) will be at the center of all that value, and it would be smart to get in early on its presale.
Presale: http://go.runfytoken.io/
Website: http://runfytoken.io/
Telegram: https://t.me/RunfyTokenOfficial
Disclaimer: This is a paid release. The statements, views and opinions expressed in this column are solely those of the content provider and do not necessarily represent those of Bitcoinist. Bitcoinist does not guarantee the accuracy or timeliness of information available in such content. Do your research and invest at your own risk.