SecondLive Metaverse, 2nd April 2022: On April 15, "legendary" hip-hop artist Quavo will take to the stage in the SecondLive Concert Stadium. This will be the first ever concert held in the SecondLive Metaverse as part of the Innocent Cats collaboration. SecondLive is the only Metaverse project that can host 5,000 concurrent users, meaning that Quavo will be playing the largest ever Metaverse concert.
The metaverse successfully held several official events for BNB Chain and already has plans to hold multiple other large-scale events, proving the SecondLive infrastructure's ability to thrive under high-load during user-created shows. This will be further supported by a shift towards multichain operations, which would allow SecondLive to expand into chains like Ethereum, Solana, Polygon and others.
The First Large Scale Metaverse Event
When Quavo hits the virtual stage, concert-goers will be able to take in the atmosphere created by the recently designed stadium. It is important to note that SecondLive is the only metaverse on the market that boasts a realistic design that has now become the standard in the medium.  Quavo is an American rapper and record producer, currently the frontman of hip hop sensation Migos. With more than 17 million monthly listeners on Spotify, this show is expected to sell out in record time.
Slated to begin at 12:00 UTC, the set list consists of some of Quavo's biggest hits. The bill is as follows:
LAMB TALK
Workin Me
Go All The Way
Paper Over Here
Strub Tha Ground
Go Off
Pass Out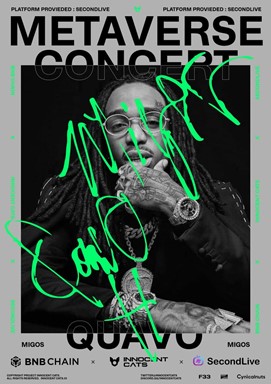 Quavo's announcement poster with his autograph
The hiphop star has been featured on various singles as a solo artist, including "Congratulations", and "I'm the One". Quavo success have grown even further when he became a featuring artist in The Fate of the Furious: The Album, on the song "Go Off", together with Lil Uzi Vert and Travis Scott. The song was later certified Gold by the Record Industry Association of America.
In 2018, Quavo debuted with a solo album that included songs like "Workin Me", "LAMB TALK" and "Bubble Gum", with "Workin Me" peaking at 52 on the Billboard Hot 100, becoming the highest-charting single in Quavo's solo artist career.
What's more, Quavo will be bringing the metaverse to his dedicated following of more than 45 million subscribers and followers across his various social channels. This unprecedented promotion of metaverse and its potential could be decisive for the future of this technology. By teaming up with SecondLive to host the event, his army of followers could easily descend upon the concert and enjoy it without any issues or interruptions.
The Rise of SecondLive
Looking forward, SecondLive is set to launch two new tools to help welcome more users to the SecondLive Metaverse, allowing them to host their own concerts, streams, events, and a whole array of epic shows that can then be monetized. Known as, but not limited to UGC and PUCG, these two tools will give the public everything they need to create and host these incredible events. In a post-pandemic world where many countries have strict controls and regulations in place, the SecondLive Metaverse allows its constantly expanding community of 500,000 and 700,000 registered users to have total freedom. It empowers them to enjoy live music without worry or stress.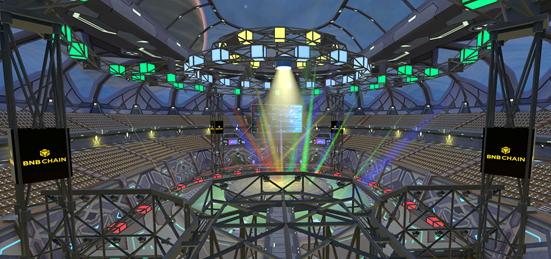 Quavo's metaverse concert virtual stadium built by SecondLive
Being truly social, SecondLive offers its users an immediate social interaction, and cross platform sync with other Dapps, allowing for one of a kind social connectivity. Furthermore, the metaverse follows a create-to-earn economy concept, and it is accessible to all creators across the globe willing to take their creations public.
To get your hands on an exclusive ticket to the Quavo live concert in the SecondLive stadium, head on over to the SecondLive site and connect your wallet. Tickets go on sale on 10th April and are expected to sell out FAST!
To access the Quavo live concert, you'll need to download the SecondLive client on your Windows or Mac computer. You can then connect your MetaMask, or other BNB
wallet and enter the Metaverse to enjoy this once in a lifetime concert. See you on the dance floor!