Stepping back from the recent volatility, Bitcoin remains in macro limbo. The leading cryptocurrency has not deviated from a 7% range over the past two to three weeks and a 15% range over the past two months.
Bitcoin breaking below $8,600, though, will purportedly change that.
An analyst identified that level on July 10th as one the crypto asset will need to hold for bulls to remain in control.
Bitcoin Must Hold the $8,500 Range, Analysts Say
A cryptocurrency trader says that it is crucial for Bitcoin to hold the $8,600-900 range in the months ahead or else risk a "nasty" breakdown.
"It's very important that this $9000 level continues to hold over the next few weeks and month if we want to end up breaking above and heading back to ATH levels. I think if we broke down from here and broke below $8600 then I think we could quickly turn bearish and start to see some nasty price action," the analyst said in reference to the chart below.
$8,600 is of importance because it is the level that Bitcoin bounced off of twice in the past two months, preventing a breakdown.
The trader's assertion is similar to one made by Josh Rager, a co-founder of Blockroots and a crypto trader.
As reported by Bitcoinist previously, Rager said that BTC breaching the $8,500 level will make this summer "long" for bulls. Referencing the chart seen below, he commented:
"BTC's range is clear. Current support that has been holding the past three weeks is the mid-range Break down here and price likely to see $8900 followed by $8500 range bottom."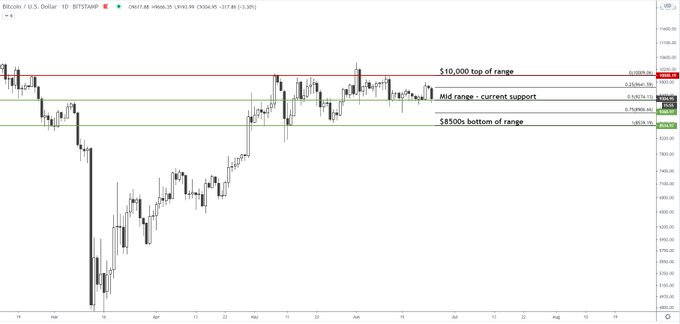 $8,600 is not $8,500, of course, but the takeaway is that prices in that vicinity are of technical importance.
Are Bulls In Control?
With so much riding on the $8,500-8,600 region, it's worth asking if bulls can hold the level. Analysts are currently divided over that question.
What seems to be the consensus is that from a simple technical analysis perspective, BTC is bearish. But from a fundamental perspective, BTC is bullish.
One trader earlier this week identified that Bitcoin's price action over the past two months is almost identical to that seen at the February highs. This analysis predicts the asset will undergo a strong correction in the coming weeks.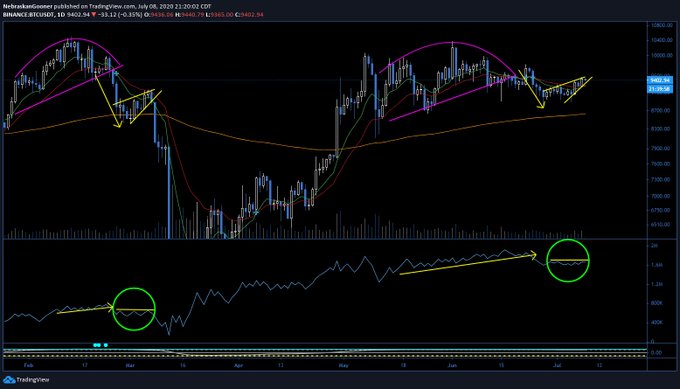 Fundamental factors, on the other hand, suggest Bitcoin will continue its ascent.
The U.S. dollar has begun to weaken against global currencies and against precious metals like gold and silver. Since the start of the year, the precious metal is up by 20%, nearing its all-time high price.
Analysts say that if the U.S. dollar weakens and gold strengthens, Bitcoin will benefit. After all, the digital asset has been dubbed "digital gold" due to its scarcity and other of its precious metal-like characteristics.
Featured Image from Shutterstock
Price tags: xbtusd, btcusd, btcusdt
Charts from TradingView.com
This Single Price Level Could Make Bitcoin's Price Action "Nasty": Analyst