In a surprise move this morning, monetary policy in India has gone from tight to lose this morning. 
---
The drastic changes included an unexpected rate cut of 0.25% and many other measures designed to stimulate the economy ahead of the upcoming elections in three months time. This latest update seems to cement the government's influence over the central bank in the world's second most populated country.
Perhaps the most telling is highlight number six below, which increases government subsidies to farmers by 60%.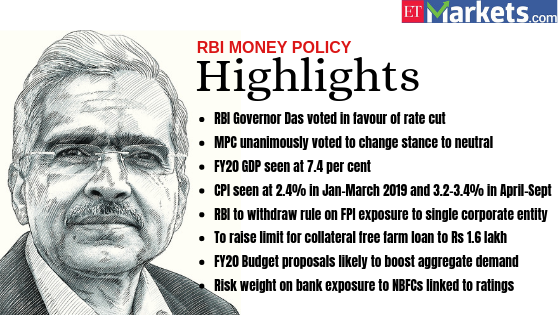 What does this mean?!?!
In simple terms, India is joining a growing global trend where governments and central banks are failing to end emergency stimulus measures that have been in place since the financial crisis in 2008.
In the short term, the markets are happy because they continue to receive support. On the flipside however, this is yet another clear sign that the global economy is not strong enough to stand on its own merit and continues to be propped up by the artificial stimulus measures and suppressed interest rates.
We still don't know what the long-term effects of overstimulation might be as this has never happened before.
@MatiGreenspan
eToro, Senior Market Analyst
Today's Highlights
Days to next Shutdown: 8 | Days to Brexit: 50
FAANG Gets Kicked
Bitcoin Mining Myths
Please note: All data, figures & graphs are valid as of February 7th. All trading carries risk. Only risk capital you can afford to lose.
Traditional Markets
Today the Bank of England is also announcing their interest rate decision. There isn't much chance that they'll make any drastic surprises like India has though.
Given that we're just seven weeks away from the current article 50 deadline, Governor Carney will do his best to maintain a market environment that is as stable as can be under the current circumstances.
Other than Brexit however, the sense of 'smoother waters ahead' that we've been highlighting since the beginning of the year does seem to be growing in the financial markets.
FAANG Gets Kicked
Despite the market sentiment outlined above, it is very possible that some of the most popular stocks have accumulated maybe a little bit more value than they're actually worth.
In yesterday's session, the FAANG stocks managed to underperform. Something they don't usually do.
Some breaking news from Facebook seems to be dropping the shares slightly in after-hours trading at the moment as well.
For myself, it's far more interesting know what Facebook has been up to in the blockchain space, which I had the opportunity to speculate on with Power Blocks the other day. Catch the show here!!
Bitcoin Mining Myths
As we discussed yesterday, bitcoin's fundamentals are strong right now and it's also good to see the hashrate (total computing power of miners) of the Bitcoin network reaching a new equilibrium and evening out over the last few weeks.
On that note, I did want to add a side note, or side link, to a blog an interesting blog I read the other day.
As the title suggests, there's a great deal of counterarguments against the whole question of bitcoin's environmental impact. I'm not gonna give you too many spoilers cause it's an excellent read but here are some highlights…
The author Robert Sharratt is probably one of the most qualified people on the planet to write on this subject as is confirmed by his LinkedIn page.
Most bitcoin mining is done in Sichuan province where they have an overabundance of clean energy that would otherwise go to waste.
If popular claims made against bitcoin are correct, the network will consume the entire global energy output (all electricity on earth) by Q2 2023.
While we're on the subject of bitcoin mining, we can also highlight a new report from Canaccord Genuity Group that states Bitcoin is becoming more decentralized as it gets older.
So at least we've got something to read while this giant wedge plays out.
Have an excellent day!
---
eToro (UK) Ltd is authorized and regulated by the Financial Conduct Authority. eToro (Europe) Ltd is authorized and regulated by the Cyprus Securities and Exchange Commission.
This is a marketing communication and should not be taken as investment advice, personal recommendation, or an offer of, or solicitation to buy or sell, any financial instruments. This material has been prepared without having regard to any particular investment objectives or financial situation and has not been prepared in accordance with the legal and regulatory requirements to promote independent research. Any references to past performance of a financial instrument, index or a packaged investment product are not, and should not be taken as, a reliable indicator of future results. eToro makes no representation and assumes no liability as to the accuracy or completeness of the content of this publication, which has been prepared to utilize publicly-available information.
eToro is a multi-asset platform which offers both investing in stocks and cryptoassets, as well as trading CFDs.
CFDs are complex instruments and come with a high risk of losing money rapidly due to leverage. 76% of retail investor accounts lose money when trading CFDs with this provider. You should consider whether you understand how CFDs work and whether you can afford to take the high risk of losing your money.
Cryptoassets are volatile instruments which can fluctuate widely in a very short timeframe and therefore are not appropriate for all investors. Other than via CFDs, trading cryptoassets is unregulated and therefore is not supervised by any EU regulatory framework. Your capital is at risk.
Feature image courtesy of Shutterstock.