Have you ever walked into a casino, only to walk out frustrated, feeling that you got cheated? Have you ever wanted to gamble at the convenience of your own home, without having to interact with people? Sp8de might be the answer for you.
---
Sp8de – Casino on Cardano
Similar to many new ICOs and blockchain projects, Sp8de aims to utilize the power of blockchain and cryptocurrency to revolutionize a specific market; in this case, casinos and gambling. However, unlike many other ICOs, Sp8de isn't based on Ethereum. Instead, it will be based on Cardano, which, at time of writing, is the 5th largest cryptocurrency by market cap.
According to Sp8de, Cardano was chosen over other proof-of-work cryptocurrencies (e.g. Bitcoin or Ethereum) because they believe that POW coins cannot scale transaction-wise. For them, proof-of-stake is a much better option.
Ouroboros, the underlying proof-of-stake protocol beneath the Cardano blockchain, relies on generating unbiased entropy. This is extremely useful for projects like Sp8de – gambling platforms can use these randomly-generated numbers to ensure that their games are provably fair.
Sp8de is a protocol and a blockchain-based platform with features that are tailored for the growing blockchain gambling industry. Sp8de will be built on top of Ouroboros, which will equip it with the ability to generate fresh unbiased randomness for casino games. The transparent nature of the blockchain will also allow it to provide provably fair and completely decentralized games.
Initial Coin Offering – with Jackpots!
Sp8de has just concluded its presale last week, on February 8th. The ICO is divided into five stages: the pre-sale and four sale rounds, with each round having a different number of tokens available, different price per token, different likelihood of winning the lot that each token brings to its owner, and the number of lots reserved for participants.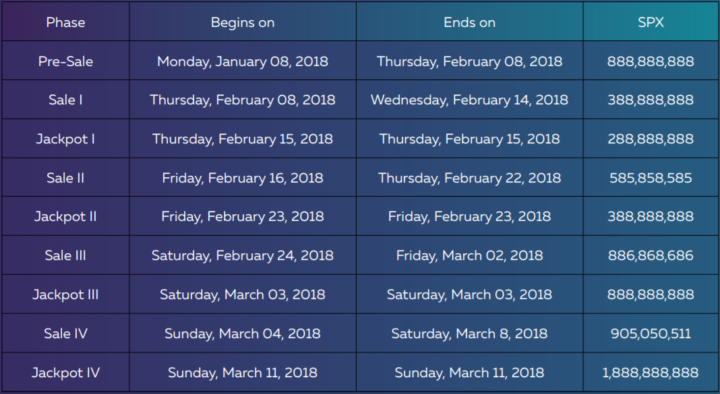 Every Jackpot is essentially an airdrop of tokens. Every token sold during a sale preceding a jackpot will have a chance of winning a jackpot during the subsequent jackpot phases. This means that early participants will have a chance to win in multiple jackpot rounds. Participants of the 4th sale phase will only get one shot at winning the last jackpot.
Each jackpot will consist of a large sum of SPX tokens that will be awarded to a winner. Each jackpot phase will have multiple lots of prizes:
Jackpot I: 10 Jackpots each of 28,888,888.80 SPX. A total of 288,888,888 SPX on February 15, 2018, 9:00 AM UTC
Jackpot II: 28 Jackpots each of 13,888,888.86 SPX. A total of 388,888,888 SPX on February 23, 2018, 9:00 AM UTC
Jackpot III: 100 Jackpots each of 8,888,888.88 SPX. A total of 888,888,888 SPX on March 3, 2018, 9:00 AM UTC
Jackpot IV: 888 Jackpots each of 2,127,127.13 SPX. A total of 1,888,888,888 SPX on March 11, 2018, 9:00 AM UTC
To ensure that everybody gets the same shot at winning and no one is luckier than others, tokens won from a jackpot will not increase one's chances of winning in a subsequent round.
Not all tokens are created equal – tokens sold in the same phase can have different multipliers attached to its probability of winning the jackpot. A more detailed mathematical explanation is available in the Sp8de Whitepaper. Unsold tokens will be partially allocated to the jackpots and to the Sp8de Foundation, which will use them for further development and promotion of the project.
For more information about Sp8de, please visit sp8de.com.
What are your thoughts on Sp8de's platform and unique ICO? Is Cardano a better blockchain choice than Ethereum? Let us know what you think in the comments below.
---
Images courtesy of Sp8de