Madrid-based Bit2Me, the first company to be recognized as a virtual currency service provider by the Bank of Spain, has made a major leap forward in the world of cryptocurrency with the launch of Bit2Me Card. This Mastercard debit card offers up to 9% cash back on every purchase, which is set to be amongst the top cashback rates offered in the market.
Bit2Me Card works across the Mastercard network, which enables crypto payments at over 90 million businesses worldwide. Furthermore, the card is also available on mobile devices, so users can make payments directly from their NFC-enabled smartphones or smartwatches.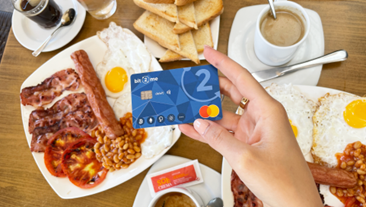 Bit2Me Card is linked to eight cryptocurrencies that can be used to pay for products and services, including B2M, BTC, ETH, ADA, XRP, SOL, DOT, and USDT. The card's proprietary software makes it easy to switch crypto wallets at any time, so users can choose which currency they want to use for each payment and pay directly from their account. Bit2Me plans to add more currencies in 2023, further expanding the possibilities for customers to make payments internationally.
The technology behind Bit2Me Card enables instant online payments and cash withdrawals at ATMs, without any need for prior manual exchange on the Bit2Me app. This means that anyone can use the Bit2Me card just like they would with traditional currencies. The card also has a range of features designed to keep user's money secure, including the ability to lock and unlock the card, configure usage limits, and safety-related support for NFC.
According to Leif Ferreira, CEO and co-founder of Bit2Me, the development of Bit2Me Card was a challenging, yet rewarding process;
"Dozens of professionals have been involved in this project, and after two years of work, we have found the key to connect cryptocurrencies to the Mastercard payment network. To do this, we had to modify the transaction flow (which is part of the international card payment protocol) so that customers can use cryptocurrencies to pay instantly and transparently for businesses. Moreover, we have managed to add up to 9% cash back on purchases,"
Andrei Manuel, COO and co-founder of Bit2Me, is equally enthusiastic about the new card. He says that Bit2Me Card is "arguably the best card in the world" as it combines the most desirable features of crypto payment with the security of the traditional financial world. 
"Our mission is to bring the use of cryptocurrencies closer to everyone. Bit2Me Card allows you to use your cryptocurrencies easily and quickly in your day-to-day life. You can use cryptocurrencies, such as Bitcoin, or stablecoins, such as USDT, at physical or online stores."
The Bit2Me Card is a major step forward in the world of cryptocurrency with its instant payment technology and mobile capabilities, and with cryptocurrency once again taking centre stage in fintech, Bit2Me's debit card is the perfect choice for anyone who wants to make the most of their cryptocurrencies.