Tachyon Protocol (IPX)'s VPN service, recently achieved another feather in its cap by crossing the 1M MAU mark in August 2020. This number is now at 1.2M+ for this month. MAU (or, Monthly Active Users) is a performance metric used to indicate the number of unique visitors or users in the last month for a technology platform. A high MAU number suggests healthy user engagement. With close to 2M total users on its platform and more than 1.2M MAU, the MAU/total user ratio is more than 0.6 which is also indicative of the high stickiness and involvement of end-users. This means that out of every 5 persons who have ever used Tachyon VPN, 3 people used it as recently as the last month i.e. 3 out of every 5 users is an active user. As of the time of writing, the platform currently has 1.7k+ nodes handling 1.9M+ total users.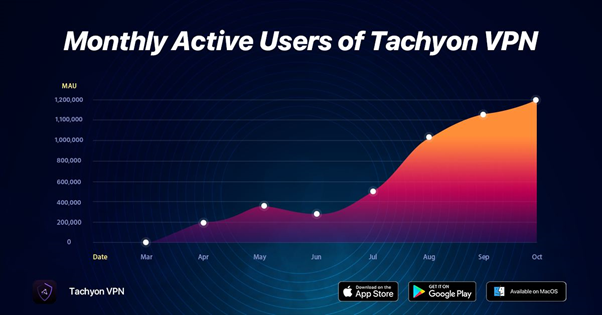 The VPN's user growth figures have been well above the targeted numbers as per the project roadmap. After last month's release of Node 2.0, Tachyon is now targeting the release of IPX Payment over the next few months. IPX Payment is the last piece of Tachyon's bandwidth marketplace. It will be developed on the Fermat contract of the V Systems blockchain platform. The details of this payment system haven't been revealed yet. According to informed sources,  IPX Payment and Staking will be integrated into Tachyon VPN which will enable direct bandwidth trading with IPX between Node Providers and normal VPN users. Some other updates that are in the long term plans include Node Manager2.1 and the Windows version. These developments are expected to increase MAU numbers even further. 
Download Tachyon VPN on App Store here: https://apps.apple.com/us/app/id1500439310
Download Tachyon VPN on Google Play here: https://play.google.com/store/apps/details?id=eco.tachyon.android
Download Tachyon VPN on macOS here: https://tachyon.eco/?n=yr8mtzfwee.Download
Download Tachyon VPN for Windows here: Coming Soon
About Tachyon Protocol
Tachyon Protocol is a decentralized internet protocol that aims to create a libre, secure, and private internet for users. The Tachyon-based VPN, IoT, DeFi, Storage, CDN, DNS, and other Apps will benefit more than 900 million users. By implementing techniques from DHT, blockchain, UDP, and encryption, Tachyon is committed to building the next generation TCP/IP that can provide a self-sufficient internet environment with high security, untraceability, availability, and maximum network speed. Tachyon brings to fruition years of experience and research by Sunny King (inventor of PoS i.e. Proof-of-Stake consensus mechanism), Peerchemist (Peercoin Project Leader, and President of the Peercoin Foundation), and FinTech investor Alex Yang. It currently has 1.9M+ total users and offers 1.7k+ distributed nodes to choose from. For more information, please visit https://tachyon.eco/.
---
Disclaimer: The information presented here does not constitute investment advice or an offer to invest. The statements, views, and opinions expressed in this article are solely those of the author/company and do not represent those of Bitcoinist. We strongly advise our readers to DYOR before investing in any cryptocurrency, blockchain project, or ICO, particularly those that guarantee profits. Furthermore, Bitcoinist does not guarantee or imply that the cryptocurrencies or projects published are legal in any specific reader's location. It is the reader's responsibility to know the laws regarding cryptocurrencies and ICOs in his or her country.