Outrage gripped the United States yesterday as the 4th largest US bank went down for several hours. 
---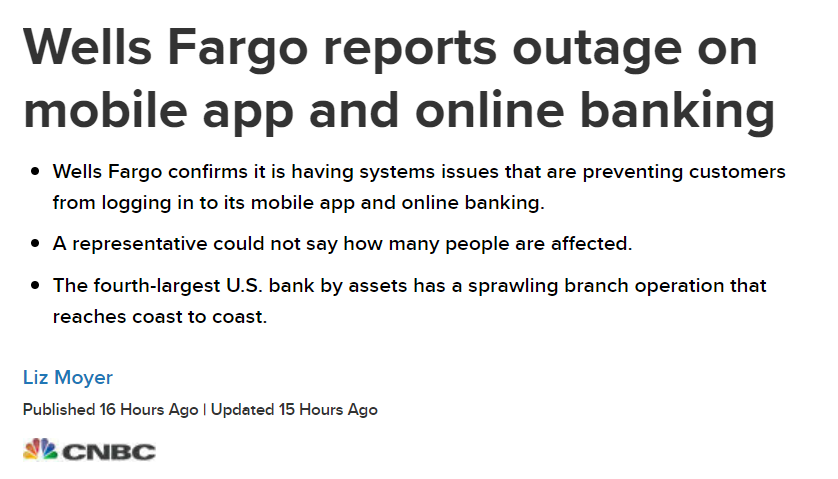 Information about the events is scarce at the moment and aside from this CNBC article that covers the tweets from @Ask_WellsFargo there's virtually no mainstream coverage of the event as official spokespeople from the bank are keeping a tight lip.
It seems different states are being affected differently but customers were urged not to deposit cash into ATMs as it might not show in their accounts. Reports of missing funds are arising.
The outage seems to have been caused by either a power outage or smoke (or both, it's still not clear) in one of their Minneapolis data centers.
Crypto advocates were quick to point out the advantage of decentralized money is its resilient nature. Data is maintained by thousands of computers working simultaneously and so there is no single point of weakness.
Wells Fargo stock did drop yesterday but not by much. Will be interesting to see if they can shake yet another calamity.
@MatiGreenspan
eToro, Senior Market Analyst
Today's Highlights
Days to next Shutdown: 7 | Days to Brexit: 49
Litecoin Surge!!
Bitcoin is Oversold
Please note: All data, figures & graphs are valid as of February 8th. All trading carries risk. Only risk capital you can afford to lose.
Traditional Markets
The European trading session didn't go so well yesterday. Sour data had been coming in all morning, but the EU Economic Forecasts seems to be the straw that broke the camels back.
Here we can see the economic calendar and the data that came in…
The economic forecast mentioned above is covered in a piece by Bloomberg titled "Europe's Economic Outlook goes from Bad to Worse amid EU Warning."
If you think the title is fun, get a load of this graph showing the changes in GDP growth expectations.
The DAX was the hardest hit but the US handoff didn't go so smoothly and by this morning the Asian session (sans China and the other countries who are still partying) is in a depressed state.
If that's not enough to spook the markets, this headline certainly didn't make things any better.
So, it seems the Kim Summit comes before China trade deal. So much for pragmatic Trump. Investors were hoping that a meeting between the leaders of US and China would cool the markets but it seems that tariffs could likely be ramped up before that happens.
Litecoin Surge
We're seeing some excitement from the Litecoin network this morning as we track a surge of about 14% so far this morning.
The reason for the move wasn't immediately clear but it does seem to be having an impact on the rest of the crypto market, which are following it up.
Many thanks to Matthew Willemsen for a quick response on Twitter with a few bullets that could be affecting sentiment.
Sure the sponsorship of Mammoth Film Festival is good, and the fact that Travala travel booking site has added LTC payments is cool, but the clincher for speculators are the talks between the Litecoin Foundation and Beam about the possible upgrades to the LTC network.
Many people also pointed to the Litecoin halving event that is coming up on or around August 5th.
For myself, I've been noticing something interesting about Litecoin lately, which is that the transactions per day seem to have bottomed out around 20,000 TPD. In fact, they've been very steady around this level throughout the bear market.
Bitcoin Oversold
Even though the basic pattern that we've been discussing on bitcoin lately is the gigantic bearish wedge, one analyst has pointed out that bitcoin is actually reaching oversold territory for the first time since it bottomed out in early 2015.
Wishing each and every one of you an amazing weekend.
Best regards,
Mati Greenspan
Senior Market Analyst
---
eToro (UK) Ltd is authorized and regulated by the Financial Conduct Authority. eToro (Europe) Ltd is authorized and regulated by the Cyprus Securities and Exchange Commission.
This is a marketing communication and should not be taken as investment advice, personal recommendation, or an offer of, or solicitation to buy or sell, any financial instruments. This material has been prepared without having regard to any particular investment objectives or financial situation and has not been prepared in accordance with the legal and regulatory requirements to promote independent research. Any references to past performance of a financial instrument, index or a packaged investment product are not, and should not be taken as, a reliable indicator of future results. eToro makes no representation and assumes no liability as to the accuracy or completeness of the content of this publication, which has been prepared to utilize publicly-available information.
eToro is a multi-asset platform which offers both investing in stocks and cryptoassets, as well as trading CFDs.
CFDs are complex instruments and come with a high risk of losing money rapidly due to leverage. 76% of retail investor accounts lose money when trading CFDs with this provider. You should consider whether you understand how CFDs work and whether you can afford to take the high risk of losing your money.
Cryptoassets are volatile instruments which can fluctuate widely in a very short timeframe and therefore are not appropriate for all investors. Other than via CFDs, trading cryptoassets is unregulated and therefore is not supervised by any EU regulatory framework. Your capital is at risk.