The aggressive bull runs in 2020 and 2021 spawned many investment and funding firms to the market that we soon lost count. Strangely, most of these projects have faded into obscurity now, along with their portfolio projects. The dogged crypto winter of 2022 has taken its toll.
The Conglomerate Capital (TCC) sets out to revamp the crypto investment and funding space with a pioneering business model. It not only tackles the long-standing challenges in crypto funding, but also gives it a new direction that nurtures blockchain innovation and sustainable value.
The vision has resonated with leading capitalists and blockchain companies, as revealed by the project's successful seed investment round held last year. TCC is opening early investment opportunities to the public now, with the CONG presale that began on January 16, 2023. The rapid fulfillment of the raise goal of USD 2.5 million, as seen in the last few days, is now setting a new target towards USD 5.0 million.
The crypto market is in dire need of judicious funding
Decentralization is the future. Blockchain integration across industries, from finance and entertainment to education and health, proves that the technology has vast potential. It implements transparency and fairness to industries that have long been in the hands of a few centralized agencies and rich investors.
Despite that, blockchain applications have a long way to go when it comes to mass penetration. We can blame groundless apprehensions and hostile regulations for this. But that does not solve the problem. The series of crashes that took down the market last year stemmed from the industry. Whether it's the FTX fall or the LUNA crash, we find that the underlying causes are the misjudgment and gullibility of crypto investors. On the bright side, it purged flimsy projects and hollow tokens from the market.
We need solid projects that drive blockchain innovation to revive the glory of the industry. And they need support from visionary crypto investment and funding projects to take off. This is exactly what The Conglomerate Capital (TCC) aims to do, joining forces with retail investors who are looking for early gateways to promising projects.
PRESALE WARM UP 🚀🚀🚀

Comment #IwantCONGtokenwithdiscount and you will get a 20% discount passcode for the presale event that will happen on January 16. 💎

Very limited passcodes 🔑
We will send you via DM 💌#Bitcoin #Ethereum #Binance #FTX #BEP20 #Airdrop #cryptocurrency pic.twitter.com/Bs33O6sOi8

— The Conglomerate Capital (@ConglomerateCap) January 7, 2023
Breaking the barriers to early investment opportunities
The Conglomerate Capital (TCC) is a Web3, BEP20-powered investment and funding platform governed by a Decentralized Autonomous Organization (DAO). It will help disruptive startups and SME (Small and Medium Enterprises) businesses raise capital using the CONG token.
Retail investors, on the other hand, will get access to private market investment opportunities throughout the world that, until now, only Venture Capital (VC) and Private Equity (PE) funds could access. They can count on the expertise of tier-1 VC and PE industry executives to put their money into projects and sectors that generate sustainable returns.
Taken from TCC´s presentation deck.
The project was born out of CEO Yves Civolani's realization that an average person is compelled to spend their life's work savings on substandard opportunities because they lack basic financial knowledge. In fact, his parents never had the opportunity to participate in VC and PE investments as regular retail investors. With TCC, he intends to make these opportunities accessible to everyone by assembling a conglomerate of companies.
Yves is a former private equity executive with more than a decade of experience working for tier-1 global private equity funds. TCC's goal is to decentralize the VC and PE infrastructures while also imposing a cycle of accountability and mutual interest alignment.
Visit The Conglomerate Capital
What sets apart TCC?
These are the key features that give momentum to TCC's vision:
1. The tokenomics of CONG
One of the key reasons that have contributed to the failure of crypto launchpads is the lack of focus on alignment. When each portfolio project launches its own token, they have to compete for capital allocation. TCC addresses this problem by launching one token for the whole ecosystem.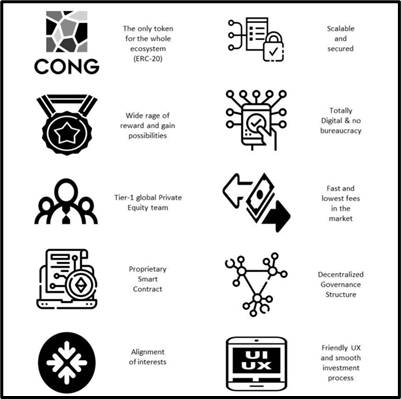 Taken from TCC´s white paper.
In addition, CONG comes with features like options and yield farming. For example, CONG options, titled "CONGo", will allow acquiring and selling tokens at predetermined prices. Yield farming in the CONG ecosystem will be pegged to the Brazilian interest market rate, currently at 13.75%. Moreover, CONG will be granted to CSCs (Conglomerate Subsidiary Companies) based on their achievements, which completely align interests among the ecosystem's parts: investors, TCC's team and funded companies.
2. The governance and DAO system
The TCC governance and DAO system is designed to protect minority holders. The corporation structure of token allocation allows no investor to have majority ownership. If any investor holds more than 5% of the available supply, their votes will be based on square foot calculation, reducing risks of manipulation.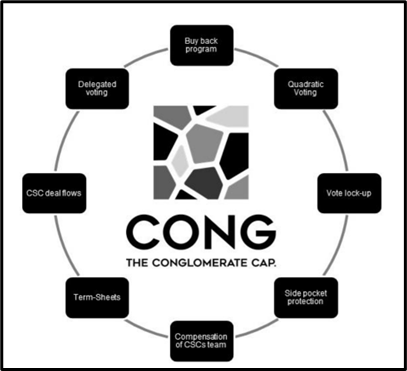 CONG Token Governance features. Taken from TCC´s white paper.
3. The operation of the ecosystem
TCC puts together "real" features from the world of venture capital and private equity with the use of blockchain, DeFi, and crypto.
The relationship between TCC and the CSCs (Conglomerate Subsidiary Companies) will run under an investment fund structure similar to VC/PE funds.
The relation between TCC and investors will be tracked on the BEP-20 blockchain, guided by coding and subjected to DAO governance.
4. Solid, yet flexible action plan
TCC has published two roadmaps – a detailed short-term roadmap and a long-term macro roadmap. While the short-term roadmap details each task/activity that should be executed within one year from now, the long-term roadmap lays down the vision for the coming years.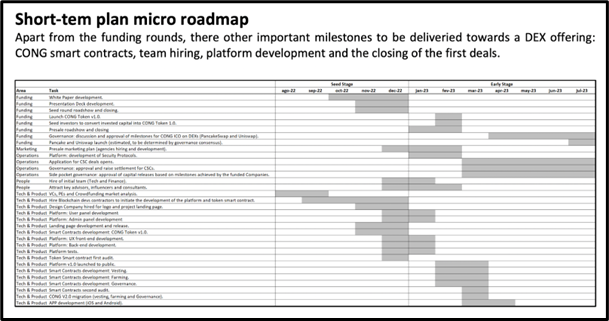 Taken from TCC´s presentation deck.
They go on to prove that the team has a vivid picture of the project's journey ahead, which is exactly what we look for in an investment firm. It allows investors to plan their liquidity exits.
CONG presale is moving ahead extremelly fast
The CONG presale is live from January 16, 2023, on the official website. In the first phase, the token will sell for USDT 0.0025. As it moves to the second phase, the price will see a 20% increase. The first round of the presale had initially a goal of USD 2.5 million, which will be increased to USD 5.0 million, as the first target has been rapidly fulfilled. It shall be one of the best early crypto investment opportunities of 2023.
CONG tokenomics. Taken from TCC´s white paper.
To begin with the core team members' track records in the VC, PE, and M&A sectors give a solid foundation to the project. The utility and relevance of the CONG token in the TCC ecosystem are the other compelling factors. And the fact that CONG is immune to broader market trends to a large extent makes it a good hedge against volatility. Moreover, CONG early investors will get priority during the allocation of tokens backed by TCC.
Visit The Conglomerate Capital
Disclaimer: This is a paid release. The statements, views and opinions expressed in this column are solely those of the content provider and do not necessarily represent those of Bitcoinist. Bitcoinist does not guarantee the accuracy or timeliness of information available in such content. Do your research and invest at your own risk.